June 13, 2022
Carolyn McMillan
,
UC Newsroom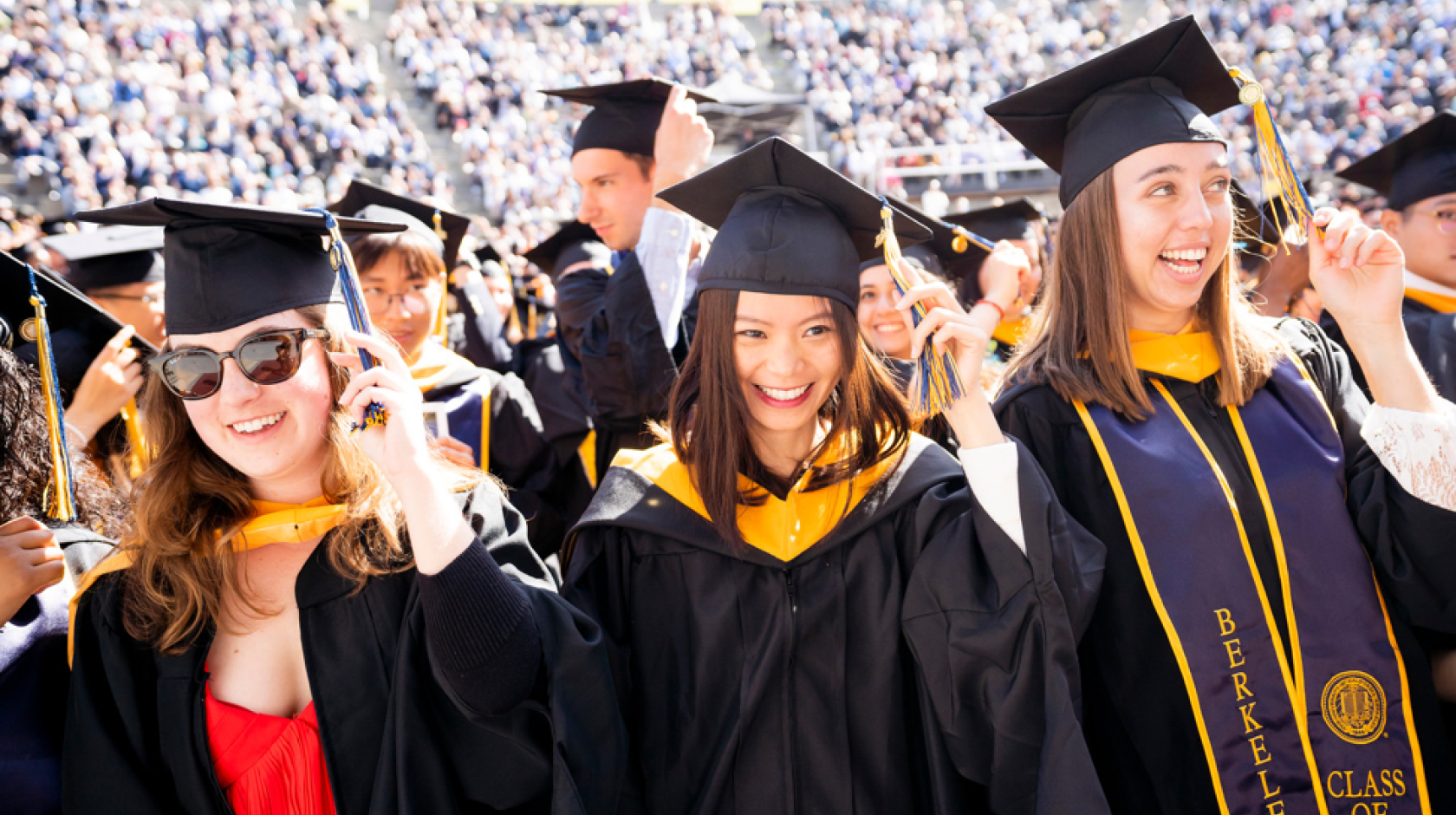 Credit: Adam Lau/UC Berkeley Engineering
Graduation season is here, and the energy, excitement and pride are palpable. Celebrations, ceremonies and tearful good-byes are everywhere as UC's newest alums head for a bright future.
And bright it will be: University of California researchers have dug into reams of data to understand the outcomes associated with a UC degree. The picture that emerges is one of significant economic and social impact in the years ahead — not just for UC's roughly 87,000 new graduates but for all of California.
For starters, that new diploma is usually a ticket to the middle class or beyond for students from low-income families, who this year make up about 43 percent of those earning a UC bachelor's degree.
A majority of UC undergraduates from low- and middle-income families go on to earn more than their parents, the data shows. And for low-income students, that upward trajectory happens fast — within five years of graduating.
But beyond the economic lift that a UC degree confers on our alumni, communities all over California benefit from their contributions:
UC-educated doctors are in 60 percent of California towns.

UC-educated teachers are in 75 percent of California public schools.

UC-educated Ph.Ds make up 20 percent of CSU faculty and 25 percent of UC faculty.

UC alums are also major contributors to California's startup economy, launching new businesses, creating jobs and driving innovation.
In fact, UC beats Stanford when it comes to the number of California companies started by our alumni: According to Pitchbook, UC alumni have launched 2,500 companies, compared to 2,240 for Stanford, 840 for the University of Southern California, and 1,300 for California State University (CSU) alumni.
Here's more about what we know — and how we know it — about the value of a UC degree.
A UC diploma is a game-changer for low-income students.
The New York Times once referred to the 10-campus UC system as "California's upward mobility machine." That was in 2015, but it still holds true today.
Income and labor data show that UC alumni from lower-income households quickly move up the economic ladder, with earnings that put them on par with UC alumni from more affluent backgrounds.
And more than a third of UC's lowest-income students go beyond the middle-class, with annual incomes that place them in the top 20 percent.
"A UC degree is a great equalizer," said Pamela Brown, UC's vice president of Institutional Research and Academic Planning. Her team scoured data from federal, state and other sources to produce an in-depth report in 2021 on the value of a UC degree. "Not only do UC's low-income students go on to earn more than their parents within just five years of graduation, but we see their incomes doubling within 10 years."
The benefits of that upward mobility ripple outward, enhancing the lives of families and communities. For example, UC grads from lower socioeconomic backgrounds are more likely that their peers to choose careers that help others succeed, such as teaching, social work and health care.
"Our students don't just do well for themselves — they reach back and lift others up," Brown said.
— Alumni snapshot
Dr. Walid Hamud-Ahmed, UCSF, medicine, Class of 2017
"A lot of us went into medicine to give back to those most in need," says Fresno County native Dr. Walid Hamud-Ahmed, who completed a residency in emergency medicine at UCSF-Fresno last year and now works in the emergency department at Clovis Community Medical Center. Growing up, his family ran a small grocery store that served many migrant farmworkers. They sold food and cashed checks. Ghasan, Dr. Hamud-Ahmed's older brother, stepped up to run the family business after their father was killed in a car accident. Ghasan was just 19 years old at the time. "At certain points in my teenage years, I saw my brother struggling and it made me feel guilty because I was able to go to school and he wasn't. I know he could see a brighter future ahead of me and his support was what changed the world for me. Certainly, without him, I would not be where I am today."
—
A UC degree translates into a lifetime of higher earnings
If you're wondering whether the economic benefits of a UC degree are overshadowed by the cost to earn it, know this: More than half of the UC students earning a bachelor's degree this year will enter the working world without any student loans. And UC has made it a top priority to provide all of its California undergraduates with a path to a debt-free degree by 2030.
Of the UC undergrads who do borrow, the average amount owed at graduation is less than $20K. To put that in context, those with college degrees earn about $1M more over the course of their lifetimes than those with a high school diploma, according to the Association of Public and Land-grant Universities.
UC's own analysis backs that up. Within just two years of graduating, UC alumni earn more, on average, than peers with a high school diploma. And within six years of graduating, the median income for UC alumni is higher than that of other California college degree-holders.
Most UC undergraduates can expect to break even on their college investment within four to six years, UC researchers found.
"UC graduates earn competitive salaries relative to other Californians, including other Californians with a college degree," Brown said. "And those higher earnings early in their careers translate into higher lifetime earnings.
"By their early 50s, UC graduates have median earnings that are about $50K higher than the median earnings of other California college graduates from their same age group."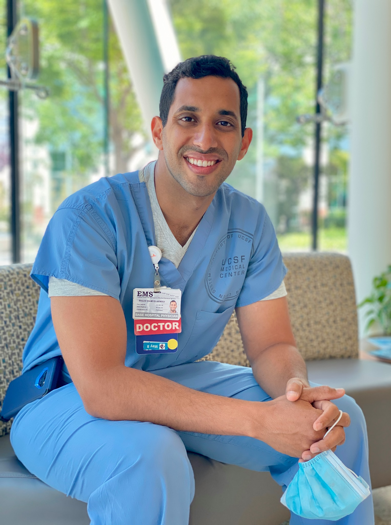 — Alumni snapshot
Tiffany-Ellen Vo, UC Santa Cruz, computer engineering, Class of 2022
The only girl in her 4th grade robotics class, Tiffany-Ellen Vo "wanted to show all those boys that you can do the exact same thing, but in a dress." Vo's parents came to the United States as refugees from Vietnam and Vo attended UC Santa Cruz on a full scholarship. She graduates this June with a degree in computer engineering and has already landed a job as a software engineer at Cisco. "Education was the most important thing in our family," Vo said. "It was the only opportunity my siblings and I could use to raise ourselves."
—
Most UC alumni stay in California, contributing to the state's economic and cultural health
More than 70 percent of UC students stay in California after graduation, according to state income tax data, working in fields that range from computing and technology to economics, agriculture, medicine, politics, education and the arts.
What income tax rolls don't show is the number of UC alums who decide to launch their own businesses.
UC alums make a significant impact, there, too: A 2015 survey of UC alumni who received bachelor's degrees in the period between 1999 to 2005 found that one in five had started their own business.
Often, those companies are startups launched to commercialize innovations that grew out of UC research. The biotech industry — now an economic force around the globe — was launched in the early 1980s when a team of scientists at UCSF and Stanford figured out how to transfer a gene from one species into another, a technique known as recombinant DNA technology.
UC students, faculty and staff continue to push the boundaries of innovation and entrepreneurship today, with impressive results. In recent years, UC alumni have launched numerous companies that are now virtual household names, including Warby Parker, Stitch Fix, Allbirds, Lyft, Intel, GoPro and DoorDash to name just a few.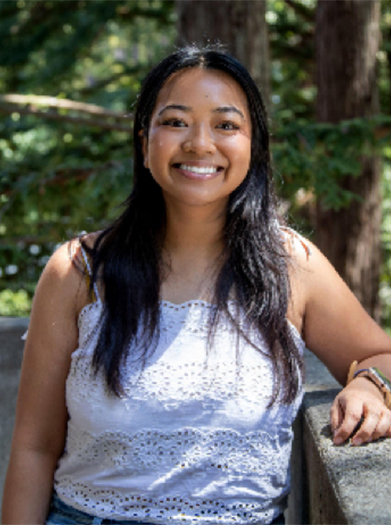 — Alumni snapshot
Michelle Thomas, UC Irvine, psychology, Class of 2022
A first-generation college student, Michelle Thomas found help adjusting to college life by living in the Academic Excellence Black Scholars House during her freshman year. Thomas decided to get involved in psychology because of the stigmatization of mental health in the Black community. She also noticed the lack of Black women in her field and hopes to address that — perhaps by becoming a professor and serving as a role model for Black, female university students. Next stop: A Ph.D.
"In five years, I think I'll be in a Ph.D. program. No, I will be in a Ph.D. program. I'm pretty sure it's going to be a counseling program, but that's to be determined. I just see myself being more confident in my roles and my goals, more confident in who I want to be. I also see myself just being happy. I think that's an important part of life: happiness," Thomas says. Read her full story here.
—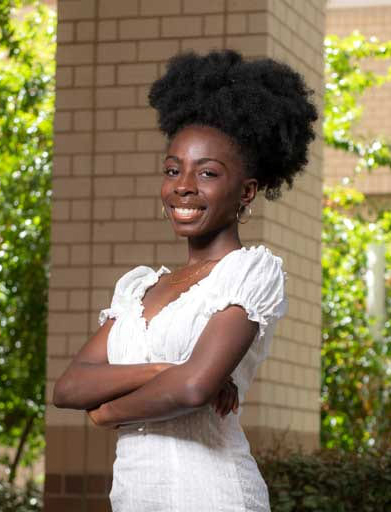 Credit: Steve Zylius/UC Irvine