UC's newest grads share stories of a life-changing journey
Every graduating class has a lot to be proud of. But, perhaps more so than any other, the UC Class of 2021 has earned their diplomas in a year that has tested their mettle and forged their resilience and resolve.
Poised to embark on promising futures as doctors, educators, civic leaders, scientists, tech innovators and more, they have weathered an extraordinary year and come out stronger.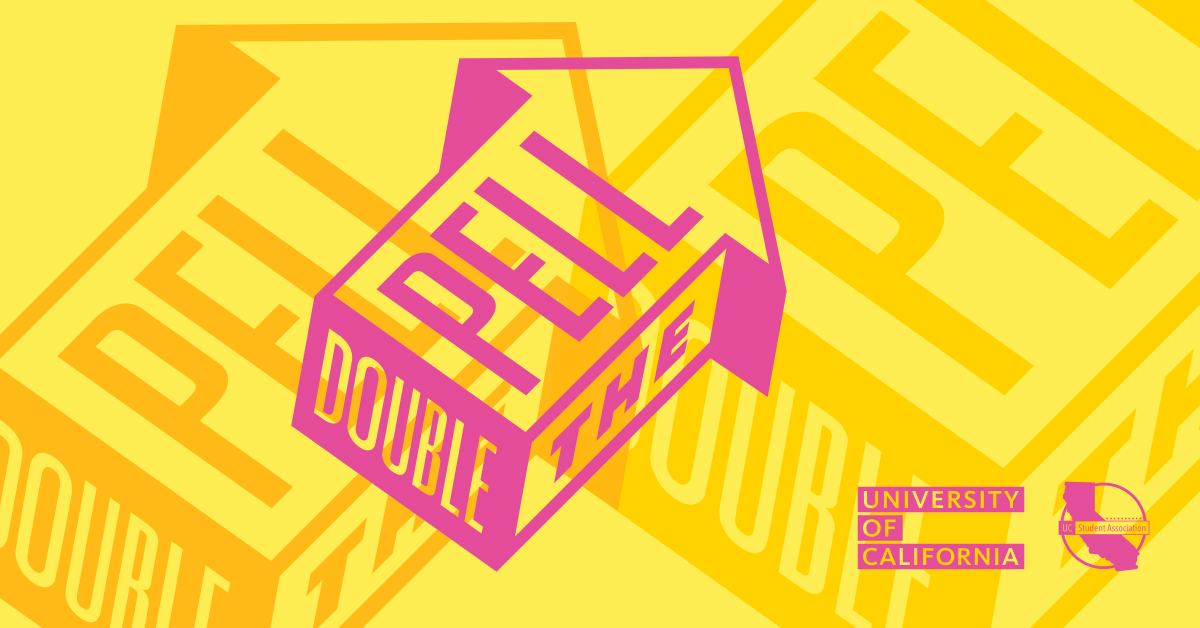 Altogether, more than 63,000 undergraduates and 21,000 graduate and professional school students are part of this historic class — UC's largest and most diverse group of graduates ever.
Many of them, roughly 44 percent of undergraduate students, might not have arrived at this milestone were it not for the Pell Grant, federal funding that helps low-income students afford college.
Here are a few of their stories — testament to the power of higher education not only to create opportunity for those who attain it, but for all of us who benefit from their contributions.
Michael Grey // Human biology // UC Merced
Few students from the foster care system make it to college. That's something new UC Merced grad Michael Grey wants to change. Not only does he have a shiny new Bachelor of Science degree in human biology, he graduated last month with highest honors and an almost perfect GPA.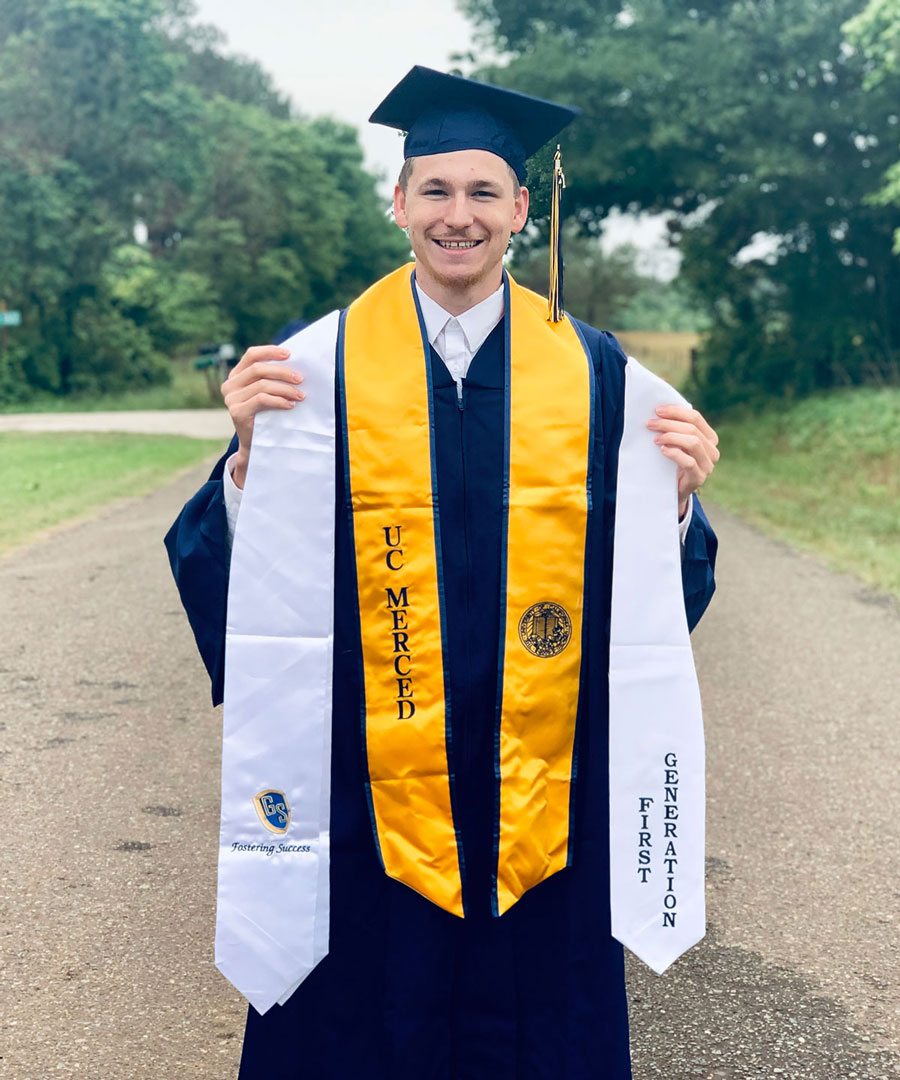 He chalks his success, in part, to the support and community he built through Guardian Scholars, a program that exists on every UC campus for students who have been in the foster system. As someone who moved around a lot and was in and out of foster homes, "I didn't have those childhood friends — the people who you go 'way back' with," he said. "I found that at UC Merced."
"My background has solidified my desire to give back, especially to help the people who have been dealt the hard cards," Grey said.
He ultimately plans to go on to graduate school, but first, he hopes to spend a few years working in higher education to mentor and support students from disadvantaged backgrounds.
"When given the chance, they thrive, and I want to be a part of that process."
Axana Rodriguez-Torres // Doctor of medicine // UC Irvine
Embarking upon medical school as a young woman, Axana Rodriguez-Torres could not have imagined the winding journey to arrive at the day, 22 years later, that she would become a doctor.
Yet the UC Irvine School of Medicine graduate, who has spent the last year caring for critically ill COVID patients and offering a comforting voice in their native Spanish, believes it was fate that took her on this strange and unexpected path.
"This journey has put medicine at the heart of my life. It's become not what I do but who I am," said Rodriguez-Torres, who is now off to residency at Massachusetts General Hospital.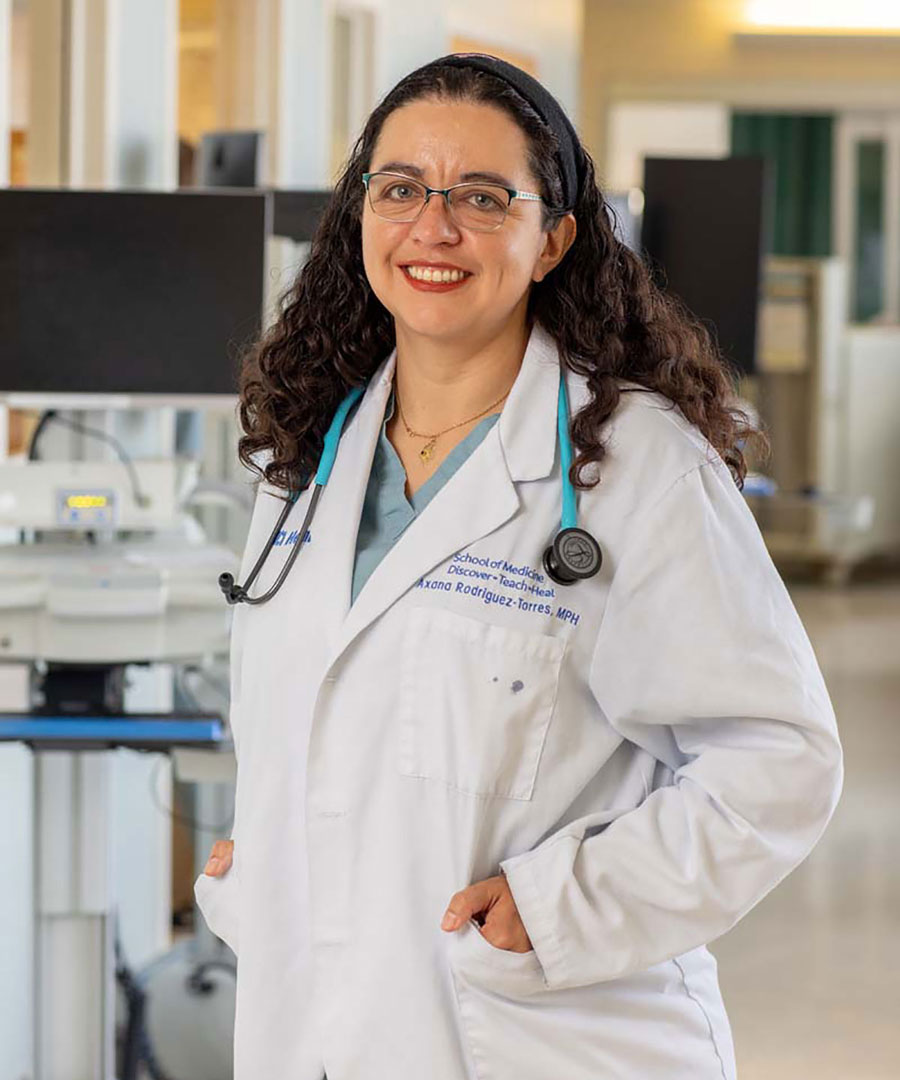 She was 17 when she enrolled in medical school in her hometown of Bogota, Colombia. But just months after beginning her education as a doctor — something she'd dreamed of since she was a child — her family was threatened with violence due to her father's political beliefs. Forced to flee almost overnight, Rodriguez-Torres had to leave everyone and everything she knew behind — including her cherished spot at the Universidad Nacional de Colombia.
Upon arriving in the U.S., Rodriguez-Torres cleaned houses with her mom, and worked for more than a decade helping people with taxes and other paperwork before transferring to UC Davis, where she volunteered at Clinica Tapati, a free clinic that served a very low-income, largely Latinx community. "My role was limited but I was able to take vitals and be with patients. That was when I really felt I was on my path."
After graduating and getting a master's degree in public health from UC Davis, Rodriguez-Torres applied to UC Irvine School of Medicine as part of the UC PRIME program, which trains and places healthcare providers in underserved communities.
During December's COVID surge, Rodriguez-Torres was at patients' bedside day and night. "I saw this as my duty and my mission to show up when patients needed me most," she said.
"I would grab their shoulder, grab their hands and tell them very closely, 'You are not alone, I'm here.' Sometimes, it was the last thing someone said to them. And if I hadn't been there to speak to them in Spanish, they wouldn't have been able to hear it."
Deidre Reyes // Sociology // UC Riverside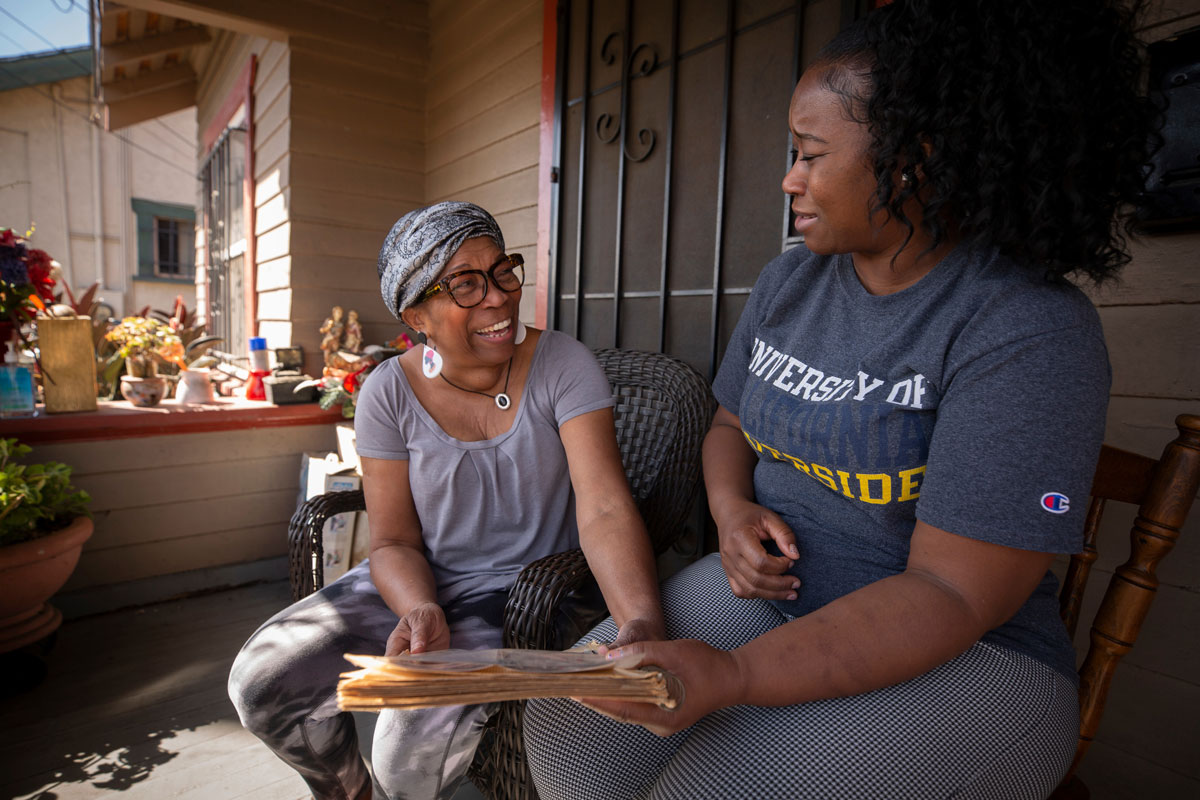 A teen mom who barely made it through high school, Deidre Reyes never thought she was smart enough to go to college.
By the time she was 42, she had four children and was recently divorced from a bad marriage. She had enrolled in community college a few times but the demands of motherhood and domestic life meant she was never able to stay more than a term or two.
"I would pass by UC Riverside every day and think 'Wow, look at those real college kids. I'm never going to be a part of that group. I could never be that smart."
But she had allies who thought more of her, and she knew that getting an education would help her provide for her kids. She enrolled in Mt. San Jacinto Community College, and this time, she stuck it out, graduating with honors and a 3.8 GPA.
Reyes remembers every minute of the first day – with the help of Pell Grants, UC funding and state aid – that she finally set foot on the UC Riverside campus.
"I parked in lot 30, and walked through a tunnel. When I stepped onto campus, I started to cry. I realized I'd made it to big college. It was what I had always wanted in my heart, but was afraid to say out loud."
Her college experience has been everything she dreamed it would be — and more. She has done undergraduate research, volunteered to help the homeless and is part of more than a dozen student groups, including one for student parents. As part of the Associated Students of UC Lobby Corps, she has gone to Sacramento to push for college access programs and funding for students' basic needs.
She also had some challenging times. In December, she lost her housing and lived for two months with her kids in a motel room. With help from UC Riverside's basic needs center and her own steady resolve, she got back on her feet, finding stable housing and getting through the quarter with straight As.
"I took care of my kids during the day and did my homework when they were sleeping," she said. "I was so close, giving up was not an option."
On June 15, the same weekend one of her four children graduates high school, she will receive her degree in public policy. In the fall, she'll start her master's in public policy at UC Riverside. She also plans to run for Riverside City Council.
"If I could speak to my 17-year-old self, I would tell her — 'hang in there, have faith and hold on to hope. Even though there are going to be dark times, you will meet people who are going to believe in you and see your talent as a person,'" she said. "I feel so blessed and honored to be able to go to UC Riverside. I've learned and grown so much. The warmth and support and sense of belonging I've gotten here has lived up to my every dream."
Yesenia De Alba // Latin American and Latino studies // UC Santa Cruz
At five, Yesenia De Alba would set up her stuffed animals and pretend to be a teacher. Growing up, her own high school teachers were among those who set her on a path to college, despite the fact that good grades did not come easily to her and nobody else in her family had gone to college.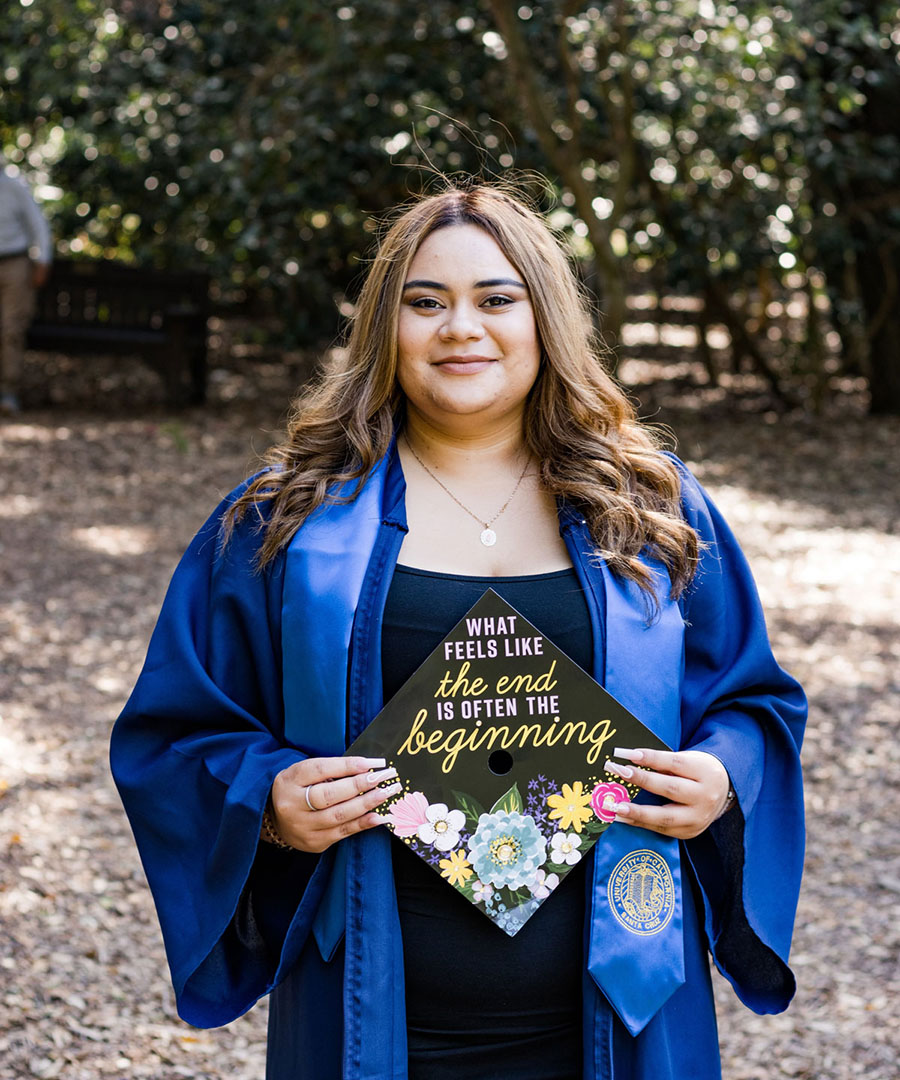 "I had to work really hard and go to extra tutoring hours," she said. "But I had a couple of teachers who really shaped me into a student who cared about school." One was her fourth-grade teacher, who convinced her she could be an 'A' student.
De Alba's parents – immigrants who labored long hours to make ends meet – also pushed her to work hard. Usually stoic when it comes to praise, they are bursting with pride that their daughter is crossing the graduation stage, the first in the family to earn a degree.
After celebrating this major milestone with extended family and taking a few months of well-earned downtime, De Alba plans to apply to graduate school to get her teaching credential. She ultimately hopes to teach high school Spanish.
"My teachers were some of my biggest cheerleaders. They were the people who were always in my corner," De Alba said. "If I can do even a fraction of that for my students, I'll be very happy."
Jerry Liu // Doctor of dental surgery // UCSF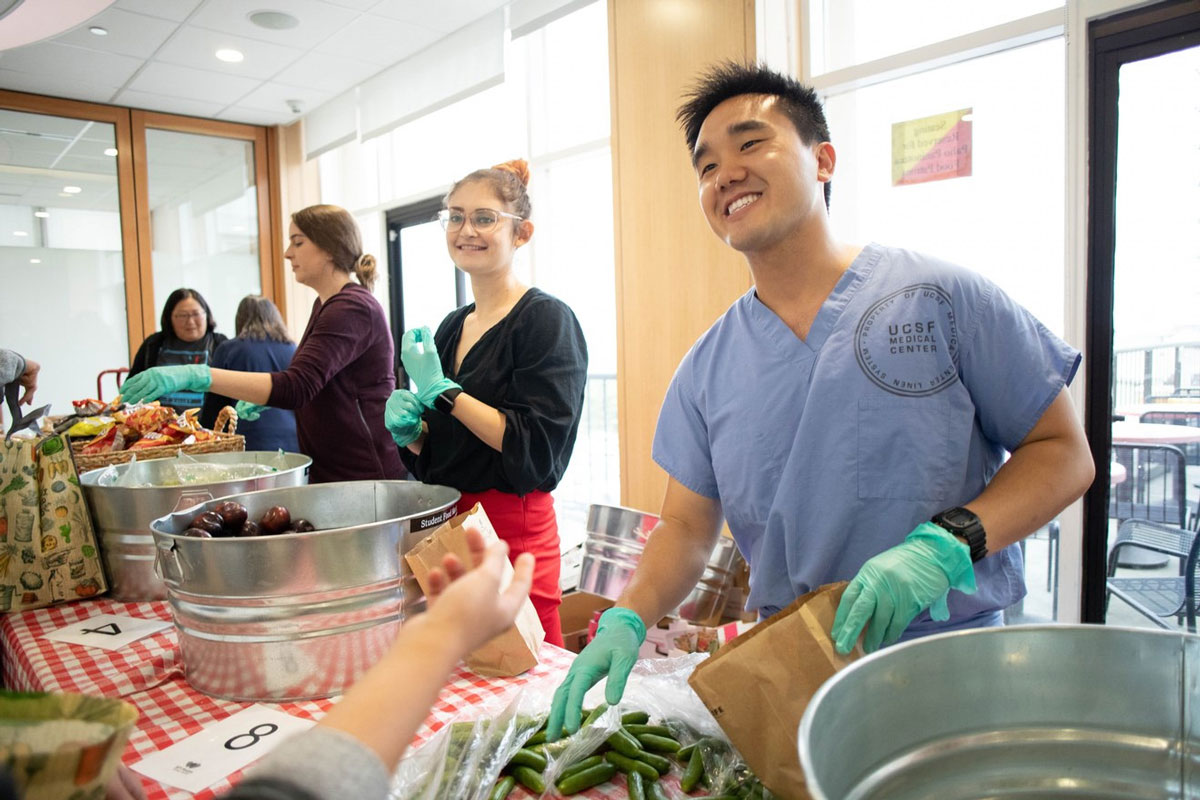 With 16 fillings, three root canals and a crown, Jerry Liu has had more experience than he'd like to with dentists. And that's a big part of what motivated him to become one.
For Chinese immigrants like his parents, accessing quality care can be costly and difficult, especially for those who don't speak English. "I've known of too many people who go to unlicensed dentists in Chinatown and get substandard or even dangerous care," he said. And they have limited ability to get preventive care that can avert longer term problems.
Those are things Liu hopes to change by setting up his own dental practice catering to the Chinese community.
Getting his doctor of dental surgery degree is an extremely proud moment both for Liu and his family.
Liu's father spent 30 years as a political prisoner in China, sentenced as a youth in retaliation for his grandfather's opposition to the Chinese Communist Party during the civil war with the Kuomintang. The family was eventually able to immigrate to the U.S. in 1988.
When Liu arrived at UC San Diego as a freshman, it was a completely foreign environment. "Most of what I knew came from Hollywood movies. I thought it was all parties and football games." To help get his bearings, Liu recalls googling "how to talk to adults" so he would know how to speak to his professors. He would practice in front of the bathroom mirror before going to office hours.
"For my dad, to go from being imprisoned at the age of 12 to seeing his son graduate college and get a professional degree from one of the top universities in the world in the span of just one generation is incredible. It's a testament to the incredible opportunities I have been able to access, the Pell Grant included."
Ebelechukwu Eseka // Sociology // UC Santa Barbara
When Ebelechukwu Eseka ("Ebele" for short) emigrated to the U.S. from Ghana as a sophomore in high school, her strategy was to keep quiet and try to blend in. She was reluctant to speak up, even when she was put into classes that were far beneath her academic ability.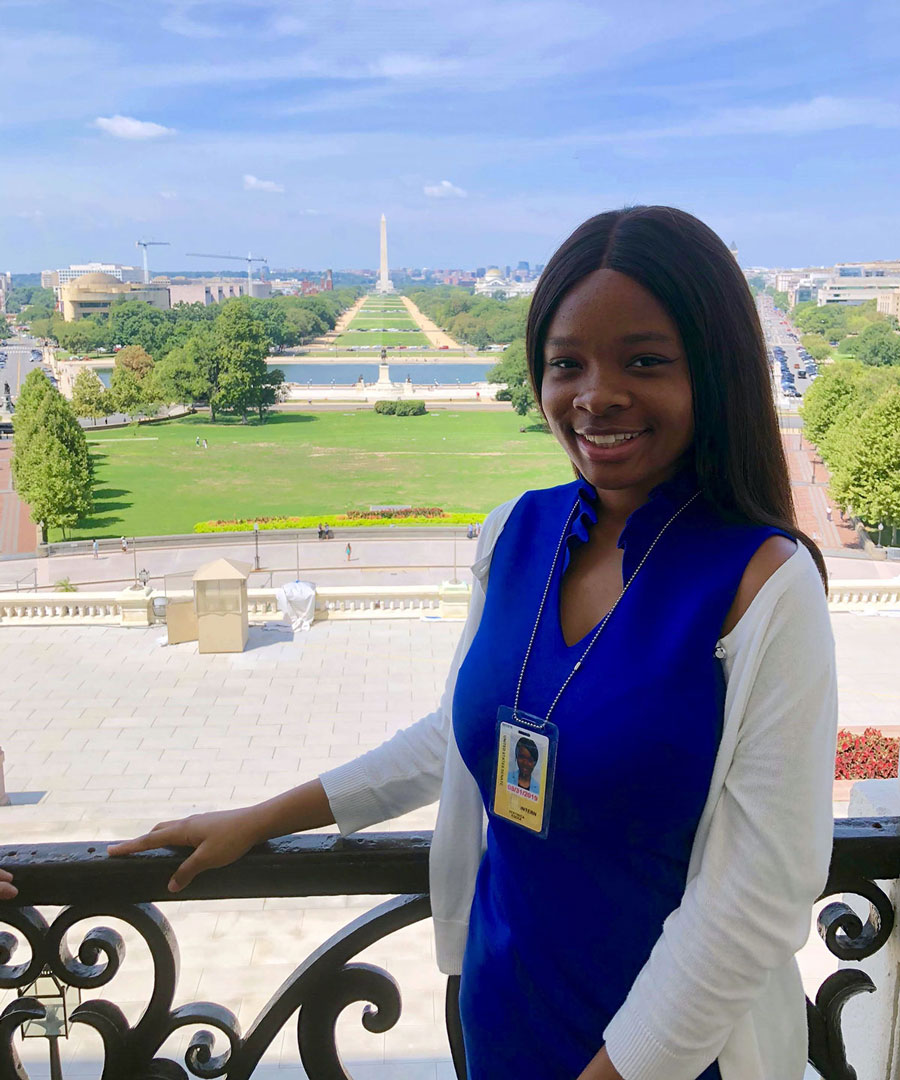 Eseka was named a Promise Scholar at UC Santa Barbara, a program the provides financial help to high-achieving, first generation students from low-income households. She also benefitted from Pell Grant funding and state aid that allowed her to graduate without debt and take advantage of internships and leadership opportunities that built her confidence and taught her to speak out.
As a second-year student, she participated in the UCDC program, where she worked as an aide in Dianne Feinstein's office. "It was an amazing experience, and a little terrifying," she said. "People were calling the office constantly. I got to learn what Californians are thinking and what's important to them."
She now plans to apply to law school to become an immigration attorney. Her ultimate goal: create a nonprofit that combines legal aid and paperwork processing help with other support services to help immigrants find their footing in their new country. "It's a big goal, but I know it's achievable," she said.
Today, as she prepares to graduate with a degree in sociology, she feels like a different person than the shy student who first stepped onto campus. She has even dropped her adopted American name, "Veronica," in favor of her Nigerian name, Ebele.
"Freshman me was so timid, silenced by the challenge of immigration and fitting in. Now I ask a lot of questions, I'm not afraid to take risks and try new things. I found my voice at UC Santa Barbara. I am so proud of who I am today!"
Aurora Lopez // Political Science // UC Berkeley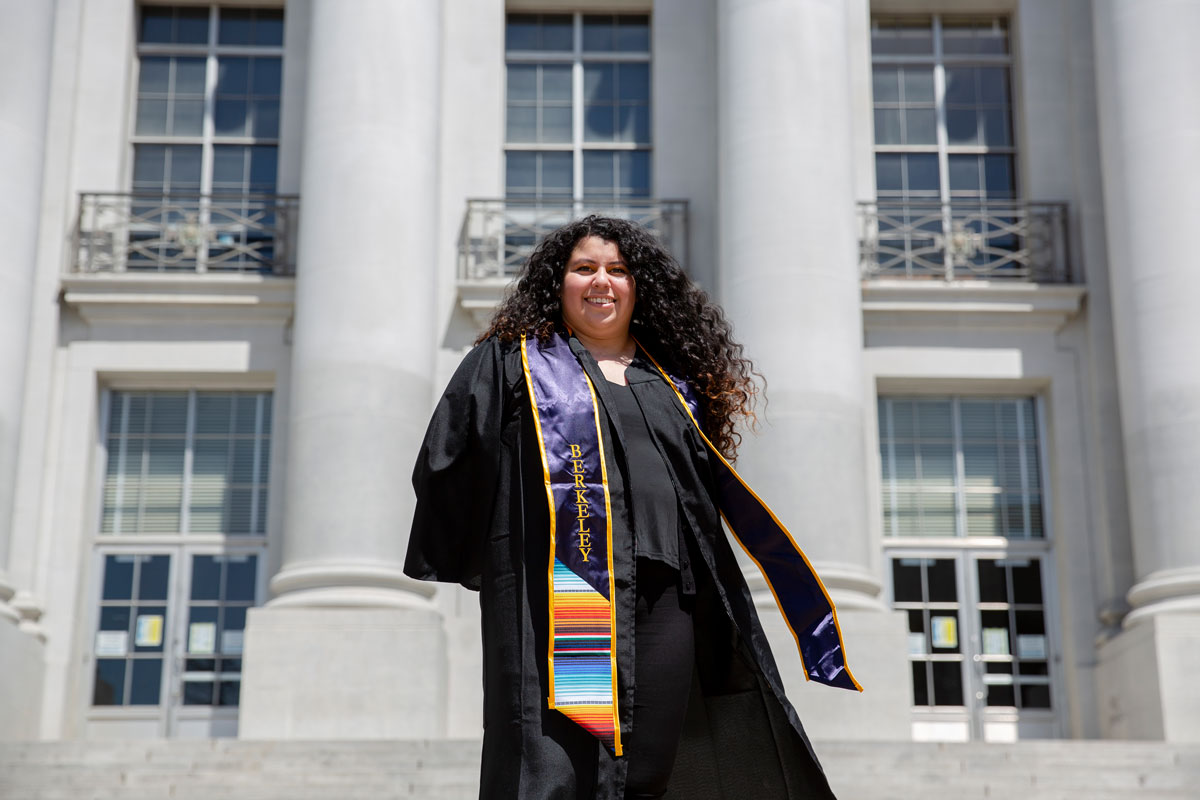 Forced to leave a top-ranked South Bay high school as a sophomore because her address didn't qualify her to be there, East Palo Alto resident Aurora Lopez thought her dreams of college were over.
But ultimately, the experience, together with a community of supporters who believed in her, only increased her resolve — and this spring she was awarded a degree from UC Berkeley to prove it. She now plans to go to work in Congress and possibly even run for office, in part to create more equitable access to quality education.
When she arrived at her new high school, Lopez was shocked by the aging classrooms and limited Advanced Placement offering, differences based solely on zip code. But she also found a community that looked like her and believed in her, rather than the place where she had always felt like and been treated as an outsider.
Over time, she overcame struggles with imposter syndrome to enroll in and excel at Cal, earning internships with the state department and the British Embassy and fellowships to serve in Sacramento and Washington, D.C.
She also volunteered with students in underresourced schools to inspire others like herself to strive for higher education. "I felt like I was so restricted in what I could do to help in the classroom. I want to change things at the policy level and improve education for everyone."
Support more bright futures. Join UC's Double the Pell campaign urging Congress to reinvest in federal financial aid.