Landmark gift to transform healthcare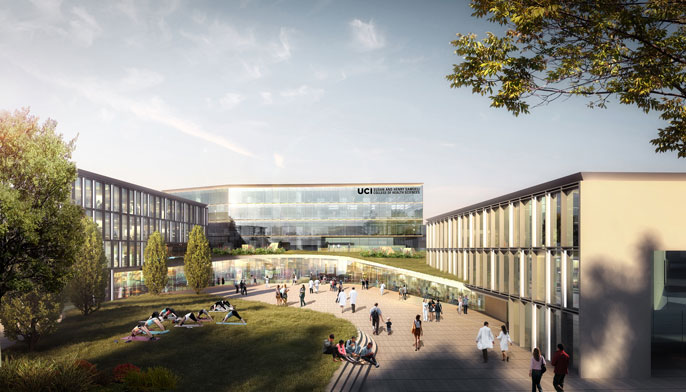 The University of California, Irvine today announced the largest gift in its history: $200 million from Susan and Henry Samueli, longtime campus supporters, to name a first-of-its-kind College of Health Sciences focused on interdisciplinary integrative health. The far-reaching donation — the seventh-largest to a single public university — positions UC Irvine as a bold, new leader in population health, patient care, education and research.
"This gift catalyzes UC Irvine's belief that human health and well-being requires a science-based approach that engages all disciplines in caring for the whole person and total community," said Chancellor Howard Gillman. "Susan and Henry Samueli's dedication, their vision for what is possible and their deep generosity will help UC Irvine set a standard that, over time, other medical centers in the U.S. can follow."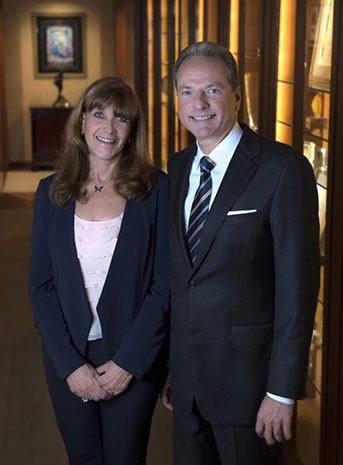 First systematic approach to integrative health
The Susan and Henry Samueli College of Health Sciences will be the first university-based health sciences enterprise to incorporate integrative health research, teaching and patient care across its schools and programs.
Integrative health redefines the relationship between the practitioner and patient by focusing on the whole person and the whole community. It is informed by scientific evidence and makes use of all appropriate preventatives, therapeutic and lifestyle approaches, and healthcare professionals and disciplines to promote optimal health and wellness.
The existing Susan Samueli Center for Integrative Medicine will become the Susan Samueli Integrative Health Institute and will focus on improving medical care by supporting multidisciplinary research, education, clinical service and community programs. Faculty and students in computer science, engineering, social sciences, business and other areas will collaborate within the institute to study the future of human health.
The Susan and Henry Samueli College of Health Sciences will ultimately include the institute and the following UC Irvine schools, as well as other research entities:
School of Medicine
Sue & Bill Gross School of Nursing
School of Pharmacy (currently the Department of Pharmaceutical Sciences)
School of Population Health (currently the Program in Public Health)
"Despite our technological advances, too many people still suffer from chronic conditions such as pain, diabetes and heart disease or are caught in a cycle of taking too many medications," said Susan Samueli, a noted champion and practitioner of integrative health. "We must change what we mean by 'healthcare' and how we train all who provide care, including physicians, nurses and pharmacists. Today's health science students ask about integrative health from day one; harnessing that interest is key to turning our national system in a better direction."
"Through its five academic medical centers, the University of California brings together top clinicians and researchers to provide world-class care, and with this gift from Susan and Henry Samueli, both valued UC alumni and supporters, UC Irvine will help lead the way with important advances in personal and community health that will benefit Californians and others across the nation," said UC President Janet Napolitano.
Gift will support state-of-the-art facility and generous endowment
The Samuelis' gift will provide $50 million toward construction of a facility to house the college and $5 million for state-of-the-art technology and labs — forming the foundation of a national showcase for integrative health. It also earmarks $145 million to create an endowment for:
Up to 15 faculty chairs across the medicine, nursing, pharmacy and population health disciplines for senior, midcareer and junior faculty with expertise in integrative health
Integrative health training and mentoring for interested medical school students
Scholarships and fellowships for undergraduate and graduate students planning careers in related fields
Innovative curricular development and campuswide interdisciplinary research projects
Ongoing clinical services, research and education in the Susan Samueli Integrative Health Institute, including investigations of nonconventional interventions as part of medical treatment and educating medical and lay communities about benefits and risks associated with new healthcare approaches
"Recent research and clinical treatment has focused on the molecular underpinnings of medicine. Though practitioners can be slow to adopt new approaches, many in the field now believe we are reaching a tipping point at which a holistic approach is required — allowing for treatment plans that are more effective clinically and provide for the overall well-being of patients and family," said Howard Federoff, M.D., Ph.D., vice chancellor for health affairs and CEO of UC Irvine Health. "The Samuelis' vision means UC Irvine will be a beacon for the brightest faculty and students in all related disciplines — a place where they can do their best work and tackle grand challenges."
Inquiry and discovery in service of the global community are at the heart of UC Irvine's mission. Key to the success of the college — and this model of healthcare delivery — is research and care that crosses all departments and disciplines.
"As a preventive cardiologist and researcher, I cannot stress enough the critical need for society to adopt a truly integrative approach to health, whether we are talking about community health, nutrition, prevention or appropriate medications. It must start with those who provide care and guidance," said Dr. Shaista Malik, director of the Susan Samueli Center for Integrative Medicine and the endowed chair of integrative medicine. "Through this exciting new college, we will demonstrate to everyone involved in the health system – from patients to providers to policymakers – the value of an integrative approach."
Goal: recognition as 'standard of care'
Fundamental change in thinking about healthcare and how it's delivered will take time, a steady stream of new evidence and strong academic leadership. The Samuelis' transformational gift is the first step toward creating an expanded health sciences campus, integrating the affiliated schools and programs of the college as well as new teaching, research and clinical spaces.
"Susan and I have supported healthcare research for nearly 20 years, and over that time, we have seen a significant expansion of the scientific evidence demonstrating the value and efficacy of integrative health. This evidence base is critical as UC Irvine — a young, innovative institution — takes this big and influential step," said Henry Samueli, Ph.D., an engineer and co-founder of Broadcom Corporation. "We are very excited for the UC Irvine College of Health Sciences to become a national model for integrative health. We believe this model will eventually become the standard approach for promoting health and well-being in our society."
Planning for this effort will be a central feature of an upcoming UC Irvine fundraising campaign, with Susan and Henry Samueli as honorary co-chairs. Their latest pledge continues the Samuelis' generous support of UC Irvine, more than $70 million prior to this announcement, highlighted earlier this year by a $30 million gift from the Samueli Foundation for a convergent sciences building. In 2000, the couple received the UC Irvine Medal — the university's highest honor — for their exceptional contributions to UC Irvine's mission of teaching, research and public service.