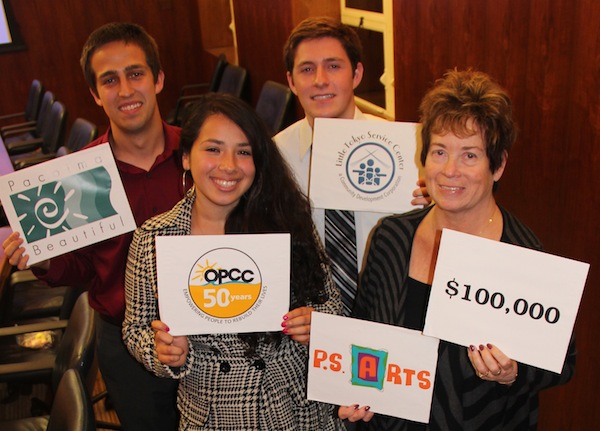 In a first for UCLA, students in a unique undergraduate course will be divvying up a pot of $100,000 donated by the Once Upon a Time Foundation, a Texas-based organization that raises awareness about philanthropy, to four deserving nonprofits in Los Angeles.
The course, "Philanthropy as Civic Engagement," which is designed to teach students about philanthropy and the local nonprofit sector, reflects UCLA's strong commitment to community service and engagement and to developing future leaders. It is also emblematic of campus's long track record of providing innovative and dynamic undergraduate education.
A novel learning opportunity, the class not only teaches students about the ins and outs of philanthropy and nonprofits but helps them hone their skills in critical thinking, presentation, grant writing and public speaking, said instructor Judith L. Smith, UCLA's dean and vice provost for undergraduate education, who developed the course in collaboration with UCLA's Center for Community Learning. Further, the students are required to use these skills to reach a decision about which organizations they will support and how much money each will receive.
"It's an exciting, real-world challenge and one that the students have been taking seriously over the past two months," Smith said.
At the outset, the class of 24 students was broken up into four groups, each representing a major nonprofit category — the arts, environmental sustainability, civil rights, and health and human services — and each group was given a list of 12 organizations to research. They were then required to pare down their list to six semifinalists and, ultimately, to select one finalist for whom to advocate. Finally, as a class, the students negotiated how much of the $100,000 each finalist would receive.
The final funding decisions will be announced at 4 p.m. on Monday, Dec. 10, at a ceremony at UCLA's Faculty Center. Representatives from the nonprofits selected as finalists will be on hand to accept their grants.
The rules for the funding of the finalists are simple: No organization can receive less than $10,000 or more than $50,000, and granting four equal gifts of $25,000 is not an option. The funding decisions are to be made solely by the students.
The final four contenders are Pacoima Beautiful (environmental sustainability), a group dedicated to creating a healthy, environmentally safe, prosperous and sustainable community; P.S. Arts (arts), which improves children's lives through arts education; the Ocean Park Community Center (health and human services), which provides shelter and services for the homeless, battered women and their children, and people living with mental illness; and the Little Tokyo Service Center (civil rights), which works to build community by improving the lives of individuals and families through culturally sensitive social services, strengthening neighborhoods through housing and community development, and promoting the rich heritage of the ethnic community.
"From the moment that I read about this class, I knew that I had to be a part of it," said Caroline Nguyen, a fourth-year anthropology and public health student whose team is advocating for Pacoima Beautiful. She said that although people her age have a passion for equal opportunity and social equality, there are not enough opportunities for them to act on their interests.

"As a society, I think we are moving toward the realization that people need help," she said. "Whether due to their own decisions or not, people who live in poverty, who have poor health, who receive poor education or no education at all — we have a responsibility, as their peers and friends, to create equal opportunity for everyone in this country and in this world."
Brandon Lee, a senior majoring in communications studies and minoring in accounting, said he appreciated the opportunity to get out into the Los Angeles community to learn about all the great work being done by nonprofits. Witnessing this, he added, made narrowing down a list of 12 organizations to just one was particularly challenging.
"We have encountered so many amazing organizations that are doing great things in the community, so it really was heart-wrenching every time we had to eliminate a group from our list," said Lee, whose team ultimately chose to support P.S. Arts. "The most rewarding part, though, has definitely been the site visits. I was given the opportunity to see the positive impact of various programs, and I have to admit that I got teary-eyed on some of these visits. Just from a short visit to a juvenile hall or a school, you get to see how these organizations are changing lives, and it moves you."
The course is carefully designed to cover the historical, political and philosophical aspects of philanthropy, said Smith, who added that 50 students applied for the 24 slots in the class. Many of the students in the course already have experience volunteering for nonprofits, she said.
"But in class, they learn about the structure and operations of not-for-profit organizations," Smith stressed. "They work in small teams to write a funding proposal, and then they sit on a 'board' to make funding decisions on competing proposals."
Each week, the students arrive for class in strict business attire — no jeans, T-shirts, sneakers or sandals allowed — and meet in the UCLA chancellor's boardroom in Murphy Hall. This is real business, Smith said, and when students come through the door and sit down at the large boardroom table, they are assuming the role of board members with important responsibilities.
Classes include an hourlong lecture, followed by a one-hour panel discussion featuring experts from different nonprofit sectors, then an hour in which students work in their individual groups.
Business leader Meyer Luskin, who has made considerable philanthropic donations over the course of his life — including a $100 million gift to UCLA in 2011 — was one of the guest speakers who came to class to share his experience, insight and expertise.
"I think giving is something that should be happening throughout your entire life, from the beginning to the end," Luskin said. "To emphasize philanthropy in the university is important because I think philanthropy needs to play a larger role in American life. I think UCLA has more of a 'giving back to the community' attitude than any of the other local schools."
The Once Upon a Time Foundation has funded similar philanthropy classes over the past several years at the University of Michigan, Harvard University, Yale University, Stanford University and the University of Texas, to name a few. The organization has committed funds that will help UCLA run the class at least once again.