March 10, 2016
Alec Rosenberg
,
UC Newsroom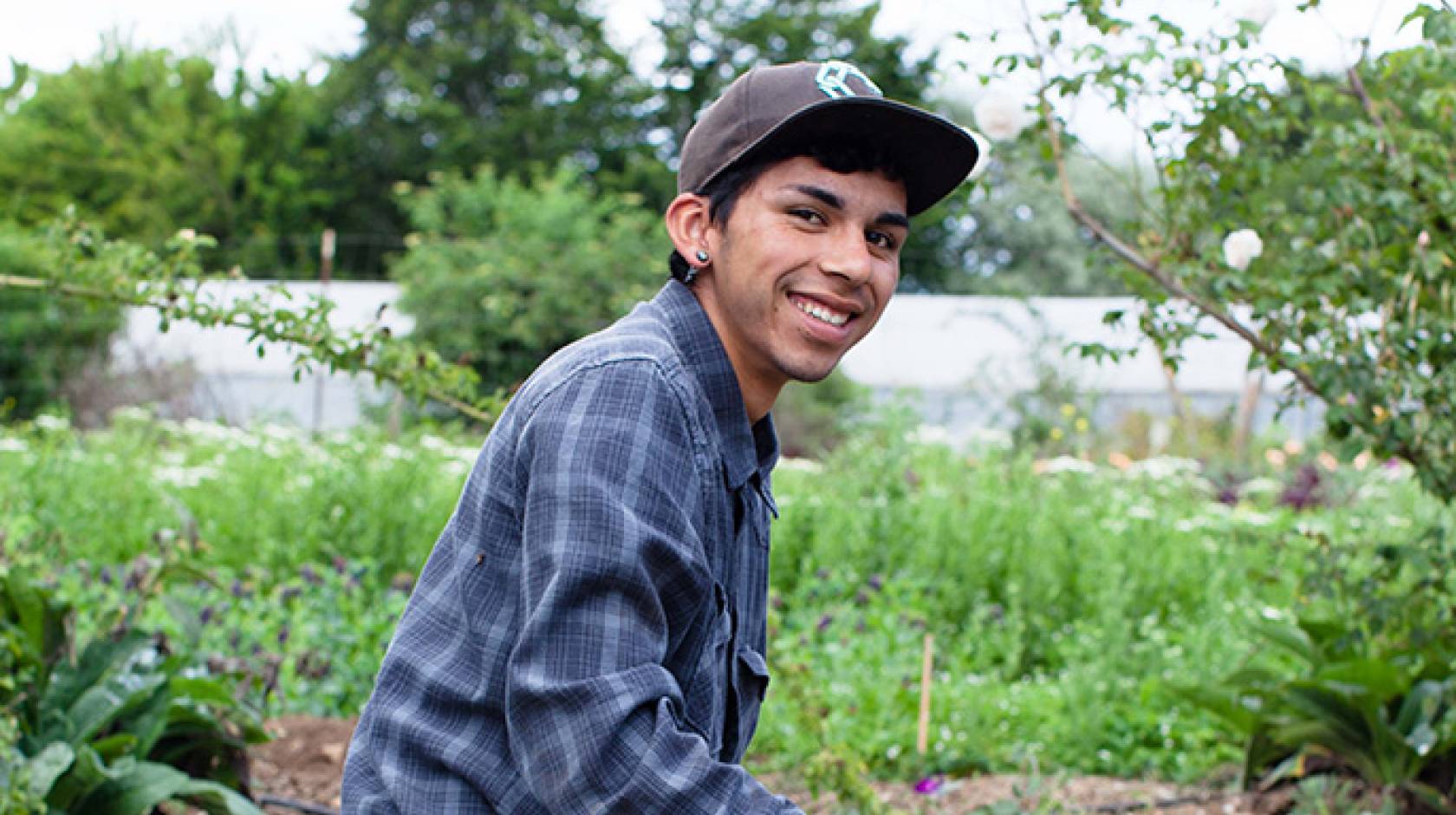 Credit: Carolyn Lagattuta/UC Santa Cruz
As a freshman at UC Santa Cruz, David Robles felt frustrated.
He was learning about environmental problems in his classes but couldn't see how he could help solve them. Then, against the odds, he was one of only two people selected among 200 applicants for a work-study job on the campus farm. Suddenly, a career path took shape.
"It totally changed the way I saw environmentalism," Robles said. "I could work for hours and see how it's contributing to the sustainability cause."
Now a senior, Robles has spent three years as an assistant farm and garden manager in preparation for what he hopes will be a career in social justice centered around agriculture. But before he graduates, he is undertaking a fitting final project: Coordinating, producing and writing lyrics for a rap music video that highlights experiential learning in food and agriculture as part of his UC Global Food Initiative Student Fellowship.
"It's really important to find yourself amid all the academic chaos," Robles said. "Experiential learning helps students realize where they can really apply themselves to see where they can make a tangible difference."
From well-established student farms at UC Davis and UC Santa Cruz to a crop of new gardens, courses and programs popping up across the University of California system, UC is offering experiential learning opportunities to students at all levels. This hands-on learning offers invaluable real-world experience to students, diversifying their skills, providing leadership development and helping prepare them for successful careers.
Overall, UC offers more than 200 courses and 150 programs related to experiential learning in food and sustainable agriculture systems. For example, farms and gardens provide diverse opportunities for students to participate in activities related to food, nutrition, research, education and outreach, according to a new Global Food Initiative report that highlights best practices, lessons learned and case studies of experiential learning across the UC system.
Filling a need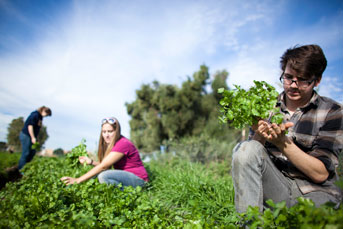 "There's a huge increase in student interest in experiential learning from gardening to social justice," said Mark Van Horn, director of the 20-acre UC Davis Student Farm, who co-authored the Global Food Initiative experiential learning report with colleagues from UC Berkeley and UC Santa Cruz.
Each year, nearly 2,000 school children visit the UC Davis Student Farm to learn about growing food, healthy eating and garden ecology from a team of student interns. As part of the Global Food Initiative, a student-produced video highlights the farm's impact on students, with roles ranging from volunteers to interns to paid student farmers.
"When you're working to till the food, there's a great love and care that comes from that, a great sense of community and wholesomeness," said UC Davis clinical nutrition student Nancy Zheng, a market garden intern who directed the video. "To know where my food comes from, to know that it will benefit my body, it's amazing."
UC Davis, which ranks No. 1 in the world for teaching and research in agriculture, has more than 100 courses and three dozen programs with experiential learning components in food and agriculture. In particular, interest has grown in the sustainable agriculture and food systems major, with more than 100 students who focus on the social, economic and environmental aspects of food and agriculture, including internships and senior capstone courses.
Setting an example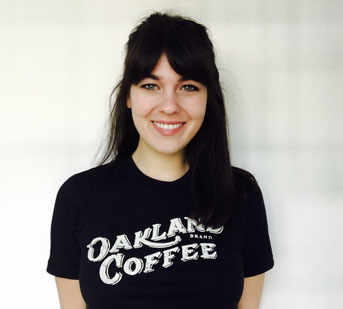 For Kate Kaplan, the UC Berkeley Student Organic Garden Association provided a place to grow food, nurture her interest in sustainability and create a career path that's building a buzz.
She served as a student manager of the garden, advocated for a food systems minor as an undergraduate representative, and worked on the experiential learning report and directories as a UC Global Food Initiative student fellow.
Kaplan said she hopes that the experiential learning report and directories "will show students existing programs on other campuses they might want on their campuses. We don't have to reinvent the wheel at every campus."
After graduating in 2015, Kaplan is putting what she learned into practice as executive director for Oakland Coffee Works, a new organic coffee company founded by Green Day's Billie Joe Armstrong and Mike Dirnt.
"The definition of experiential learning is 'learning by doing' and trying things out," Kaplan said. "That's what I do all day with this job. We're learning from the ground up."
Oakland Coffee Works launched two months ago. It's the first coffee company to use only fully compostable-packaged products, including 12 ounce coffee bags and, coming soon, single-serve coffee cups, she said. It also has a charitable arm that supports the communities where its coffee is grown.
"We're trying to take the values that Oakland stands for – quality and sustainability – and make that available for people all over the country," Kaplan said. "(Armstrong and Dirnt) really care about this company. They would not go to all this trouble if they did not believe in it. It's been really inspiring."
Growing gardens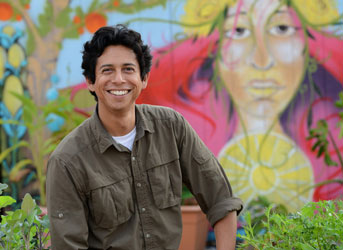 Every UC undergraduate campus has a student-run farm or garden.
Fortino Morales III helped start UC Riverside's R'Garden while a student. It began as a quarter-acre pilot program in 2009 and has blossomed into a 3-acre garden, which Morales oversees as community garden coordinator, with help from three student workers.
R'Garden has become a hub of activity for the campus and surrounding community. The garden has 40 plots for students, faculty, staff and the broader community, packed with produce that grows alongside orange trees and row crops of vegetables that include broccoli, carrots and lettuce. It's a welcoming spot where students can work on projects such as building earthen benches, conduct research on the health benefits of gardening, and attend student-led and faculty-led courses that cover everything from gardening to food and politics.
"It's been amazing," Morales said. "It's brought food to another level of conversation."
"A hot topic"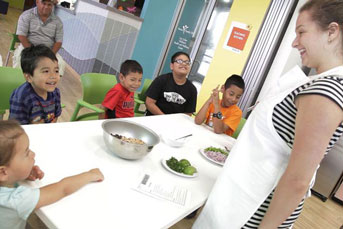 At UCLA, the Resnick Program for Food Law and Policy – the first of its kind at a top tier law school – studies and advances solutions for improving the modern food system. It will be launching a legal clinic dedicated to providing law and policy support to organizations working to advance healthy food access and sustainable food production, which will include experiential learning opportunities for students.
Last summer, 20 UCLA students participated in the new "Food Studies and Food Justice" class funded by the UC Global Food Initiative. In the class, students learn about food policy, the science of food and more while also serving internships such as helping the Venice Family Clinic with cooking classes for low-income families or working with Seeds of Hope to turn vacant church-owned land into community gardens and orchards.
"Food is a hot topic right now," said Kathy O'Byrne, who teaches "Food Studies and Food Justice" and directs UCLA's Center for Community Learning. "Whether it's research, policy, waste, marketing, logistics or event planning, or looking at the relationship between government regulation and government assistance around food programs, or the level of hunger, poverty and homeless people in L.A. — these things are interconnected on every level."
Building on that interest, UCLA just launched a food studies minor, which includes interdisciplinary courses and a capstone experience. The program embraces a rapidly growing course list from a variety of departments that use food as the main lens of investigation.
"Learning beyond the classroom"
UC Berkeley launched a food systems minor in the fall. As part of the minor, students complete a community engagement project in their junior or senior year to bring together what they have learned in a real-world setting.
Such "learning beyond the classroom" is a key element of experiential learning, said Ann Thrupp, executive director of the Berkeley Food Institute, which helped develop the food systems minor.
Strong roots
Founded in 1868 as California's land-grant university, UC is deeply rooted in food and agriculture, from the creation of the Berkeley campus to UC Davis' ties with University Farm to UC Riverside's ties with the UC Citrus Experiment Station in Riverside.
When Cooperative Extension was established a century ago, UC developed a network of advisors who bring research-based knowledge from campus to the community. Today, UC Cooperative Extension, part of UC Agriculture and Natural Resources, has programs in every county in California, with experiential outreach efforts including 4-H, Master Gardeners and Master Food Preservers. To help train students interested in Cooperative Extension work, UC ANR is piloting a Graduate Students in Extension program at UC Berkeley, where graduate students incorporate extension into their research while partnering with a campus department and a community organization.
Expanding opportunities
At UC Santa Cruz, new undergraduate internships give students from across the campus a chance to work alongside participants in the Apprenticeship in Ecological Horticulture, which is a six-month, full-time residential training program in organic farming and gardening offered by the UC Santa Cruz Center for Agroecology and Sustainable Food Systems.
"The apprenticeship has had fantastic success for more than 40 years," producing more than 1,400 graduates, said Damian Parr, the center's education coordinator and a former apprentice. "We're now moving toward more integration with upper division and senior undergraduate internships as we build the capacity at the introductory level."
In all, about 200 undergraduates a year participate in the Center for Agroecology and Sustainable Food Systems' fieldwork-intensive classes and internship programming. In addition, some 3,600 preK-12 students visit the UC Santa Cruz Farm annually for environmental education through Life Lab. UC Santa Cruz also partners with FoodWhat, a youth empowerment and food justice organization that works with low-income high school students in Santa Cruz County.
Inspiring others
In July, a three-day national conference will be held at UC Santa Cruz in collaboration with the Sustainable Agriculture Education Association. The conference will be a chance to discuss sustainable agriculture education and see examples of experiential learning in action.
Parr hopes to debut Robles' video at the conference.
Robles noted that his video is about experiential learning and is a form of experiential learning – bringing together diverse groups from film students to music students to sustainability students.
"I hope to inspire more students to join those organizations and find themselves like how I found myself on the farm," Robles said.