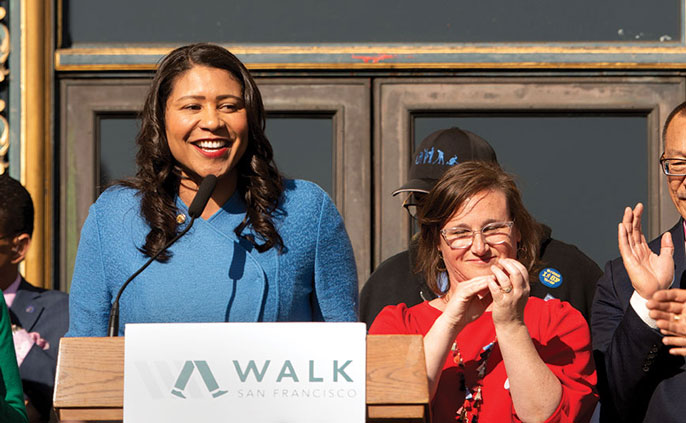 London Breed made history last June.
The 43-year-old UC Davis alum (Political Science '97) became the first African American woman to be elected mayor of San Francisco after a hotly contested election. It's her highest profile position in a career that's been devoted to public service in her hometown.
But Breed didn't envision working in politics when she was a student at UC Davis. Raised by her grandmother in public housing in the city's Western Addition neighborhood, Breed grew up in poverty and in an area wracked by violence. Great teachers and smart programs, she said, gave her opportunities to flourish despite the obstacles.
She landed her first paid internship, at 14, at The Family School as part of the Mayor's Youth Employment and Training Program under then-Mayor Art Agnos. Around that time, mentors, like high school teacher Ms. Luke, pushed her to consider college. After graduating with honors from Galileo High School, she enrolled at UC Davis, majoring in political science.
The plan, she said, was to use her degree — and her later masters' degree in public administration from the University of San Francisco — to be "actively engaged to help support and change policy so that it could positively impact my community," she said.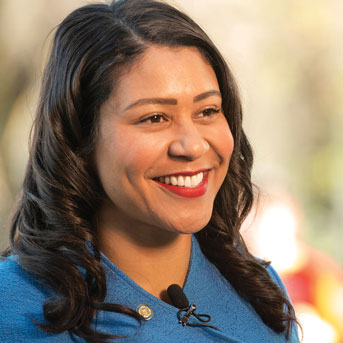 But politics came to her.
Formerly the executive director of the African American Art Culture Complex, Breed served on the Redevelopment Agency Commission and was elected to San Francisco's Board of Supervisors in 2012; in 2015, she was elected its president. In that position, she was next in line of succession to the mayorship when Mayor Ed Lee suddently died in December 2017. She had served as acting mayor for a little more than a month when she was replaced by the Board of Supervisors over fears that her incumbency would give her an advantage in the election.
Undaunted, Breed won election in June 2018 to serve as mayor for the remainder of Lee's term, which runs through 2020.
In the top spot, she's working on an ambitious slate of projects aimed at some of the city's most intractable problems: Homelessness, drug addiction, home affordability and youth poverty. Here, Breed reflects on her days at UC Davis, her vision for San Francisco, and what life might have been like if she'd followed a different path.
Q: You've said that a strong support system in high school led you to consider college. What drew you to UC Davis?
A: UC Davis was actually one of the first colleges I learned about. I was in 11th grade in Ms. Luke's U.S. government class, and a recruiter from Davis came to talk to us about the school and the requirements to get in. When I got in, I was really excited.
Q: Did you know then that you wanted to pursue public service?
A: I [actually] got a chemistry scholarship. I was good at physics. I was good at chemistry in high school and was offered not only a scholarship [to UC Davis] but a paid internship at Lawrence Livermore National Laboratory. I thought, "Wow, I'm going to be a chemist!"
Q: When did you switch from the sciences?
A: I was a bit of a clumsy chemist, spilling methylene chloride and liquid nitrogen. And I was too impatient to be a chemist. And — chemists might kill me for this — I wasn't getting excited about it. I mean, I got excited when my crystallizations finally happened, but it took so long to get there! I was taking a number of African American studies classes, and I started looking at literature and wanting to do more writing and more reading and more discussions. I started taking some political science classes because I was interested in politics, and that's what led me down that path. I did the political science/public service major, where you also had to do an internship. When I changed my major to political science, I didn't necessarily think I was going to be an elected official.
Q: How does what you learned at UC Davis influence your leadership style?
A: We learned about great philosophers, and we learned about how they used philosophy, in terms of how you live and how you treat others. When you make decisions about people's lives, a lot stems from looking at how you make the decision and how it might impact somebody's life. And as someone who grew up in poverty, there were some great policies that had a positive impact on my life, and then there were, sadly, really horrible policies that destroyed my community. My education at UC Davis helped me think things through in terms of how decisions and policies are made.
For the full interview and more photos of Mayor Breed, check out UC Davis Magazine's feature article, "London's town."