January 19, 2023
Jill Kato
,
UC Irvine School of Sciences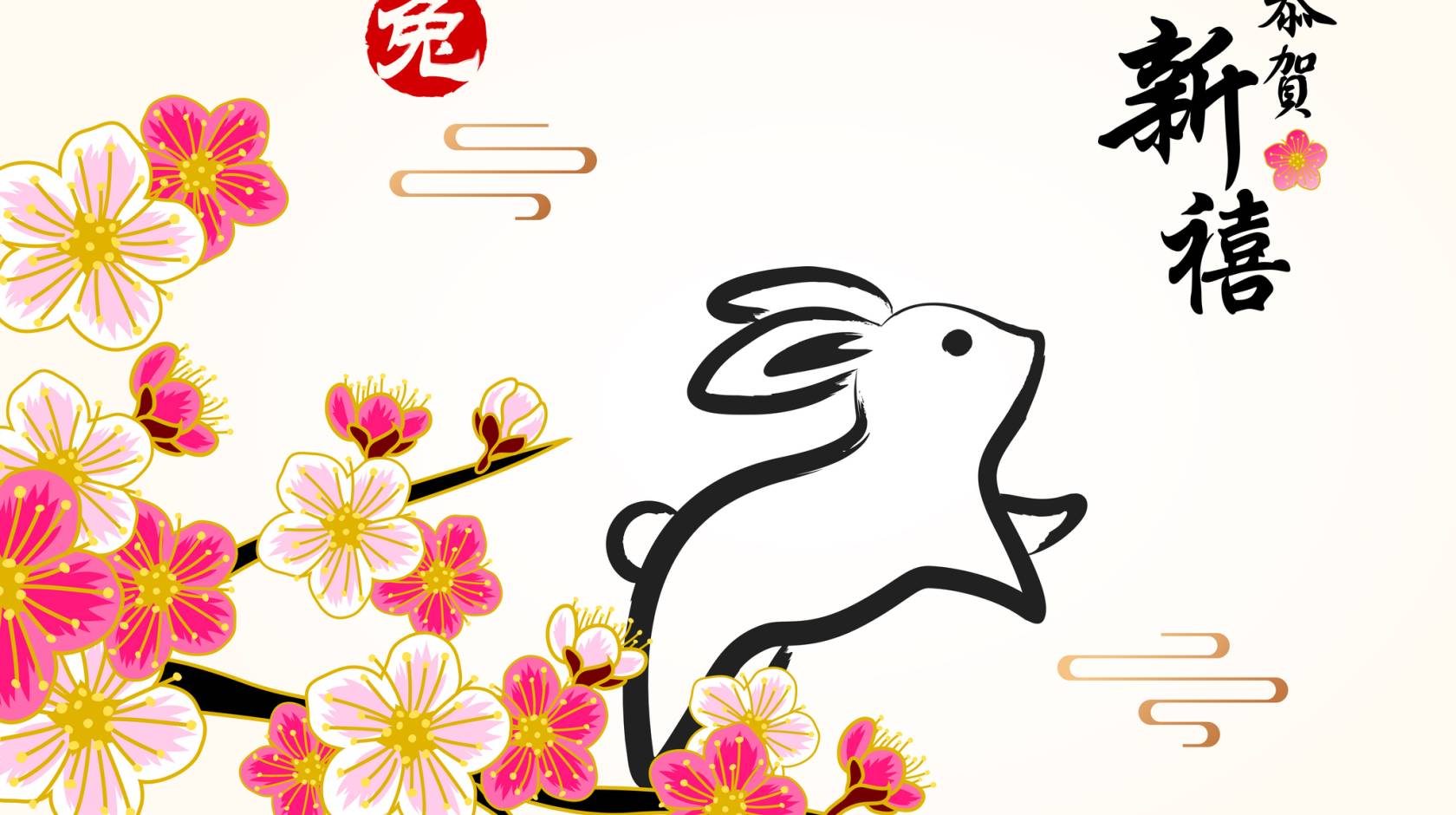 A sea-dwelling beast who fears the color red, a good fortune-bringing dragon and an abundance of family and friends are hallmarks of Lunar New Year celebrations held throughout the world honoring traditions, old and new.
"It's the most important holiday in East Asian society," says Henry Huang '97 economics. "It's like Christmas, Thanksgiving, and all the holidays combined." A founding member of the School of Social Sciences Dean's Leadership Society, Huang — with backing from the UC Irvine Long U.S.-China Institute — played an integral role alongside the school in launching what's become UC Irvine's largest Lunar New Year celebration. And the campus was happy to welcome one and all back in-person Tuesday, January 17 — rain or shine — for the daylong festival filled with multicultural performances, complimentary food and drinks, and more.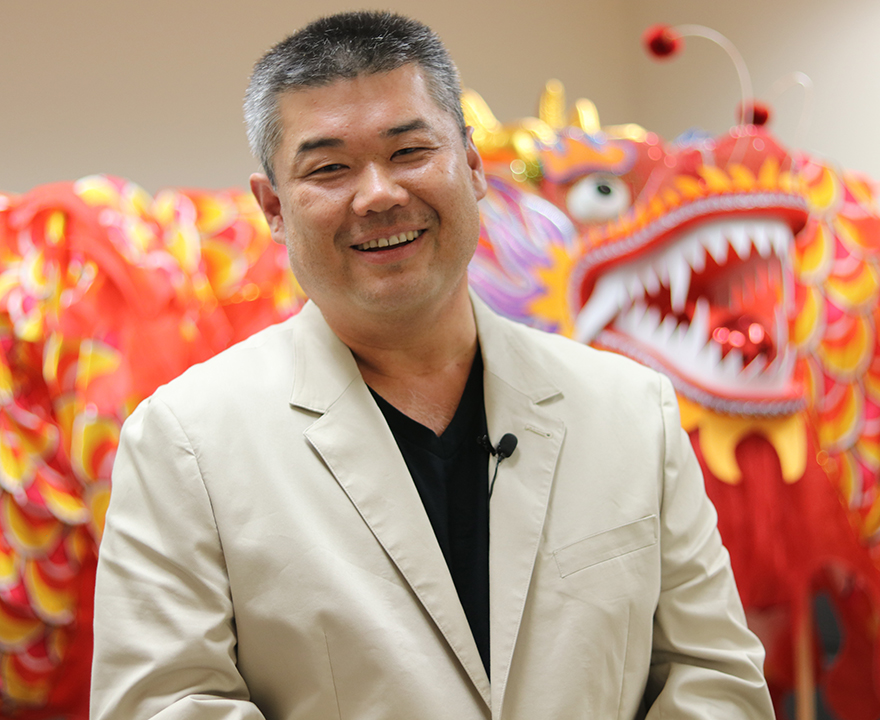 Ancient beginnings
The origins of Lunar New Year celebrations are thousands of years old. According to folklore, at the start of the new year, a beast arose from the sea to feed on humans and livestock. In response, people lit firecrackers, wore red clothing, and decorated their houses in red to scare the beast away — traditions that continue to this day.
Another figure that has a large presence in Lunar New Year celebrations is the dragon — a creature considered lucky for its believed ability to control rain. Over time, the mythical meaning behind the dragon has evolved to symbolize overall good fortune. Today, dragon dances, with multiple people operating a large and long puppet held up by sticks, are a mainstay in Lunar New Year celebrations worldwide.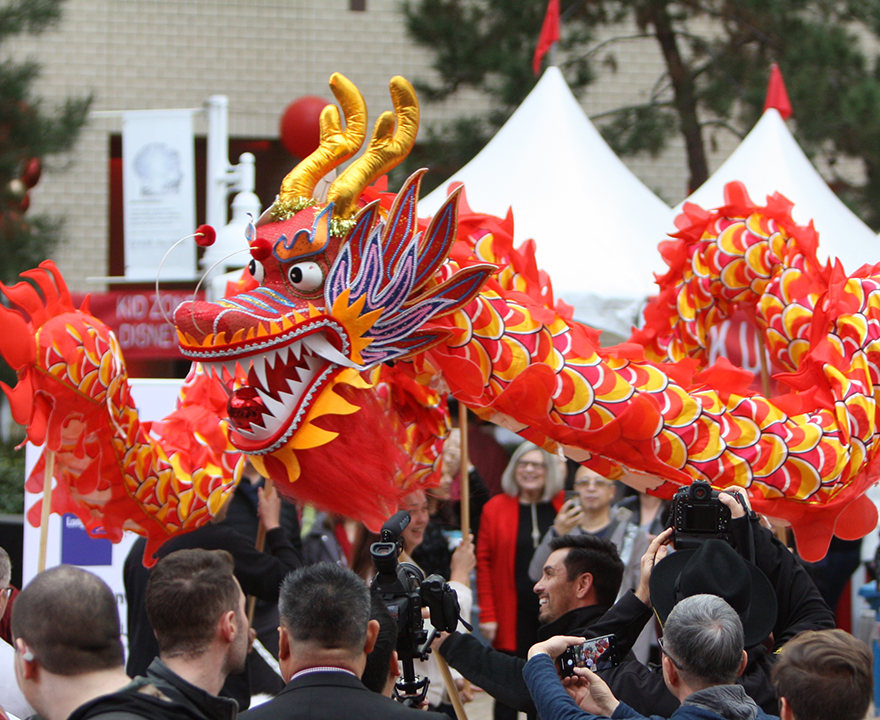 The holiday is so important to the people of East Asia that the period surrounding it has been called the world's largest migration as an estimated 3 billion people travel to be with their families.  
New Anteater traditions
The origin of UC Irvine's Lunar New Year celebration may be a little less mystical, but it still has the underpinnings of good fortune and friends. In 2016, John and Marilyn Long, longtime donors and friends of UC Irvine, inquired about what the university could do for students who couldn't be home with their families during the Lunar New Year holiday.
"The Longs recognized that for many of our students, travel home to be with family was not an option, whether home was mainland China, Manhattan or Mountain View," says Bill Maurer, social sciences dean and anthropology and law professor. "They wanted to give students a way to celebrate with their UCI family."
With the decision that the Longs would back the celebration led by the School of Social Sciences and its partners, the school turned to Huang to help get the wheels in motion. Huang — with only five weeks to mobilize — leaned into his strong ties with the Chinese community and got to work organizing and publicizing the event to the public and media. Together with the school's development and leadership teams, he helped welcome nearly 1,000 guests to the first-year ceremony which was topped off with a lion dance performed by one of UC Irvine's student organizations.
"It was a great start and we've only grown from there," says Huang. The following year, he personally commissioned a dragon to be made in time for the next celebration. When he couldn't find one in the U.S., he traveled to China to get one made. The dragon, which has been a staple of UC Irvine's ceremony each year since, is about 30-feet long, lights up, and requires ten people to operate.
For its inaugural dance, Huang recruited and trained social sciences dean Bill Maurer, several UC Irvine trustees and others in the DLS. Luckily, Huang had prior experience performing on a dragon dance team and was able to teach the others a little choreography. What the performance lacked in perhaps dynamism, it made up for in credentials, Huang jokes.
"The local Chinese-speaking newspaper did a story about the event and they called it the most academic dragon they had ever seen," says Huang, laughing.
Also an event essential is the presence of Peter the Anteater. And at one point, the idea was raised to outfit Peter for the occasion. "Everyone looked at me again," says Huang in good humor. After getting approval from the athletics office for Peter's new threads (because Peter's garb is a point of pride for the campus), Huang — armed with Peter's personal measurements — headed to Chinatown to hunt for a Lunar New Year outfit befitting an anteater. He went to what seemed like every shop in town, but couldn't find clothes that would fit. So Huang found the biggest outfit he could and took it to a tailor for Peter-specific alterations. 
Great expectations
"While our pandemic virtual events were astounding — artistically and of course technologically — nothing can quite compare with the sounds of children playing games, the scents of the delicious food provided by our sponsors, and the beat of the drums that you feel in your core," says Maurer. "I really can't wait for this community-wide party!"
For this year's celebration, the campus again transformed into an extravaganza of vibrant lanterns, banners and activities. Attendees were treated to a variety of cultural performances, including the celebrated dragon dance, the feeding of the lions, martial arts displays, drumming, a ribbon dance, wishing trees, music and much more.
The festivities kicked off at 11 a.m. in the UC Irvine Student Center with a hands-on exploration of how the holiday is celebrated globally — featuring game booths and arts and crafts stations. Participants then headed over to the Irvine Barclay Theatre for a screening of the documentary "Beethoven in Beijing" and conversation with co-producer Jennifer Lin, conductor Jindong Cai and historian Sheila Melvin, facilitated by HU Ying, professor and chair of UC Irvine's Department of East Asian Studies. From there, the sounds of the street festival drew participants to the lobby and back again to the central stage for Asian-inspired delectable bites and colorful costumes. From a traditional dragon dance, the feeding of the lions, and performances by UCI Hansori, Hikari Taiko Drummers, and UCI KPOP, the festival offered something for everyone.
Since 2017, South Coast Plaza has been the event's leading VIP sponsor, hosting a private lounge for select donors and community friends. Outside the lounge, vendors served up complimentary food for all. UC Irvine students from various associations were be on hand volunteering while guests can enjoy traditional dance and drumming performances.
Since 2019, Disney has sponsored the wishing tree and the kids zone with night market and carnival-style games, a family-friendly interactive area that was welcomed back again this year.
The daylong festivities closed out as The Trio Barclay and students from the UC Irvine Department of Music joined forces to create an intimate one night only Lunar New Year musical experience.
"The students love the campus celebration," says Huang. "They're so appreciative that they have this on campus. In America, they don't have this time off from school. Students don't have the chance to travel home. Having this event on campus makes them feel, that for a moment, they are home celebrating with their families. Everyone — from the campus to the surrounding community, families, kids — all are welcome. There's something for everybody!"
Inviting others to experience the celebration seems even more important to Huang this year following social isolation caused by the pandemic and the recent rise in anti-Asian crimes.
"People fear what they don't understand. This celebration is an opportunity for folks to experience a cultural event and see that there's nothing scary about it. Once people understand this, ethnic relationships can improve," says Huang. Huang was among the energetic crowd this year happily welcoming in the year of the rabbit at the Jan. 17 celebration.