July 14, 2016
Laura Counts
,
UC Berkeley
He put the earth in your pocket, and now he's unleashed pocket monsters on the earth.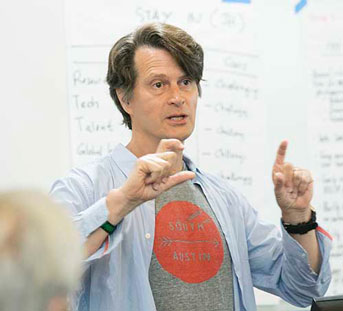 John Hanke, UC Berkeley MBA '96 and CEO of Niantic Labs, is the driving force behind Pokémon Go, the hottest craze to hit smartphones—ever. Since its release just a week ago, the "augmented reality" game has sent millions of phone-toting players to the streets on the hunt for animated Japanese characters that pop up with the help of location services. The crush of downloads nearly crashed Niantic's servers, and the number of active users is nearly on par with Twitter.
It's one of those moments, The New York Times declared this week, "when a new technology—in this case, augmented reality or A.R., which fuses digital technology with the physical world—breaks through from a niche toy for early adopters to something much bigger."
Yet it's not the first time Hanke has propelled a breakthrough technology into the mainstream. As an MBA student at Haas in the mid-1990s, he co-founded a company that developed one of the first online games to allow hundreds of people to play together in a virtual environment.
Hanke went on to co-found Keyhole, which bridged the gap between geospatial data visualization on high-end computers and the navigation apps we all carry in our pockets. Google acquired Keyhole in for $35 million 2004, and Hanke stayed on to lead the development of Google Earth, Maps, and StreetView. He then launched Niantic Labs inside Google to focus on next-gen games, and spun it out as a separate company last year.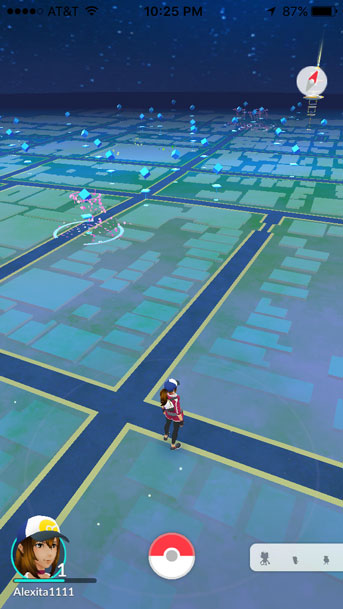 Achieving a vision
"John represents many of the best attributes of entrepreneurship and Berkeley-Haas: Leadership through continuous cycles of innovation, without attitude or bravado, creating value for society and all who collaborate with him," said Jerome Engel, founding executive director of the Lester Center for Entrepreneurship, who recently wrote a business case that explored Hanke's decision to separate from Google. (Hanke made a surprise visit to Engel's executive education class last month for the debut of the case.)
The success of Pokémon go is, for Hanke, a realization of the vision he came to Haas to achieve.
"My essay to Haas was written about the opportunity in the space of interactive gaming and technology," Hanke said in 2014 Haas video. "I wanted to build applications that would deepen people's involvement in their town or community, to encourage people to actually meet up in the real world."
Digitally enhanced social interaction
Niantic Labs' first augmented reality game was sci-fi based Ingress, which—like Pokémon Go—takes advantage of the cameras and GPS on every smartphone. Gamers must visit places of cultural significance, such as statues or historic buildings, to open virtual "portals" and capture territory. Yet the real magic—and Hanke's motivation in developing the games—is in what happens offline.
"It gives people an excuse to meet other real people. It's incredibly rewarding for me to see these people coming together and to see the happiness, the joy that people are getting from exercising, exploring their city, and making new friends," Hanke said in the video interview, referring to Ingress.
The concept of digitally enhanced social interaction has exploded with the new game: As of July 12, more than 5,000 people had RSVP'ed to the Facebook invite for a "Pokémon Go Crawl" in San Francisco on July 20, with 22,000 more responding as "interested."
Pokémon Go brought A.R. mainstream through the appeal of cute animated characters—Pokémon translates as "pocket monster"—beloved by those who came of age playing the video games and trading cards in the late 1990s. Niantic developed the game in conjunction with Nintendo, which partially owns the Pokémon franchise, and Pokémon Co.
Hanke credits Berkeley-Haas for helping him cultivate not only the skills, but also the mindset to become a professional entrepreneur.