April 27, 2015
Alec Rosenberg
,
UC Newsroom
Credit: Mark Bittman: California Matters
What happens when a renowned New York food writer comes to California to soak in the Golden State's agricultural and food scene?
Find out in "Mark Bittman: California Matters," a 10-part video series launching June 8, produced by the University of California and Berkeley Food Institute.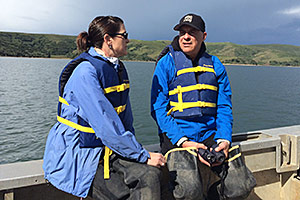 Bittman, a widely admired food writer, best-selling cookbook author and New York Times columnist, is in California this spring as a distinguished visiting fellow at the Berkeley Food Institute.
For the series, he hits the road, traveling from oyster farms off the Northern California coast to Chinese restaurants in Los Angeles to immigrant farmers in the Central Valley, exploring leading-edge UC research in food, sustainable agriculture, policy and health.
"While I'm here, I want to find out as much as I can about the agriculture and food research surrounding it," Bittman said. "There's a lot going on out here."
Urban foraging
The first episode will explore urban foraging with UC Berkeley's Tom Carlson and Philip Stark, who are studying the prevalence, nutritional value and possible toxicity of wild edibles in urban food deserts as well as barriers to widespread use of these foods. New stories will run online every two weeks with bonus footage in between.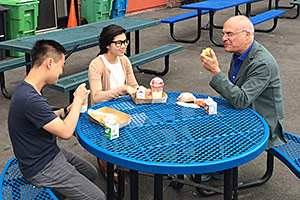 UC is producing the video series in collaboration with the Berkeley Food Institute as part of the UC Global Food Initiative. UC President Janet Napolitano, together with UC's 10 chancellors, launched the initiative in July in an effort to help put UC's campuses, the state and world on a pathway to sustainably and nutritiously feed themselves.
"We're excited about this video series because it will help elevate public attention to important innovative research projects at UC Berkeley and other UC campuses that address compelling issues in food and agriculture systems in California and beyond," said Ann Thrupp, executive director of the Berkeley Food Institute. "The videos will give the public a taste of remarkable discoveries and findings from studies of a diversity of critical topics that touch our everyday lives."
In the series, Bittman visits an oyster farm and discusses why ocean acidification matters with Tessa Hill of UC Davis. He checks out efforts to improve school meals and prevent childhood obesity with Kristine Madsen of UC Berkeley and UC San Francisco, and digs into sustainable food systems with Martha Brown and Daniel Press of UC Santa Cruz.
What role do pollinators play in crop production? Find out in an episode with Claire Kremen of UC Berkeley. Other episodes will cover lessons about pesticide exposure among mothers and children in the Salinas Valley with Brenda Eskenazi of UC Berkeley, and the changing face of California agriculture, highlighting Hmong and Mien farmers, with Jennifer Sowerwine of UC Berkeley and UC Agriculture and Natural Resources.
Food as culture and industry
In addition, Bittman will dive into the history of Chinese-American food and culture with Yong Chen of UC Irvine and take a look behind the kitchen door with restaurant worker advocate Saru Jayaraman of UC Berkeley.
For the last story, Bittman caps the series with a roundup of his experiences in California.
Don't miss an episode. Subscribe to California Matters on YouTube and watch the series.