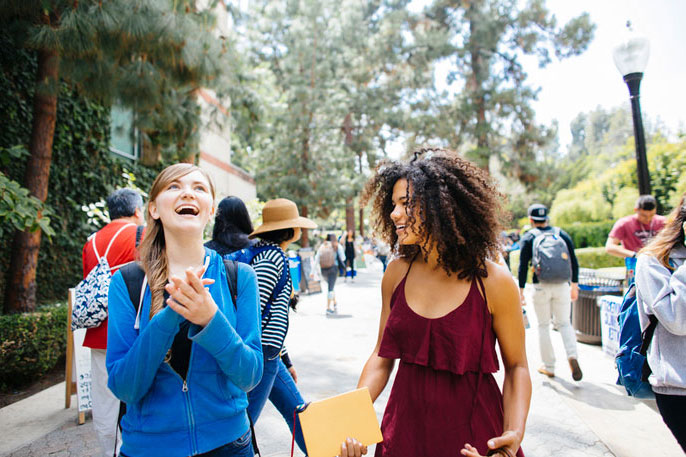 UC's incoming class includes:
39,000 new California freshmen
17,000 new California transfers
15 percent more California students than 2015
38 percent of freshmen and 34 percent of transfers from underrepresented minorities
82 percent are California residents
As classes begin this week on most UC campuses, the university is welcoming its largest and most diverse class ever — and also its most accomplished.
The thousands of newcomers poring over campus maps and carting their belongings up dorm stairs include a record number of California students: 38,000 freshmen and 17,000 transfer students, an increase of 15 percent over last year's class.
They hail from Silicon Valley and the Central Valley, from behind the Redwood Curtain and within the Inland Empire — and from backgrounds as multifaceted as the state itself.
More than 37 percent of freshmen and 34 percent of transfers come from underrepresented minority groups, the largest share in UC history. Many are the first in their families to go to college and most qualify for financial aid.
UC's most diverse class is also among its most accomplished. The number of rigorous college prep classes they have taken and the grades they've earned in those courses count among the highest for incoming students.
But they bring promise and potential that goes far beyond academics.
Inventors and Olympians, vaulters of obstacles, pathbreakers and social entrepreneurs — this is the kaleidoscope of ambition and talent that is the 2016 incoming class.
Meet some of the impressive new arrivals:
Lizbeth Nuñez: Dreamer and future brain scientist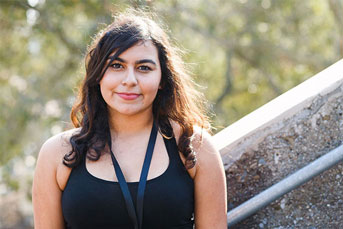 Just a few weeks ago, Lizbeth Nuñez was picking grapes in the hot sun near Bakersfield. Seeking extra money for school, she worked in the fields alongside her mother, who has labored as a farmworker in the Central Valley since migrating to the U.S. from Mexico more than 15 years ago.
Now, just weeks into her life as a UC Berkeley student, Nuñez is already deeply immersed in studies she hopes will lead to a career as a psychopathologist — a brain scientist who studies the physical and physiological causes of mental illness.
As an undocumented immigrant who has lived in California since she was two, Nuñez has found a supportive community at UC that aims to ease the path for students like her. "I know that if I feel left out or struggle, I have people I can turn to."
Charles Adams: Student inventor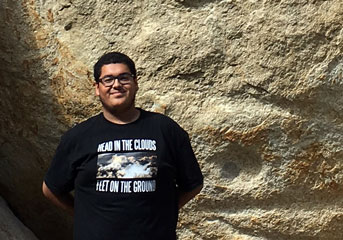 As a kid, Charles Adams would often break his glasses, and always at the same place — right at the hinge. So he did what any aspiring inventor would do: He engineered a novel solution, a system of tiny magnets that creates a 3-point connection between the arms and the frames. The flexibility means that it's easy to customize colors and frames — and you never have to worry about the arms breaking off.
His invention — called Dexter's magnetic glasses — won first place in a design competition. He plans to patent his invention, but is also looking forward to making bigger and better inventions at UC. No other university system holds more active patents.
At UC San Diego, where Adams is among the incoming freshmen, researchers develop on average one new invention per day.
"I love being able to create something that has a purpose," said the Porterville, California native. "And I love taking something that is an idea in your head and being able to bring it into reality."
Chloe Anderson: Barrier breaker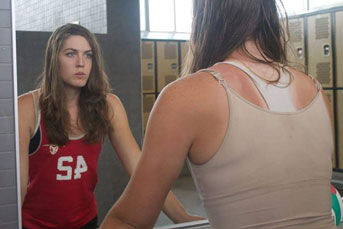 Once a teenager who did everything she could to remain invisible, the incoming UC Santa Cruz transfer student is making a name for herself in women's volleyball, where she is among one of the first transgender athletes to participate in the Division III sport.
Anderson doesn't consider herself an activist — just an athlete trying to do the best she can in a sport that she loves.
That's exactly how her Banana Slug teammates have welcomed her.
"They're silly and goofy, and they make me laugh," she said. "Our coaches really emphasize that everyone is there for each other. It's all about loving each other and supporting each other as a team."
Read more about Chloe Anderson
Malcolm Rashid: Turnaround artist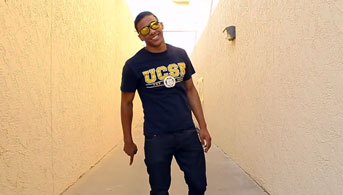 Judging from his wide-ranging accomplishments, this incoming UC Santa Barbara freshman is a natural-born whiz kid.
Graduating fourth in his class at Chowchilla High School, Rashid taught himself to write code and produce videos, did volunteer work in Guatemala and medaled in both track and Academic Decathlon.
But to get to Santa Barbara, the winner of the prestigious Gates Millennium Scholarship had to hurdle more than a few barriers, including autism, learning difficulties and a youth spent in foster care.
"I've learned to use my disability to my advantage," he said. "I had to work harder than average to have the ability to perform well."
Read more about Malcolm Rashid
Madison Kocian: Olympic medalist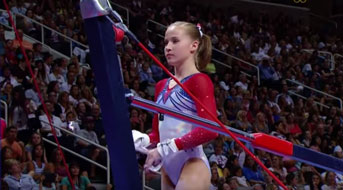 During the 2016 Olympic Games in Rio, American gymnast Madison Kocian was part of the much-loved "Final Five," the gold medal-winning team who named themselves in honor of their retiring coach, Martha Karolyi.
Now as a member of UCLA's incoming class, the Olympian joins UCLA's "Freshman Four," a squad of athletes who competed in Rio the month before they became Bruins.
Kocian was the first Bruin student-athlete to stand at the podium in Rio this year. She earned both gold and silver medals there, and has already been training hard with UCLA's championship gymnastics team in the quest to help them win more national titles.
She plans to parlay her experience on the uneven bars into her life as a student.
"Before a competition, I keep positive thoughts in my head. You can transfer that same mindset into taking a final," she said. "It's important to know that you're prepared, that you've studied and that you've done everything you can to be your best."
Read more about Madison Kocian
Angel Macias: Shaper of his own destiny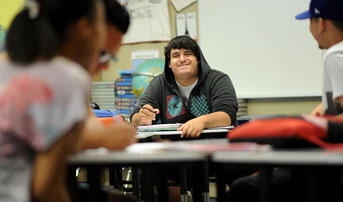 During the years when Angel Macias was a kid living in various cars and hotel rooms, two constants held his life together: school and the Xbox game "Destiny." To win, the player had to "fight for the light against the darkness," Macias recently told the Los Angeles Times.
It was an apt metaphor for Macias. Made homeless as a result of his mother's crystal meth addiction, Macias had little in the way of possessions. But he had a fierce determination to do well in school as a ticket out of the poverty and instability he'd grown up in.
Helped by supportive teachers, Macias pushed himself to get good grades and take AP classes, drawing on his love of video games to study technology and programming. Now a freshman at UC Davis, Macias plans to major in computer science.
He recently told the L.A. Times that he and his brother stayed out of trouble in high school because they knew what was at stake: "We knew what needed to be done, just because of being homeless. We wanted a different life."
Jesse Walbert: Veteran engineer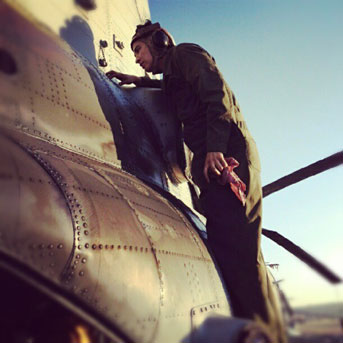 Born at March Air Force Base near Riverside, it was natural that Jesse Walbert follow in the footsteps of his father, a 20-year veteran of the U.S. Marine Corps. Walbert achieved the rank of Corporal during his five years in the Corps as a helicopter mechanic. He repaired aircraft used for cargo and troop transport, and served two overseas deployments on aircraft carriers in the Gulf of Oman and the Persian Gulf.
He loved the work and the camaraderie, but yearned to do more than fix helicopters. "I wanted to understand how they really worked — meaning how they are designed and built," he said.
A transfer student from Moreno Valley College, Walbert joins UC Riverside this week in pursuit of a mechanical engineering degree.
"The veteran community on campus has a good foothold and offers a lot of support," he said. "I'm excited to start classes at UC Riverside and see where my education takes me."
Mariana Del Cid: Marathoner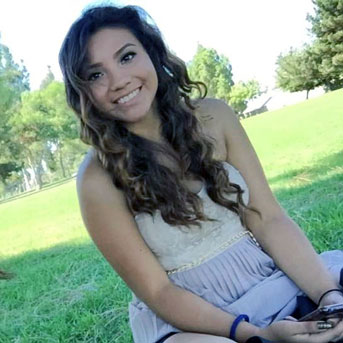 As a teenager in South Central L.A., Del Cid bucked her rough surroundings to excel academically, proving she was willing to work hard to succeed. She also has another important quality: the willingness to learn from her mistakes.
After transferring from an affluent magnet school to her neighborhood junior high, Del Cid briefly fell in with the wrong crowd. When she was arrested with her friends for ditching class and disturbing the peace, she took it as a wake-up call.
Along with buckling down and focusing on academics, she also started hitting the track — and has since run the L.A. Marathon twice.
When it came time to apply to college, UC Irvine seemed an ideal respite from her chaotic surroundings.
"When I visited the campus, I loved the trees and how peaceful it was," Del Cid said. "My home is the opposite. L.A. is so loud — and dangerous. I felt safe at UC Irvine."
Read more about Mariana Del Cid
Andrew Williams: Leader and youth mentor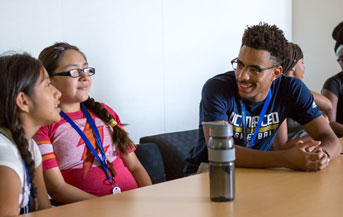 Weeks before cracking a book for his first class, UC Merced freshman Andrew Williams was already on campus, as a volunteer for a summer program to help middle school students from underrepresented backgrounds prepare for college.
A public health major from Sacramento who is also a guard on the men's basketball team, Williams had many people — including his parents and older brother — guide him on the journey to college.
But, as someone who loves working with kids, he was eager to be a mentor to those who didn't have such ready access to role models.
"At first, the kids would have rather have been home doing something with their friends," he said. "But as the week went by, the kids' eyes opened. By the end, they were saying, 'you should've made it two weeks instead.'"
The spirit of inclusiveness and mutual support is part of what drew him to UC Merced. "There are an amazing number of people who want me to succeed here just as much as I do."