May 2, 2019
Nicole Freeling
,
UC Newsroom
"None of us does this alone."
That was the inspirational message former first lady Michelle Obama delivered to throngs of college-bound students at UCLA's Pauley Pavilion on Wednesday for College Signing Day, a star-studded celebration to cheer on graduating high school and community college students who have committed to furthering their educations.
"I know a lot of you have been counted out," Obama told the crowd. "Maybe your parents didn't get to go to college. Maybe you were like me and somebody told you that you weren't college material." The Princeton and Harvard alumnus recounted her own experience of daring to ignore a college counselor who advised her to set her sights a little lower.
"Ask yourself whether you're going to believe the haters or the honest truth of your own story," Obama said, to roars of approval and applause.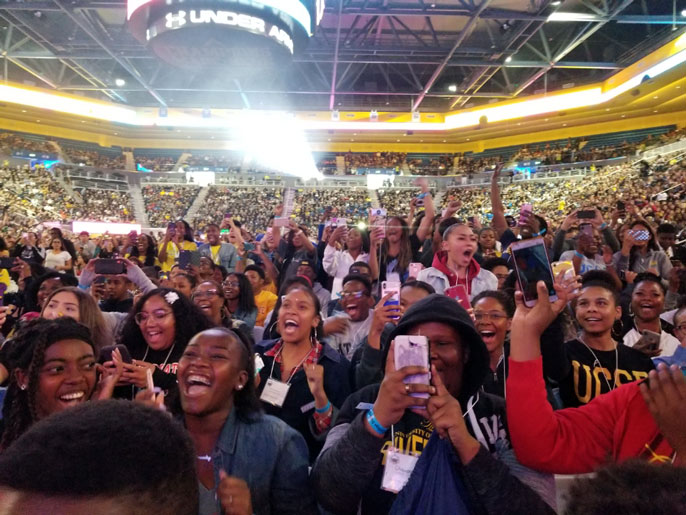 In all, roughly 10,000 California students — many of them participants in UC college access programs — attended the event, which was sponsored by UC in partnership with Obama's Better Make Room initiative.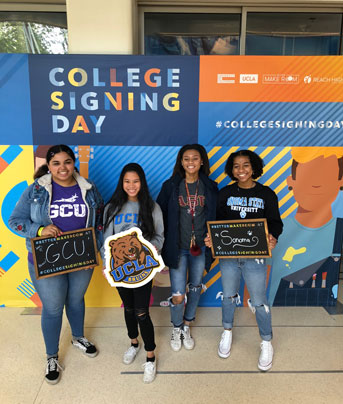 Thousands more watched Obama's livestreamed address at celebrations being held across UC's undergraduate campuses, as did students at schools all over the nation.
Students began streaming into the pavilion at 8 a.m., sporting college T-shirts and posing for selfies with signs proclaiming the schools they are headed to that "better make room" for their arrival.
Many students had been up before dawn, on school buses that braved L.A. traffic, coming from as far away as the Bay Area and Central Valley for a once-in-a-lifetime celebration.
A group of 19 students from San Jose's Downtown Preparatory Academy and neighboring Alum Rock High School were patiently waiting outside the pavilion when the doors opened, wearing matching orange T-shirts celebrating them as the first in their families to go to college.
Having been invited to attend through their participation in UC Berkeley's Destination College Advising Corps, the group raised funds so they could rent two minivans and make the seven-hour drive to L.A:
We're here! We drove 300 miles to celebrate @DCP_IAmTheFirst college decisions at #CollegeSigningDay #ReachHigher with @MichelleObama. Thank you for the invitation @UofCalifornia! Let's celebrate! pic.twitter.com/NSPo9GUVlb

— Edgar Chavez (@edxavez) May 1, 2019
"This is something I never would have imagined would happen — to have a celebration like this to appreciate students like me," said Downtown College Prep senior Jesus Velazquez, who is headed to UC Davis, where he plans to study biochemistry and hopes to pursue biomedical engineering. "It makes me even more motivated to push ahead," Velazquez said.
For students who worried whether they would fit in at college, it was a life-changing experience to look across a stadium packed to the rafters with others from similar backgrounds, all of whom were headed for higher education and a world of opportunities beyond.
UC President Janet Napolitano helped kick off the program with a congratulatory message to students for having worked hard to make their college dreams a reality.
"No matter what was going on in your life, you stayed focused. You excelled inside and outside the classroom. And you showed everyone — your teachers, your parents, your friends — what you're capable of achieving."
The program also featured a parade of celebrities, including Don Cheadle, Conan O'Brien, Bebe Rexha and Pentatonix, who thrilled students with performances and words of encouragement.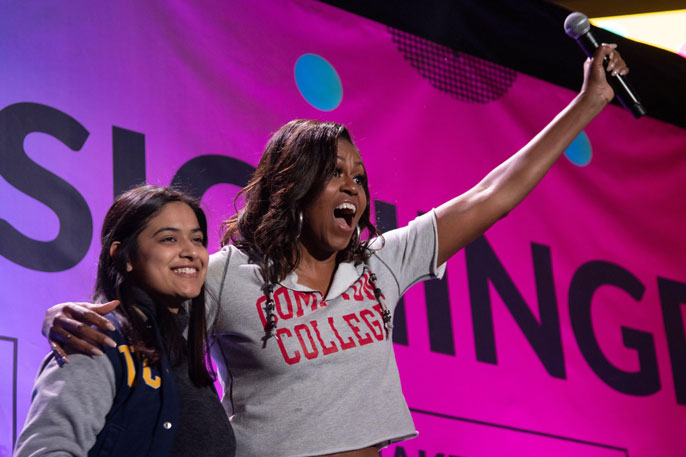 "I stand before you not only to praise you on your successes — which are well-deserved — but to encourage you going forward," said 10-time Grammy winner John Legend. "Expand your mind, meet new people, question assumptions, think about how you can use your education to make this world a better place."
With each new celebrity announced, a gasp of excitement and enthusiasm went up from the crowd, few of whom had anticipated such a high-wattage lineup.
The largest roars of excitement were for Michelle Obama herself, who gave students both inspirational and practical advice, reminding students to seek out help from tutors, counselors, professors and fellow students.
"If you stumble, I want you to get back up. That's what makes you a true champion," she said.
It was a day — and a message — that many said left a lasting impression they would draw from in the months and years ahead.
"It's like, damn, I belong here. I'm not an outlier," said Yanet Lopez, a Paramount High School senior from a low-income family who was raised by teen parents. She is headed to UC Santa Barbara, where she plans to major in biology, and hopes to blaze the trail to college for her two younger siblings.
"This just reminds you that it doesn't matter who you are or where you come from, we all have the same opportunities from here."
Miss the fun? Catch up on College Signing Day by watching the May 1 celebration here: