November 10, 2014
Nicole Freeling
,
UC Newsroom
Credit: Courtesy of Andrew Nicholls
When Iraqi war veteran Andrew Nicholls returned from combat, one of the hardest things about coming home was figuring out what to do next. He missed the camaraderie of military life, the adrenaline rush of combat, and the commitment to a purpose larger than himself.
"There was this feeling that, at 21, I had done the most good I could do with my entire life," Nicholls said. "Combat experience is a defining moment of your life. You're always comparing what you're doing now to what you were doing then."
At loose ends, Nichols enrolled in classes at Santa Monica College, discovered that he was an avid learner, and transferred to UCLA, where he majored in psychology.
It took some time, but Nicholls eventually found the purpose he had been seeking: helping other returning service-members cope with the aftermath of war.
Helping veterans get to what's next
Veterans often come to campus with skills that set them apart: Military service has taught leadership, self-discipline, and the tenacity to overcome obstacles. Increasingly, where campuses play a role is in helping veterans harness those qualities to re-imagine the next phase of their lives.
"When veterans leave and come into civilian life, they're really establishing a new identify for themselves," says James Bond, director of a new veteran services center at UC San Diego. "We're helping them develop resources and networks to support them in this new phase."
Nicholls, for example, was invited as a senior to design and teach a course for undergraduates aimed at helping students understand the psychological experience of combat. And he was encouraged in his decision to launch a nonprofit to raise funds for wounded warriors.
"I had to figure out ways I would be able to contribute and what else I could do to make an impact."
Those UCLA experiences led him to pursue a master's degree in social work and a career helping other veterans cope with the aftermath of war.
A commitment to returning soldiers
UC has roughly 2,000 student veterans enrolled as both undergraduates and graduate students on its 10 campuses. Over the last several years, the university has significantly expanded its outreach to these talented individuals — and expanded the services it provides to help them excel.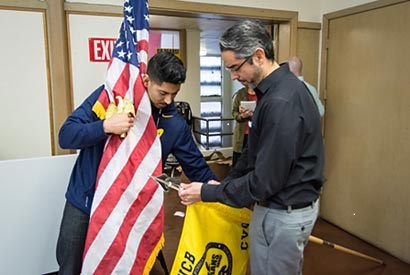 "Our core public service mission is something that veterans embody before they even come to our university," said Ron Williams, the UC Berkeley program director for re-entry student and veteran services. "While they're here, they continue with it, and when they graduate they continue to be involved with their communities and advocate in so many ways."
UC President Janet Napolitano, early in her tenure, formed a systemwide veterans' advisory group to assess whether the university could do more to help veterans succeed at UC campuses.
All UC campuses have veterans services offices, with a dedicated support team that assists veterans with financial aid, academic planning and other issues.
Some campuses also offer peer mentoring and classes to help veterans get oriented to campus, and veterans clubs, where military-affiliated students and their families can hang out and connect.
That kind of social support goes a long way, said Onur Yenigun, a former Marine who earned his undergraduate degree from UC Davis and now is in medical school at UCSF.
"In the military, you're told when to wake up, when to brush your teeth, when to shave — you know what you're going to do the next day the next week, and the next month, Yenigun said. "When you get out, it's all on you."
Yenigun offers a lecture, "From Grunt to grad school," to help fellow veterans translate their military experience to academic bona fides.
As with many other student veterans, Yenigun found that his military experience had transformed him from a struggling student to an outstanding one. Not only had he developed a "mission-oriented," focus that allowed him to sit down and study, but he was good at handling pressure and had the confidence to bounce back when things didn't go well.
"The things that stress out a lot of college students didn't even touch me," Yenigun said.
But the same attributes that help student veterans stand out can also make adjusting to campus life difficult.
Nicholls, who was diagnosed and treated for PTSD while at UCLA, recalls chafing at what he perceived as a lack of discipline among others in his class, as classmates chatted or checked their cell phones during lectures.
"There are times you're so distracted and frustrated with the noise around you, you end up just sitting there seething and you're not able to pay attention in class. You really have to find a way to self-soothe and calm yourself," he said.
Having UCLA staff around who understood the needs of veterans was key to helping him stay on track, he said.
"The veterans center was fantastic for me, especially the way they worked to have a representative who worked specifically with veterans in each unit: academic counseling, financial aid, the bursars office, the counseling center.
"I can't tell you how beneficial it was to not just feel like another number."