April 2, 2020
Robyn Schelenz
,
UC Newsroom
Credit: David Geffen School of Medicine UCLA
The culmination of years of study, Match Day usually hums with energy, as medical students across the country gather together and — at the exact same moment — rip open their envelopes to learn where they will serve their medical residencies. It's the kind of communal day that the coronavirus is doomed to disrupt.
But UC's six medical schools found a way to keep the celebration intact.
In virtual events across California, students received their residency assignments and shared their excitement with one another. Deans still emceed the affair, sometimes even with a podium, for their digital audiences. And the students, and their families, were still at the edge of their seats to learn what their futures held when carefully timed emails, sent at the exact same moment nationwide at 9 a.m. PT on Friday, March 20, hit their inboxes.
"We certainly didn't expect to be meeting this way," said Dr. Michael J. Stamos, dean of UC Irvine's School of Medicine, kicking off UC Irvine's online Match Day. "But obviously these times are unprecedented. I applaud all of you about to enter, officially, the workforce of our health care system in the United States, at a time when we need you more than ever. Thank you in advance for your continued contributions — we will persevere."
"So go on, zot zot."
To add to the excitement, schools offered unique ways to ramp up the excitement and for students to announce their assignments. UC Davis had a livestream countdown, culminating in a sudden frenzy of chats. The UC Riverside School of Medicine offered the students a Google Map to pin their match locations. The event closed with a toast, with students bringing beverages of their choice. Across the UC system, students posted their matches with campus-specific hashtags.
If anything, the coronavirus pandemic underlined the importance of the tasks they are setting out for, and the fields they have chosen to pursue.
"We often see emergency physicians addressing and educating the public about this pandemic.
[The COVID-19 outbreak] has reaffirmed my decision to have selected emergency medicine," said UC San Francisco medical student Rasheed Alhadi to Lesley Snyder, who covered the school's event. Alhadi was watching coverage of the pandemic with his family when he found his match.
Celia Haering, also of UC San Francisco, spent Match Day at her parents' home in Anchorage, Alaska, and echoed his comments:
"It is strange to be finishing medical school in the midst of a pandemic that is testing our health systems, as well as our social contracts. However, it makes me all the more grateful for the incredible effort that the UCSF School of Medicine leadership has put into developing a curriculum to train doctors who understand medicine within contexts of our patients' lives and our society's structures."
The newly minted doctors are matched by a National Resident Matching Program algorithm (based on UC Nobel Prize-winning research) to align the preferences of applicants with the preferences of program directors in order to produce the best possible outcome for filling training positions at U.S. teaching hospitals. Overall, more than 700 UC-trained doctors are heading off to residencies, the majority of which are in California. Sixty percent of UC Riverside's new doctors, for example, will perform their residency training in Southern California, with 28 percent staying in the Inland Empire. Of UCSF's 165 graduating students, 74 percent will stay in California, and 45 percent in the UC system.
Many were particularly elated to be able to serve communities at home or build the skills to bring back to do so.
Graduating student Antonio Garcia told UC Riverside's Iqbal Pittalwala he was excited to have matched into the family medicine residency program at the UC Riverside School of Medicine.
"It keeps me home and allows me to continue to work to improve and help those in my community in the Inland Empire," he said.
Oscar Hernandez, UC Irvine School of Medicine's first undocumented student and a DACA recipient, discovered he would be joining the general surgery residency program at the acclaimed Cleveland Clinic. He heads there with a dual degree from UC Irvine — an M.D. and an MBA. "I chose to do this to focus on becoming a surgeon who's culturally sensitive and linguistically competent to address the specific needs of Latinos," he told UC Irvine Newsroom's Lilibeth Garcia. "While medical school has developed my clinical skills, I sought an MBA to learn how to build, administer and sustain projects to improve access to higher education and expand surgical care in underserved communities."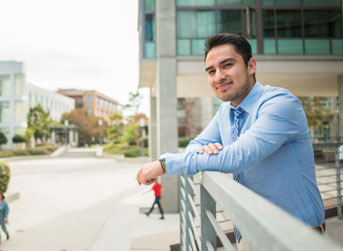 As an advocate for the Latino community, he knows better than most how difficult it can be for some people to access vital resources.
Because he is a DACA recipient, Hernandez is ineligible for federal financial aid and loans. His studies were often interrupted as he worked tirelessly to secure tuition through paid fellowships, merit-based scholarships, a crowdfunding campaign, and assistance from friends and family. Meanwhile, unstable immigration policies threatened to negate all that he had accomplished so far.
His message for others, however, is one of optimism.
"There will be nights when you lie awake wondering how you can overcome the closed doors set in front of you. These barriers may be financial, immigration status, language, the color of your skin, or gender," Hernandez said. "Close your eyes and wake up the next morning ready to become the best version of yourself, regardless of how you are identified.
"The time will come when you and other warriors like you will open those doors, and you will be the most qualified individual to take that first step through."