January 30, 2013
Cynthia Lee
,
UCLA Today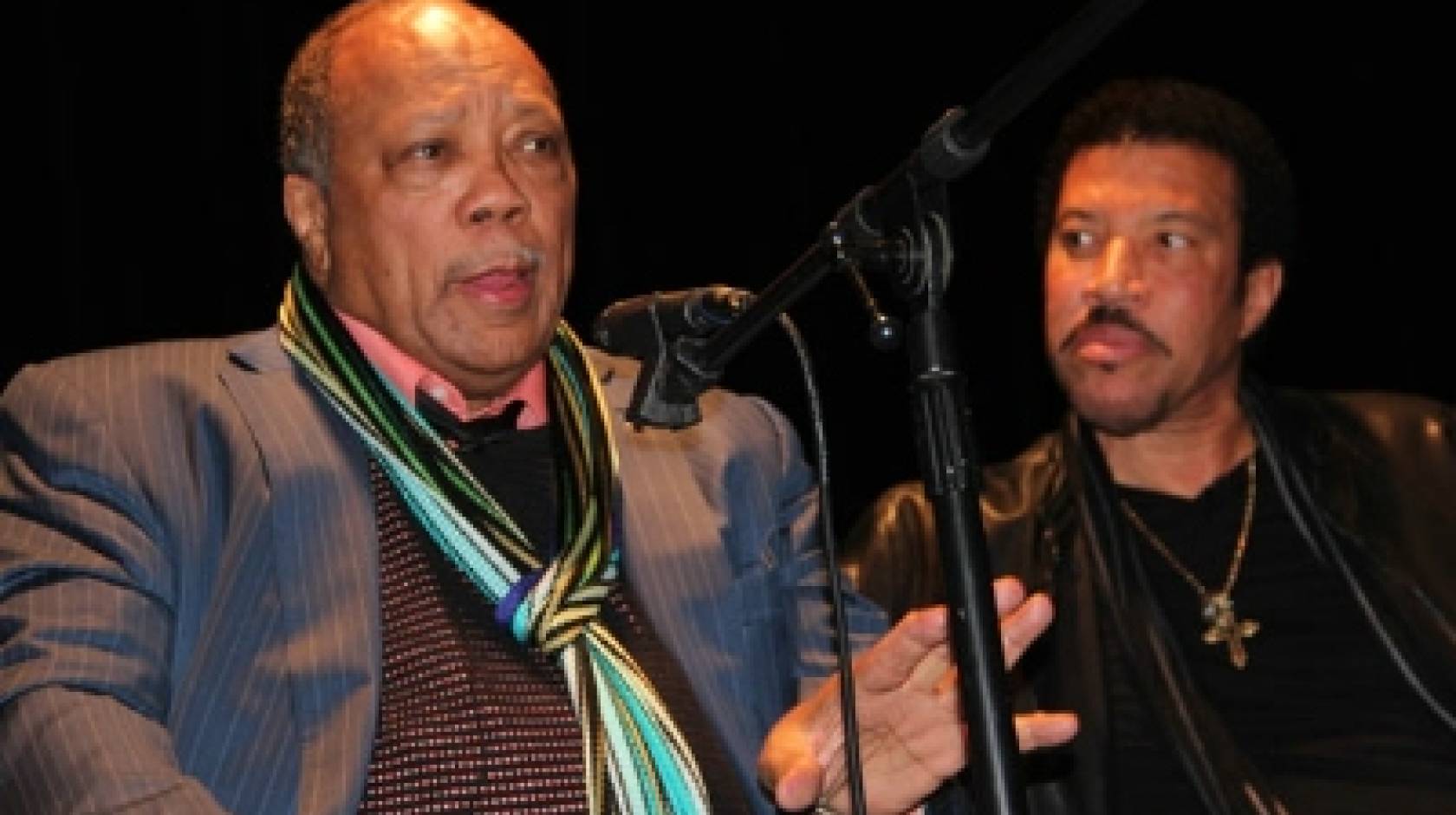 The 134 students taking Ken Kragen's inaugural Music Industry 106 class, "Stardom Strategies for Musicians," are primed to expect the unexpected. It started on the first day of class, taught by the longtime music industry insider-turned-UCLA lecturer for the Herb Alpert School of Music.
"You can't sell anything to anybody — whether it's a song, a script, a product or yourself — until you get their attention," Kragen told them. That sentence cued up the UCLA Marching Band, horns blaring as they blasted past startled students down the aisles of Schoenberg Hall's Popper Theater.
"Did I get your attention?" Kragen asked his students.
On Tuesday, he did it again — this time with music legends Quincy Jones and Lionel Richie, who poured out their unvarnished life stories, spun fascinating anecdotes and offered advice to spellbound students for nearly two hours.
"You have to risk losing it all to get anywhere in life," said Richie, a renowned singer, songwriter and record producer with songs that have gone platinum. And later, "It's a fabulous business to be in love with. … But I have to say I saw my family backstage more than I saw them at home." Nodding in agreement, Jones said, "You have to be a [music] junkie." In his own iconic career as a record and television producer, composer, conductor and trumpeter, Jones has amassed 79 Grammy Award nominations and 27 Grammys.
Punctuating many reminiscences about the music they made were sidebars about the long list of stars they have worked with — Michael Jackson, Frank Sinatra, Stevie Wonder, Motown's Berry Gordy, Jr., Dionne Warwick and Bruce Springsteen among them — and about the unforgettable recording session and fundraiser that went down in music history on Jan. 28, 1985.
Music manager Kragen, Jones, Richie, Jackson and music arranger Tom Bahler, who joined them later on the Popper stage, were the creative force behind "We are the World," which wound up raising $64 million for African famine relief through the sale of 20 million-plus singles and albums.
Their recounting of how they pulled off this feat — working their star-studded network of friends, clients and contacts to bring together 45 superstars of rock, pop, folk, R&B and country music to record that song in one night — kept students galvanized, despite the fact that most of them hadn't even been born when "We are the World" became a pop national anthem.
The song was composed by Richie and Jackson, arranged by Bahler and produced by Jones. But it was Kragen who set about the nearly impossible task of getting the artists, with their oversized egos and keen sense of rivalry, to agree to take part in the fundraiser. That taught him a lesson that he passed on to students Tuesday: "Sometimes it's easier to accomplish the impossible than the ordinary."
"You don't have to put on 'We are the World' or 'Hands across America,'" Kragen told the class, the latter being another of his nearly impossible fundraising ventures — bringing 6.5 million people together on May 25, 1986, to link hands and form a line across 17 states, from New York to California. "Stay naïve. … It's sometimes better not to know that something can't be done."
A speaker, consultant to nonprofits and now teacher, Kragen managed the careers of such A-list artists as Richie, Olivia Newton-John, the Bee Gees, Kenny Rogers and the Smothers Brothers. But, he recalled to his students, he wasn't quite sure how he was going to make "We are the World" happen. On the plus side, they had chosen the late-evening hours right after the American Music Awards to record so artists could go directly from the show, which was being hosted by Richie, to the A&M Recording Studio.
Kragen had only 28 days to recruit the artists to his cause. So he started his calls to those at the top of the record charts. "My goal … was to get two artists every day," he said. "I would start early in the morning, and I wouldn't go to sleep until late that night. … I already had Michael and Lionel, who were way up there on the charts. We thought we had Prince," but the star was in a heated competition with Jackson. In the end, although Prince was given a part to sing, he didn't show up.
In fact, Kragen was having little success at getting rockers to join in until Bruce Springsteen agreed to come, even though "The Boss" had just completed an exhausting world tour. Once Springsteen gave his approval, Kragen said, "I no longer made outgoing calls. I fielded incoming calls. Springsteen coming in just changed the game."
Then, near-disaster struck. Just one night before the recording session, the rockers decided the song was too "pop" and wanted out. They also didn't want to share the same stage with pop stars. "They went to Bruce Springsteen and said, 'Bruce, come on, we're going to leave,'" Kragen recalled. "Bruce said, 'I didn't come out here to leave. I came here to save lives.' … and so they all stayed."
That illustrates another point, Kragen told his students: "Every great thing balances at all times on the razor's edge of disaster."
To keep egos from colliding, the session had to be planned down to the tiniest detail. "We had to tell 46 people that only 21 were going to sing solos," Jones said. And that wasn't going to be easy, so the organizers made a pact among themselves that they would maintain strict control. "The one thing you could not to say in this roomful of creative artists was, 'I'm not sure about this. What do you think?'" Richie said.
In the final moments, the pressure of having so many big-name artists in one room was so intense that Jackson fled to the bathroom and wouldn't come out for awhile. "He was scared," Jones said.
There were other problems. Bob Dylan, who was to sing one of the 15-second solos because of his recognizable voice, was sounding oddly like Johnny Mathis, Jones said. So Richie, Stevie Wonder and Jones did dead-on impressions of Dylan for him. "He (Dylan) gets up and goes to the microphone and nails it," Jones said, laughing.
When Wonder suggested including a few lines of Swahili, one well-known country star fled. "No good ol' boy sings in Swahili," he griped.
Jones and Richie, who have been friends and collaborators for years, also gave students an earful of advice.
"Just before you're hailed as a genius, they'll call you crazy," said Richie. He recalled when he first started writing songs that he would take them to a radio station, only to be told they were "too black" or "too white." "I didn't know I had to write in a category," he said.
"I had the most off-the-wall life ever," said Jones. Growing up during the Depression in the tough streets of Chicago, he saw dead bodies and machine guns as a kid because his dad, a master carpenter, worked for the Jones Boys, gangsters who were eventually run out of the city by Al Capone. But, after moving to Seattle, he discovered music when he broke into a store with his gang one day and found a piano in a back room. "I had never seen a piano," he said. "When I touched that piano, every cell in my body told me, 'This is what you're going to do all your life.'"
Jones and Richie were the latest — but not the last — of a string of music luminaries whom Kragen has brought or will bring to class. The roster includes 16-time Grammy winner David Foster; jazz saxophonist Dave Koz; Zach Horowitz, president of Universal Music; film music supervisor Kathy Nelson; YouTube sensation Karmin; and others who write film scores, compose, produce and perform. Along with these presentations, Kragen, a graduate of Harvard Business School, covers a wide range of topics on career development, life goals, cultivating relationships and learning from failure.
"The premise of this class is that your life is not your career," Kragen explained before the class started on Tuesday. "Your career is one of the tools that you use to live the best life possible. What we do in this class is help you figure out what kind of career is going to give you the most satisfaction, pleasure, fun and fulfillment, and then give you proven techniques to help you be successful in that career."
Even though this is the first class he has taught to undergraduates (he taught a similar UCLA Extension class for eight years), he promised students it will be "the best class you have ever taken, the most fun, the most entertaining and the most significant in terms of its impact on your life … if you give it energy and participate."
Students didn't seem to discount that as pure Hollywood hyperbole.
"It's unbelievable," said Gregorio Gonzalez, who's juggling his career as an opera singer with his studies at the music school. "I listened to 'We are the World' when I was 12 years old. … That was the song. It was played everywhere. To be sitting two rows in front of these geniuses … it just blows my mind. It just shows you what a great resource and gift this class is to the UCLA music community."
Liz Chapital, a psychobiology major, said she "felt like we were all in a small room with these music legends. They were telling us their life stories as if we had known each other for a long time. It's amazing how down to earth they are. ... I didn't know what to expect when I came in, but I wouldn't trade this class for anything."
Drew Drysdale, a second-year student who has had vocal training since she was 5, said that although the class is three hours long, "I could sit here for six hours – it's so awesome. Every single class just gets better and better, and every week, you get the chills — just sitting here in class."
The chills were indeed there when Kragen pulled his last surprise of the night: playing a video that he and his associates made when he was in Kinshasa, the capital of the Democratic Republic of the Congo, last month. Kinshasa's Kimbanguist Symphony Orchestra — its musicians are mostly self-taught, and some play homemade instruments —is the only one of its kind in one of the most impoverished areas of Central Africa. It became known around the world when it was profiled in an award-winning documentary as well as a CBS News "60 Minutes" segment. Through the organization "Instruments of Peace," Kragen is working to bring them in February and again in June to Los Angeles where they will perform to raise funds to build a school for young musicians in Kinshasa, the latest of Kragen's goals.
As Jones and Richie watched the video of the African musicians singing and playing "We are the World" as a tribute to those who created it, Jones wiped away tears.