December 3, 2015
Brenda Ortiz
,
UC Merced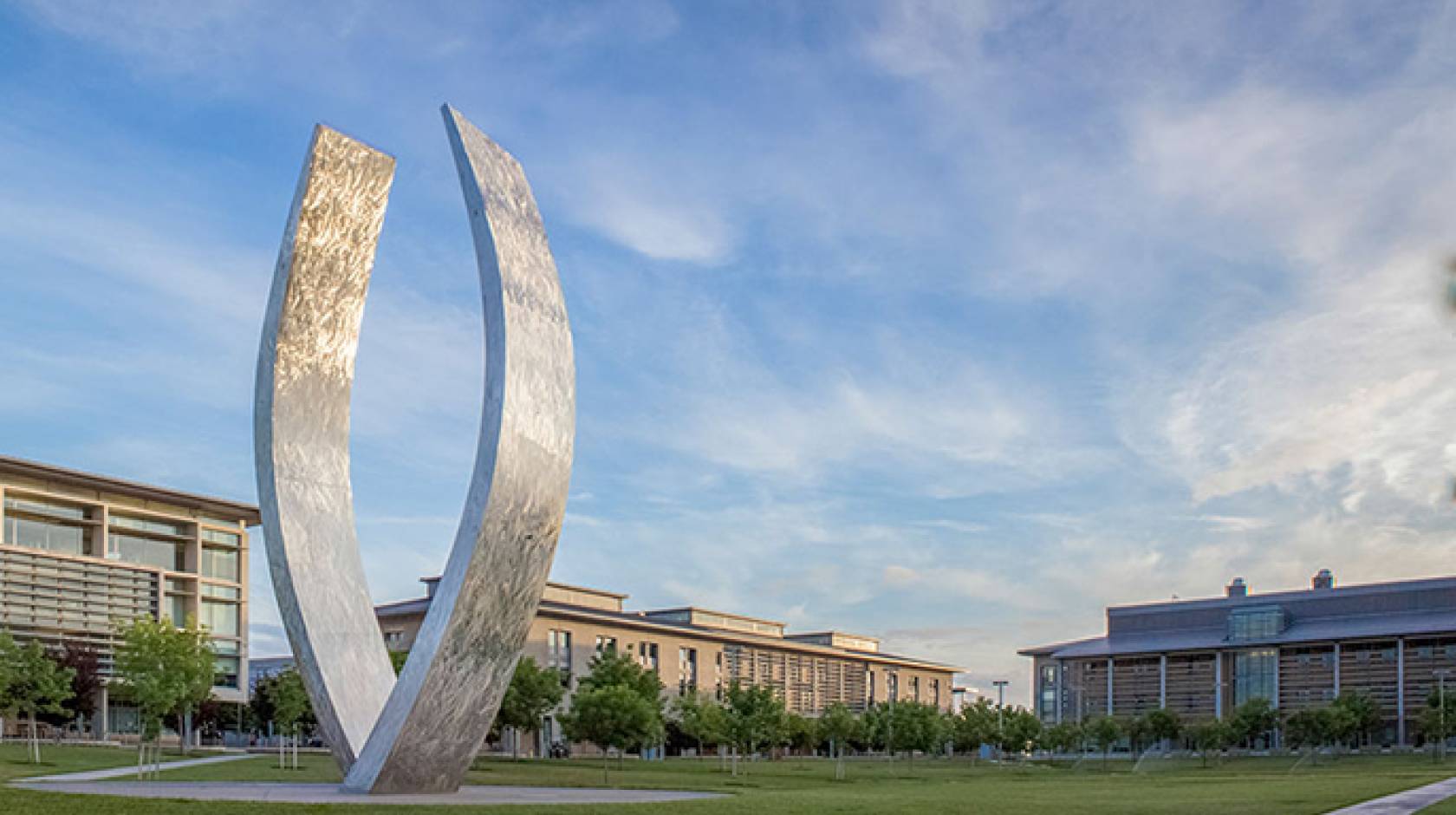 From the moment they step foot on the UC Merced campus, people often say they feel a sense of pride and belonging. Award-winning composer Jimmy Dunne has attempted to capture the essence of that feeling in 'My Merced,' the campus's official alma mater.
"You can't walk UC Merced's campus without being overwhelmed by the passion and will in the eyes of the extraordinary students," Dunne said.
About a year ago, the UC Merced Foundation Board of Trustees was discussing long-term objectives such as greater engagement and support, when the idea of an alma mater emerged. Originated in 18th-century England, an alma mater is a song or hymn that lyrically expresses loyalty to a school, college or university.
Board Chairman Lee Kolligian recommended Dunne, an accomplished songwriter and music producer in Los Angeles. Dunne has written songs on records that have sold 28 million copies for artists including Whitney Houston, Kenny Rogers, Janet Jackson, Take 6 and many more. He has composed songs and scores for 1,400 television shows and dozens of feature films, including "Pretty Woman" and "Princess Diaries II."
Dunne has earned more than 70 gold, platinum and multi-platinum albums, along with Grammy, Emmy, Country Music Award, Broadcast Music Inc. and Juno awards and nominations as a songwriter and publisher.
Once commissioned to write UC Merced's anthem, Dunne dove into research. He toured the campus in April and met with students, including members of the Bobcat Band, alumni, and faculty and staff members to get a sense of the community spirit.
"It was a stunning sunset on a crisp spring evening, and I took a walk alone through campus," Dunne said. "I sat in the grass near the Beginnings statue and looked up at this poetic piece of art — telling the story of what is possible from the beginnings of a seed."
Dunne said he listened to the heartbeats of the students and faculty members passing by on their way to and from class.
"I heard three notes: E, F and G," he said. "And from these three notes, I sat on the lawn overlooking the majesty of the Central Valley and wrote 'My Merced.'"
The song is a story of a seed that grows into a garden and gives life to dreams. The lyrics speak of "her lantern's light that shines so bright," referring to the campus's popular gathering spot within the Leo and Dottie Kolligian Library.
Dunne said while most Alma maters are written in the third person, he chose to write "My Merced" in the first person to capture the personal relationship between its students and their beloved university.
"I have learned the only thing that creates real emotion is when you express the truth," Dunne said. "And my hope is that this song speaks to that truth — that essence — for many years to come."
Campus supporters agree.
"For me, it evokes strong and powerful images of campus and reminds me of fond and vibrant memories of UC Merced," said Keith Ellis, '12, who serves as president of the UC Merced Alumni Association board. "It embodies our UC Merced journey."
"Jimmy has produced a song to galvanize the spirit behind UC Merced," Lee Kolligian said. "A song creates a lasting connection with the campus that stretches out long beyond your time on campus."