October 16, 2015
Nicole Freeling
,
UC Newsroom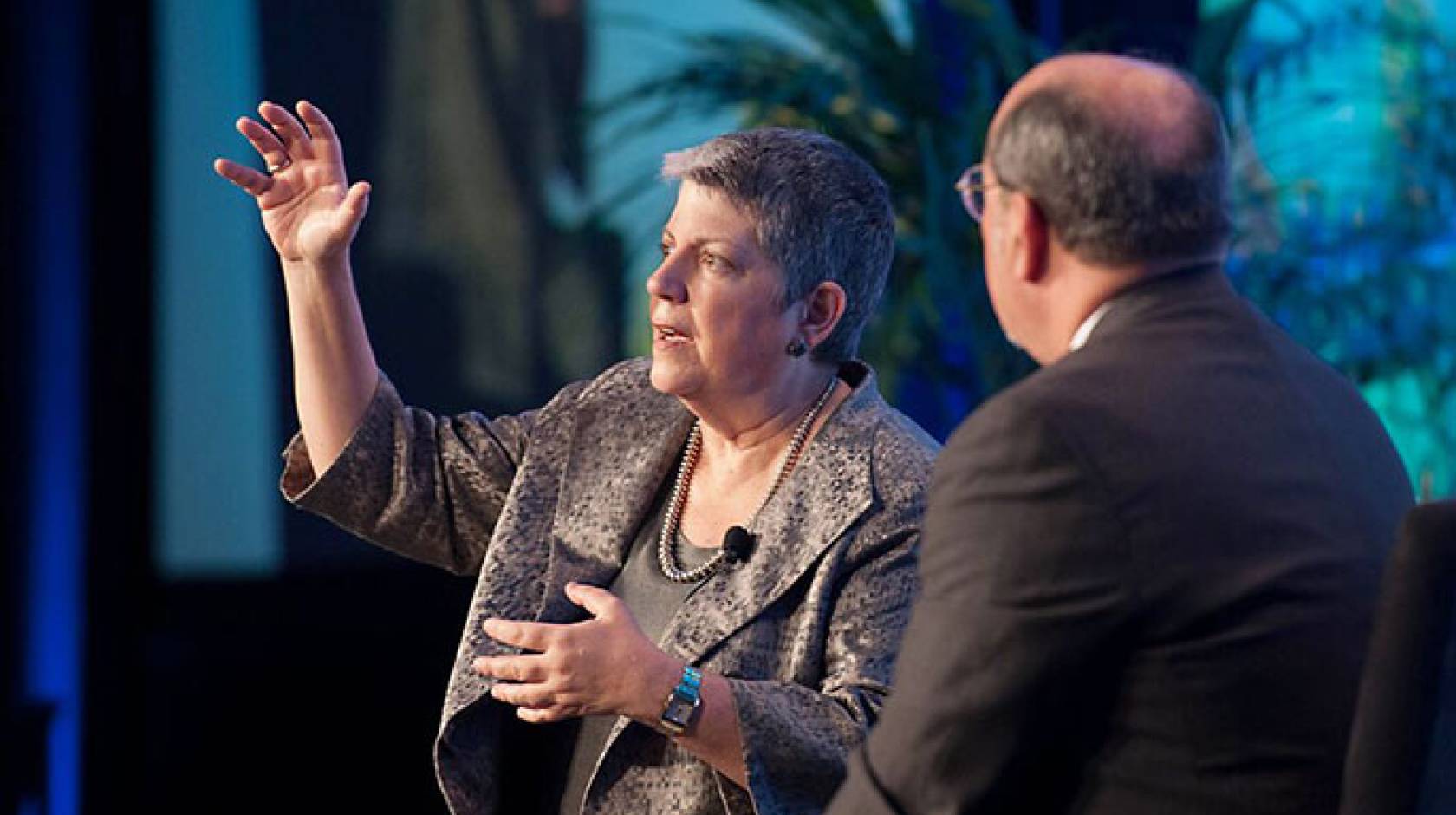 Credit: Courtesy of Alan Decker, ACCT
Speaking at a national conference of community college leaders yesterday (Oct. 15), University of California President Janet Napolitano detailed the university's latest efforts to make the transfer process smoother and simpler for students.
Roughly 2,000 community college officials — gathered in San Diego this week at the Association of Community College Trustees annual meeting — looked to learn from what California is doing to provide large numbers of community college students access to a world-class university education.
With a national focus on community colleges and the role they can play in meeting America's growing need for college graduates, attendees from districts as far-flung as Washtenaw, Mich.; Okmulgee, Okla.; and Auburn, Wash., were eager to hear about UC's efforts.
"UC is proud to enroll more community college transfer students than any other university of its caliber," Napolitano told attendees. In fact, almost 1 in 3 UC students begins their education at a community college.
The "'nontraditional path' has become a traditional one in our state," she said.
Napolitano has made streamlining that path even more of a priority.
In July, UC unveiled new Transfer Pathways that lay out the courses students must take to be eligible for transfer to any UC campus in 10 of the most popular majors. The university will add pathways for another 11 disciplines in early 2016. All told, the 21 pathways provide transfer roadmaps for the majors selected by two-thirds of UC transfer students.
"This program does not guarantee admission, nor is the coursework any less rigorous," Napolitano said. "What the Pathways program does do is make the transfer process straightforward and transparent. And when transfer students arrive at UC, they are well on their way to earning their degrees, and graduating in two years."
Just as Napolitano was addressing the conference, the Transfer Pathways were named by the White House as among efforts designated as Commitments to Action to improve educational opportunity and access.
"What UC is doing with the transfer initiative is so important," said Jose Leyba, who served as provost of Maricopa Community Colleges in Arizona, the largest community college district in the nation. He is now a higher education consultant.
A strong community college pathway is key not only for producing more two- and four-year degree holders, but also for providing access to education to populations that historically have been under-represented in higher education, Leyba said.
As the demographics of the country shift, he said, it will be increasingly critical that minority populations attain the levels of education needed to meet the demand for a highly skilled workforce.
"Especially when we are dealing with first generation students, we really need to minimize the obstacles they face in being able to transfer," Leyba said. "It's hard enough to fill out a FAFSA and know about your options for financial aid. Making the process simpler is key."
A stronger partnership
As part of an initiative launched shortly after she assumed leadership of the 10-campus system in fall 2013, Napolitano also has worked to strengthen collaboration with California community colleges, including meeting with community college leaders across the state to hear their needs and concerns.
California Community Colleges President Brice Harris called Napolitano a "true friend and valued advocate who wholeheartedly embraces the goals of access and success."
When Napolitano assumed leadership of the UC system, Harris said, "It would have been easy for her to focus only on the university. But she was only in town a matter of weeks before she called the head of the California State University system and [me] and convened us for regular meetings."
It is an example that many see as a model for making a world-class education more broadly accessible.
Jim Davis, president of Turtle Mountain Community College, a North Dakota tribal college, said he was encouraged to see the strong partnership between California's top-tier public research university and the community college system.
Mayra Cruz, a trustee from Evergreen Community College in San Jose, agreed. "When it comes to the collaboration between our college and our closest UC campuses, we have really seen a difference," she said.
"The transfer pathways are critical in terms of opening doors for a population that doesn't necessarily see UC as attainable. More transparent information on the courses they need to transfer is critical."
Reaching an untapped source of potential
Nationally, nearly half of all undergraduate students attend a community college.
These students, who often come from low-income families and other backgrounds traditionally underserved in higher education, represent a huge — and, many say, underutilized — demographic for a nation looking to increase the proportion of people who hold college degrees.
National figures show that few community college students make it to the nation's top schools. Most Ivy League and elite private schools accept only a handful of transfer students each year; some, such as Princeton, don't accept transfers at all.
Community college transfers account for fewer than 1 of every 1,000 students at the nation's most selective private institutions, according to a 2006 study by the Lumina Foundation, the most recent analysis of the data. Even at selective public institutions, which admit a higher percentage of transfer students, community college transfers accounted for less than a quarter of undergraduates.
UC's unique role in serving transfer students was recently cited by the New York Times as a key reason the university leads the nation in promoting upward economic mobility.
Half of UC transfers are among the first in their families to attend college, and most come from low-income families. Once they earn a UC diploma, however, data from the state labor rolls show they quickly go on to climb the economic ladder.
Within five years of receiving a UC diploma, graduates from low-income families are earning an average income that is higher than what their parents were earning at the time those students attended UC, Napolitano said. More than 70 percent of those former low-income students are working in California.
"These students are contributing to the workforce, they are contributing to the economy, and they are contributing to the sense of forward momentum that is the hallmark of California."