New grads who took the path less traveled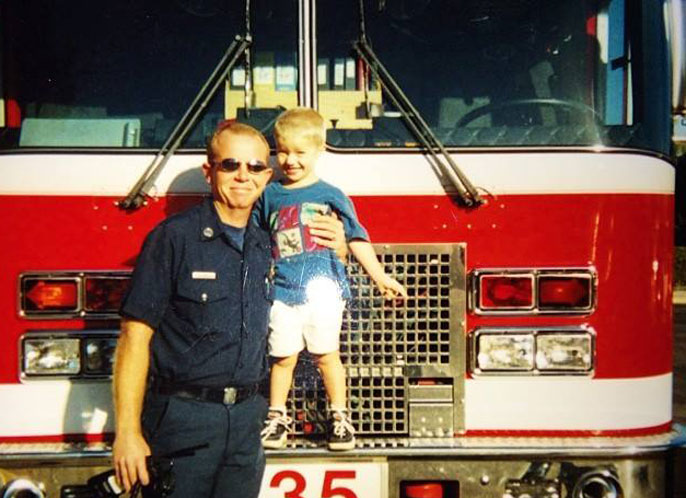 We tend to think of college as a rite of passage — a bridge between youth and adulthood that is marked by intense self-discovery and learning.
But for some members of the Class of 2019, commencement marks the end of a much longer, less direct journey. These students racked up an abundance of life lessons on their way to earning a college degree, enriching their educations and strengthening what they have to offer the world in the process.
Their stories are proof that there's no such thing as a typical UC student — and that it's never too late for your future to begin.
Kelly Richeson, the firefighter writing his next chapter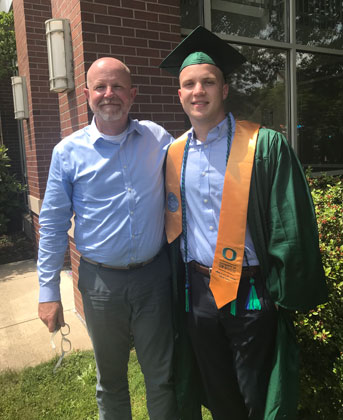 Over the past few years, retired firefighter Kelly Richeson was there to celebrate his kids' graduation from college. This year was a bit different: They were there to celebrate his.
After a two-decade career battling fires and saving lives, the 58-year-old Richeson turned to studying literature and creative writing. In May, he graduated from UC Berkeley with a B.A. in English, and is now pursuing a writing career.
At first, the transfer student from Pierce College in the San Fernando Valley found it odd to be decades older than most of his classmates. "I joined some clubs and realized I was way out of place," he said.
He found his community among UC Berkeley's Older Wiser Learners, an organization that gives new meaning to the term "college senior." One interesting aspect of being an older student was studying a period he lived through — the turmoil of the '60s — as history.
"We have so much to offer at our age. We are the first ones to raise our hands in class," he said. "We're not in college to party or get a job. We're here purely to learn."
Dawn Murphy, the dropout who dropped back in
Sitting in her first class at Irvine Valley College — her first time in a classroom in over two decades — Dawn Murphy wondered what on earth she was doing there. She had no idea what a syllabus was. She wrote her first paper by hand in a notebook rather than typing it on a computer. "I don't know how this works," Murphy told her teacher apologetically. "Maybe it was a mistake."
Murphy explained how she had dropped out of high school halfway through 9th grade. She spent the next two decades addicted to drugs, involved with gangs, and in and out of prison.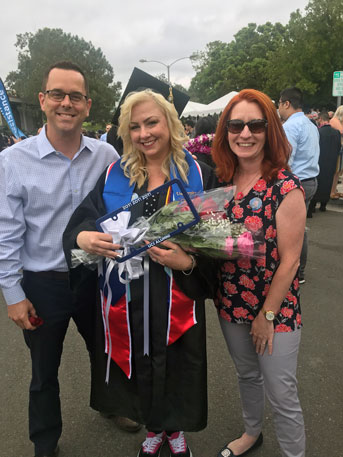 She enrolled at community college in 2012, desperate to start over. But she was barely used to life on the outside, to say nothing of life inside a classroom. "Everyone else had jobs and had done all kinds of interesting things, and I had a prison career," Murphy said.
Luckily, teachers at Irvine Valley saw her dedication and potential, and became some of her best advocates. Psychology professor Michael Cassens became so much like family, that Murphy's daughter now calls him papa.
He and his wife were in the cheering section June 15 when Murphy accomplished what once seemed unthinkable: graduating from UC Irvine with a degree in psychological science.
At UC Irvine, she started a club for psychology transfer students, did undergraduate research in psychology and worked at the transfer center as a peer mentor to non-traditional students.
"UC Irvine has been the best experience of my life," she said.
Now she is off to Cal State Fullerton for a master's degree in psychological research. "I'm scared to death. But I'm also excited. I can't believe it — I get to be able to help people. I get to be able to give back."
Cydney Caradonna, the student athlete who scored a second chance
As an aspiring college freshman, Gilroy student Cyndey Caradonna got an offer many students could only dream of: A basketball scholarship at Hawaiʻi Pacific University. As it happened, however, she left after her first year, not ready to be so far from home.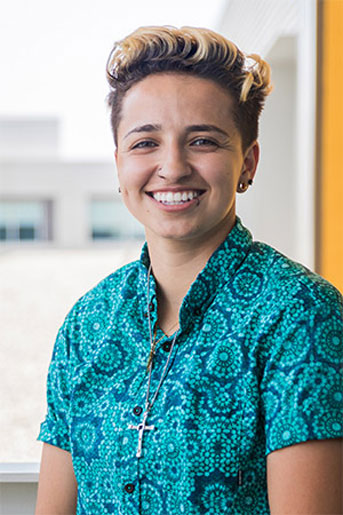 Caradonna took classes at a local community college before finding her perfect academic home amid the pastoral fields of Merced. In May, she not only earned her UC Merced diploma but was selected to deliver the commencement address. A self-identified gay Chicana, Caradonna used her commencement address to talk about the importance of celebrating personal expression, individuality and inclusion. "There is an unspoken support system on campus," she said. "Everyone pays it forward in some way. There's no way you can step on this campus without feeling it."
The Spanish major served on the UC Merced undergraduate research journal and as a peer instructor for transfer students. She even got to continue playing basketball, joining the UC Merced women's team in 2017, just in time to help them bring home the conference championship.
Next is a Fresno State master's program in higher education administration and leadership. "To feel like I was getting a second chance was big for me," Caradonna said.
Jason Bowe, the Navy medic who found a surprising new role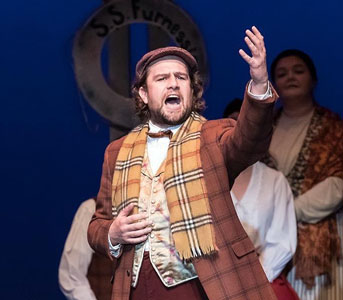 Upon returning to civilian life after five years as a medic in the Navy — including two deployments to the Persian Gulf for Operation Iraqi Freedom — Jason Bowe found his calling in an unlikely place: the stage.
As a student in the actors training program at UC Santa Barbara, the 38-year-old transfer student from Long Beach City College has landed plum roles with UC Santa Barbara's Naked Shakes, New Works Lab, Elements Theater collective and others. Over spring break, his senior class toured Arizona to perform an adaption of Shakespeare's War of the Roses plays. "I loved changing from the severe and burdened Henry IV to the bawdy, rakish Falstaff in a matter of moments," Bowe said.
Bowe was surprised to find that working on ship and on the stage have a lot in common. "It's about everyone doing their own part to accomplish a goal so the whole thing works together," he said.
Now, with his bachelor's in fine arts in hand, Bowe is ready for his next tour of duty: playing Oberon in a traveling production of "Midsummer Night's Dream" with Lit Moon Theater Collective. He is also working with Deploy the Arts, a theater collective that uses classical Greek theater and Shakespeare to treat vets with post-traumatic stress disorder.
"The 19-year-old me would be very surprised," he said. "UC Santa Barbara helped me find my voice. It's given me the tools to believe in myself as an artist."
Joshua Dailey, a master the second time around
From the time he was in middle school, Dailey had his heart set on college. His parents, unemployed and financially struggling, told him it wasn't going to happen. "They said, 'It's impossible. We can't afford it. Why are you studying so hard?'" Dailey recalls.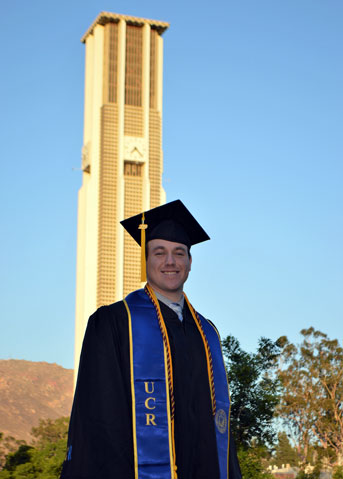 After high school, he got a job at Burger King, working the cash register and drive-thru window until he'd saved enough money to begin taking classes at Norco College.
When he flunked computer science, he got a tutor and took it again. This time, something clicked.
Now a student in the Tau Sigma Honor Society at UC Riverside, Dailey tutors students in some of the same subjects that he once struggled with. With plans to be a high school teacher, Dailey is off to pursue a master's in education at UC Riverside with a Noyce Scholarship, awarded to outstanding students who commit to working two years in a high-need school.
"My goal is not just to teach them math and science but to encourage them to pursue higher education." One thing he plans to tell them: "Don't be afraid to retake a subject. If you fail at anything, you can become a master the next time around."
Heather Willoughby, the globetrotter whose path led back home
Some students take a gap year. Heather Willoughby took two decades.
After transferring to UC Santa Cruz from community college in her 20s, Willoughby realized she wasn't quite ready to make the commitment to a four-year school.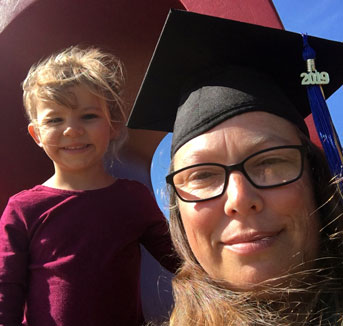 She got a job as a banquet server, socking away money during busy seasons and traveling the world when work was slow. The globe became her classroom as she explored India, Kashmir, the Philippines, Thailand, Panama, Puerto Rico and Western Europe.
At 40, when she had a daughter on her own, Willoughby realized it was time to go back and complete her formal education.
Along with pursuing a degree in biology, she became an advocate for the needs of student parents. She started a pilot program, funded by the Blum Center, that provides 10 free meals at the dining halls for kids to eat with their parents. The idea: instead of cooking and cleaning, parents can bond with their kids and spend time on campus.
Her path to a degree might not have been typical, but Willoughby says it was exactly the right one for her. "Even with the struggles, even with the circuitous route it has taken, it's gone just the way I would have wanted. I wouldn't change a thing.