New grant further solidifies UC Davis' leadership role in translational research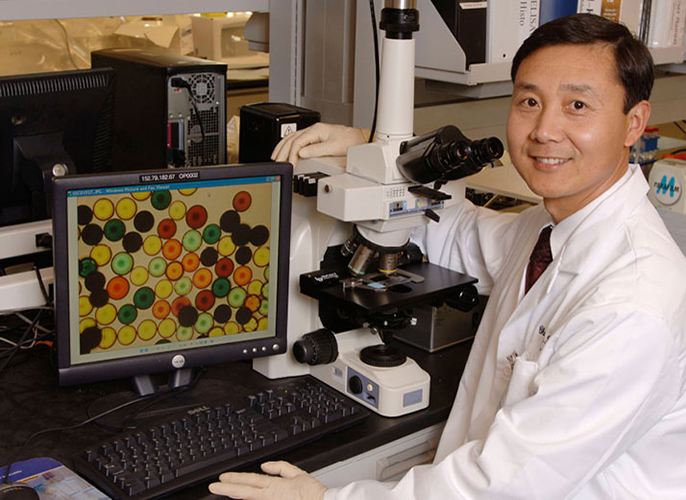 The UC Davis Clinical and Translational Science Center (CTSC) and the wide array of services that have supported innovative biomedical research and led to the development of new treatments for diseases during the past 10 years will continue, thanks to a $27.8 million grant from the National Center for Accelerating Translational Science and the ongoing support from the School of Medicine.
"Since its inception in 2006, the CTSC has been a powerful incubator to transform and catalyze translational research," said Lars Berglund, senior associate dean for research and CTSC director. "We have developed a comprehensive array of tools to support investigators and their work, significantly advancing the most innovative research to improve human health. The new award further weaves the CTSC into the institutional fabric of the UC Davis research enterprise."
More than 60 institutions are members of the Clinical and Translational Science Awards consortium, including UC Davis, UC Irvine, UCLA, UC San Diego and UC San Francisco.
The new award will facilitate multicenter clinical trials, expand efforts to involve patients in studies evaluating rare diseases as well as health across the lifespan, and formalize relationships with the School of Veterinary Medicine, Betty Irene Moore School of Nursing and Center for Health and Technology.
These additions build on a strong foundation of existing services that the center has made available for investigators. These resources include expertise in clinical research ethics, biomedical informatics, biostatistics, community engagement, regulatory support, research clinic, and a pilot award and robust scholar programs.
Berglund believes these programs benefit researchers and UC Davis as a whole.
"The CTSC has played an important role in advancing the school's national standing in research funds received from the National Institutes of Health over the last 10 years, which increased from 51st in the U.S. to 30th," he said. "Having a dedicated center to support investigators throughout their research careers has many advantages, such as pairing young and mid-level scholars and trainees with faculty mentors to guide studies, providing pilot funding to support the development of preliminary data for future grant applications and offering expertise on compliance and related resources to help researchers achieve their study goals.
Chong-xian Pan, a medical oncologist and physician-scientist in the Division of Hematology and Oncology and the UC Davis Comprehensive Cancer Center, received a career development award through the UC Davis CTSC to develop cancer-specific molecules that improve cancer screening, diagnosis and treatment.
For this work, Pan was awarded three patents: one for designing molecules that can guide the delivery of diagnostic and therapeutic agents, like smart missiles, to specifically detect and kill bladder cancer cells; the second for developing molecules that specifically target leukemia stem cells, which cause leukemia recurrence and resistance to treatment; and the third for developing nanometer-scale particles, or nanoparticles, that allow direct visualization of cancer during surgery and deliver lethal drugs to kill cancer cells with much less toxicity.
Other CTSC achievements since 2006:
Awarded 176 pilot awards that included 376 trainees.
Trained 72 graduate research trainees and fellows with T-series grants.
Mentored 27 scholars with research career development grants (K series) who published 989 high-impact papers (H index of 13.5) and were granted three patents. In addition, several have achieved leadership roles at NIH, academic institutions, state agencies, professional societies and positions on scientific advisory boards.
Supported investigators who have published more than 1,300 papers in over 500 journals that have been cited 34,000 times (2.7 times the global average).
Developed a platform that gives investigators access to 14 million de-identified patient records within UC medical centers to facilitate research and collaborations.
The National Center for Accelerating Translational Science, one of 27 institutes and centers at the National Institutes of Health, strives to develop innovations to reduce, remove or bypass costly and time-consuming bottlenecks in the translational research pipeline in an effort to speed the delivery of new drugs, diagnostics and medical devices to patients.