Along with autumn leaves and fall harvests, September brings a new crop of undergraduates to the University of California's nine undergraduate campuses — more than 69,000 freshmen and transfer students, brimming with excitement, ambition and more than just a touch of jitters as they settle into their new surroundings and embark on an education that will shape their lives.
We checked in with a few of our newest arrivals to learn about their hopes and aspirations, and what going to UC means to them.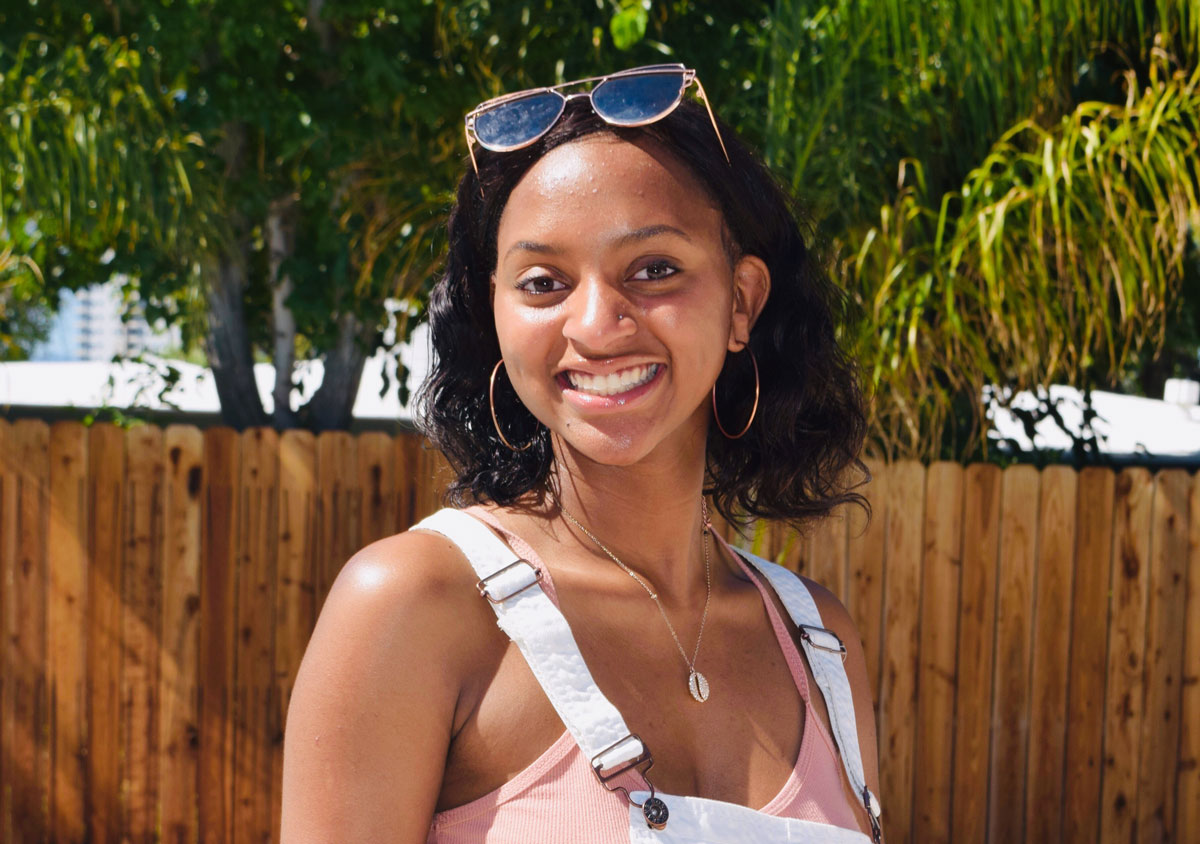 Serenity Bassett, UC Merced
Major: Biology
Hometown: Sacramento, Calif.
"Computer science is my passion. I cannot see myself pursuing any other career." So says Serenity Bassett, who has been writing computer programs since middle school as a member of Black Girls Code, and has already lined up an internship at LinkedIn for her first summer break.
Beyond bits and bytes, Bassett is also an award-winning poet and spoken word artist, placing third in the world in a recent competition with her poetry slam team Sacramento Area Youth Speaks.
"I love that UC Merced is a new school, which means that I cannot only go to the school but also grow with the school. I love the tight-knit community. The small size makes it easier for students to know other students and faculty on a personal level," she said.
"I hope to grow as a person and be mentored by people who are older and have more experience than me, helping me to listen and mature through my four years," she said.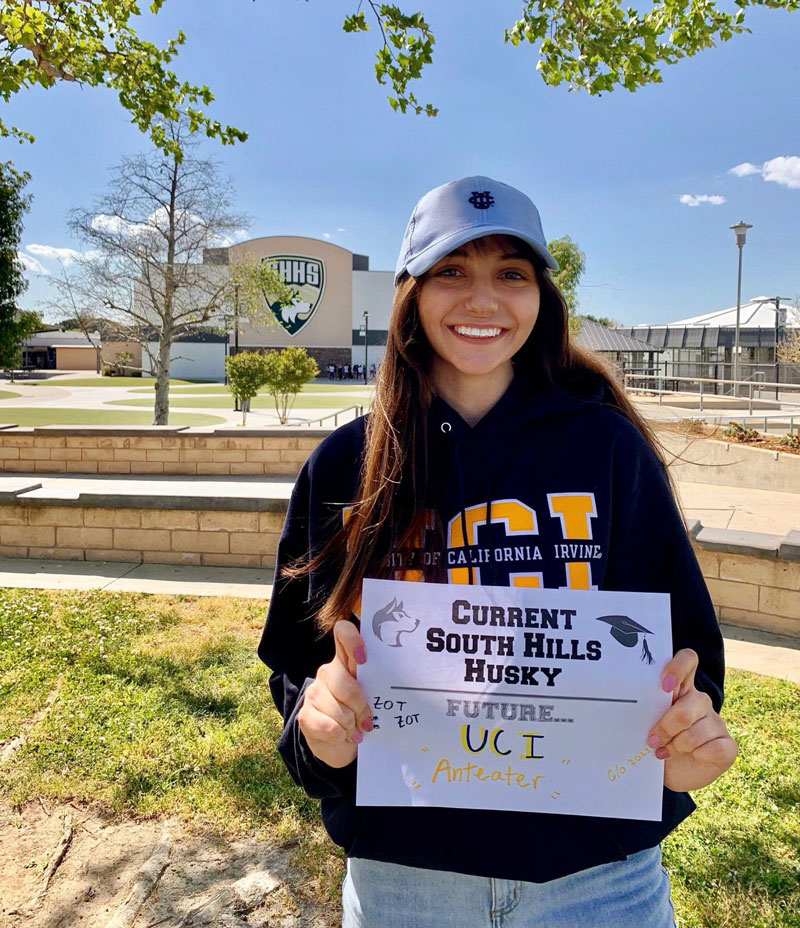 Liana Malentsyan, UC Irvine
Major: Physics
Hometown: West Covina, Calif.
As someone with dozens of hobbies — from cooking the Russian and Armenian dishes her grandmother taught her to building things and watching detective shows — physics major Liana Malentsyan calls herself "a geek for learning."
"A college education doesn't mean I will become smarter or that everything will become easier, but it does mean I will get to explore new perspectives, learn new skills and study subjects that I love," Malentsyan said.
The South Hills High graduate is eager to embrace all the experiences college has to offer — from making friends and joining clubs to learning better time management and gaining a sense of independence.
"In high school, I know I changed a few people's mindsets and helped them try new things," she said. "Now I hope UC Irvine will help me try things I've never tried before."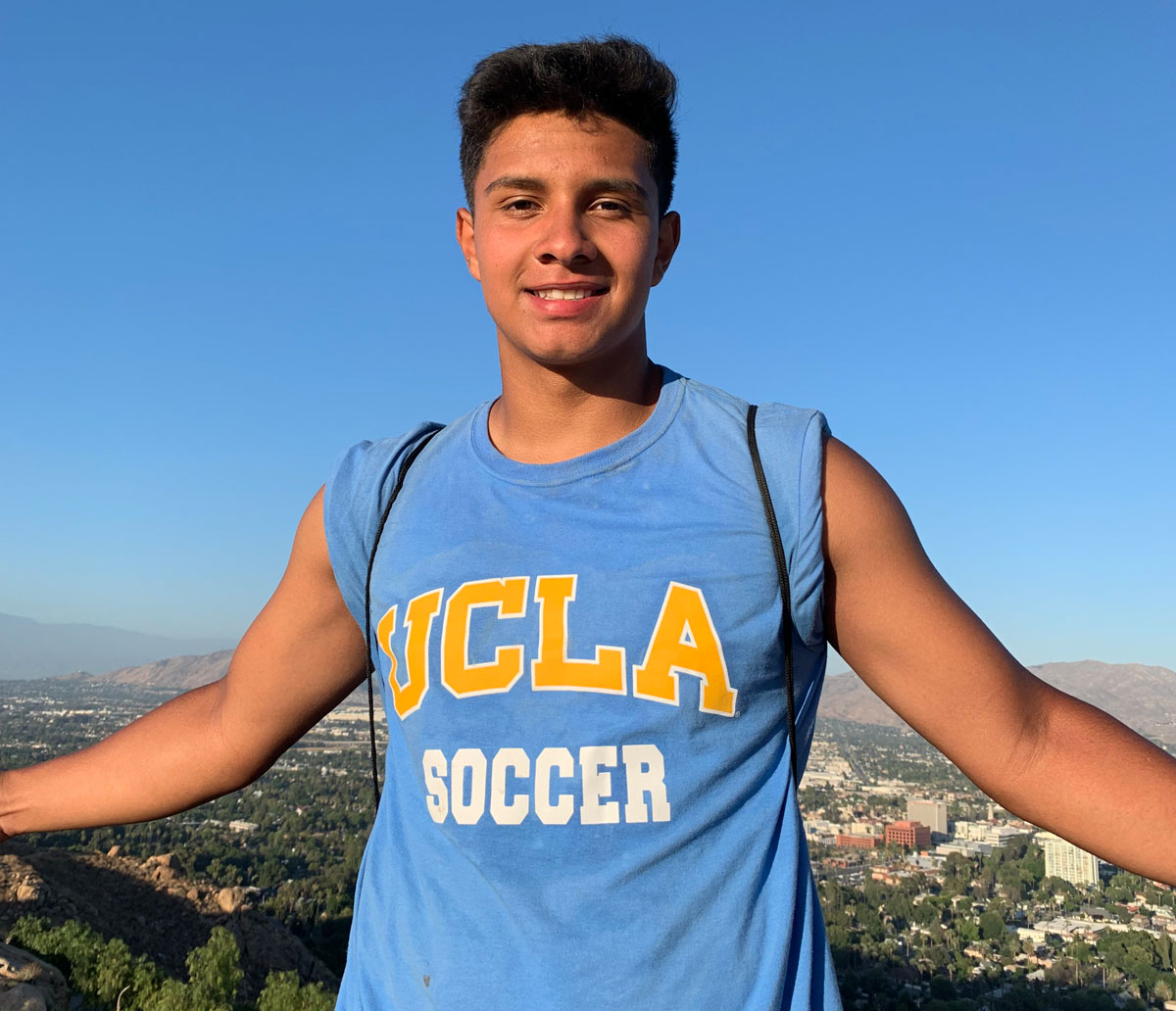 Hector De Leon, UCLA
Major: Political science
Hometown: Rancho Verde, Calif.
"College is important to me because I understand that this opportunity is not available for everyone and my family sacrificed so much to make it possible," said Hector De Leon, who is the first in his family to go to college.
"I am looking forward to embracing the independence and responsibility, and developing into the young man I will become."
As a Rancho Verde High School student, De Leon became very active politically. He helped organize youth marches and worked to engage his fellow classmates in speaking out on issues ranging from gun safety to climate change.
Now, De Leon plans to study political science in the hopes of becoming an environmental or pro-bono immigration lawyer. "The environment and nature are near and dear to my heart, and I am determined to shape our planet for the better."
Sage Bennett, UC Berkeley
Major: Environmental sciences
Hometown: Antioch, Calif.
Before starting at UC Berkeley, Antioch resident Sage Bennett had rarely been out of his own hometown. Now in his third week as a student, college is already opening his eyes to the world.
While his fellow students learn their way around campus, Bennett is spending fall semester in London as a participant in UC's Global Edge Program, which offers newly admitted students a unique start to their college experience. Students attend orientation at UC Berkeley in the summer, then head abroad for their inaugural semester.
"I hope college will allow me to develop a bigger perspective on the world and its people, in order for me to understand my place in it."
Bennett, who grew up in an extremely low-income family and spent part of his high school years living on the streets, had no idea that applying to college would allow him to participate in global adventures like the one he's having now.
"Having gone through extreme poverty and homelessness, where I often didn't know where my next meal was coming from or where I was going to sleep for the night, I've never been guaranteed anything in life," Bennett said. "That is why going to college is so meaningful to me. It's the chance to take the path you are given and make something new."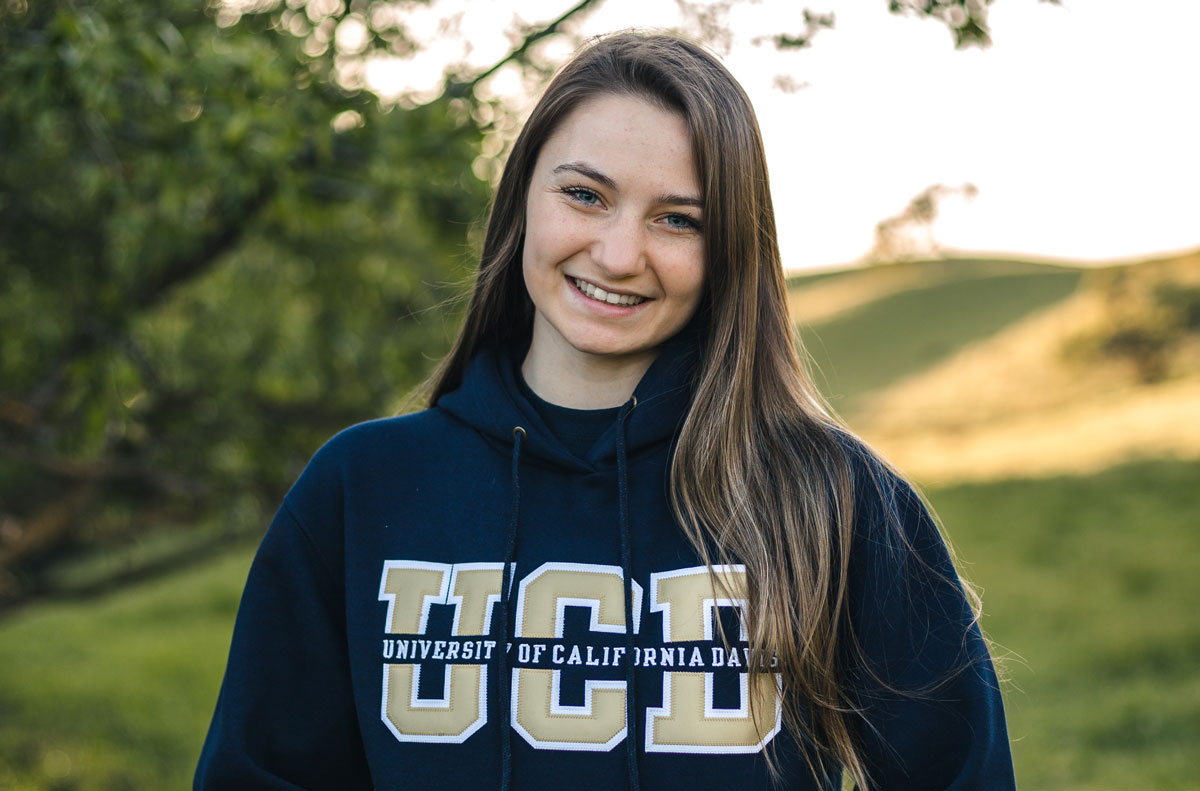 Renée Bostak, UC Davis
Major: Biomedical engineering
Hometown: San Martin, Calif.
San Martin resident Renée Bostak credits binge-watching "Phineas and Ferb" as a kid for piquing her interest in science and inventions — like the electrocardiogram and mobile app she built as a science fair project — that now has her dreaming of a career in biomedical engineering. "It's thrilling to think that I could be part of a team that invented something truly impactful," she said.
She's also looking forward to classes outside her major, like "Design of Coffee." "Many people don't know that I created my own Starbucks secret menu that entails healthy swaps for many of my favorite drinks."
In addition to being an "honorary barista," Bostak is a competitive dancer and choreographs children's musicals, a diverse array of interests that she's eager to explore via the many clubs on campus. "With all the resources at my fingertips, I know I'll find my path one way or another — but also have fun in the process."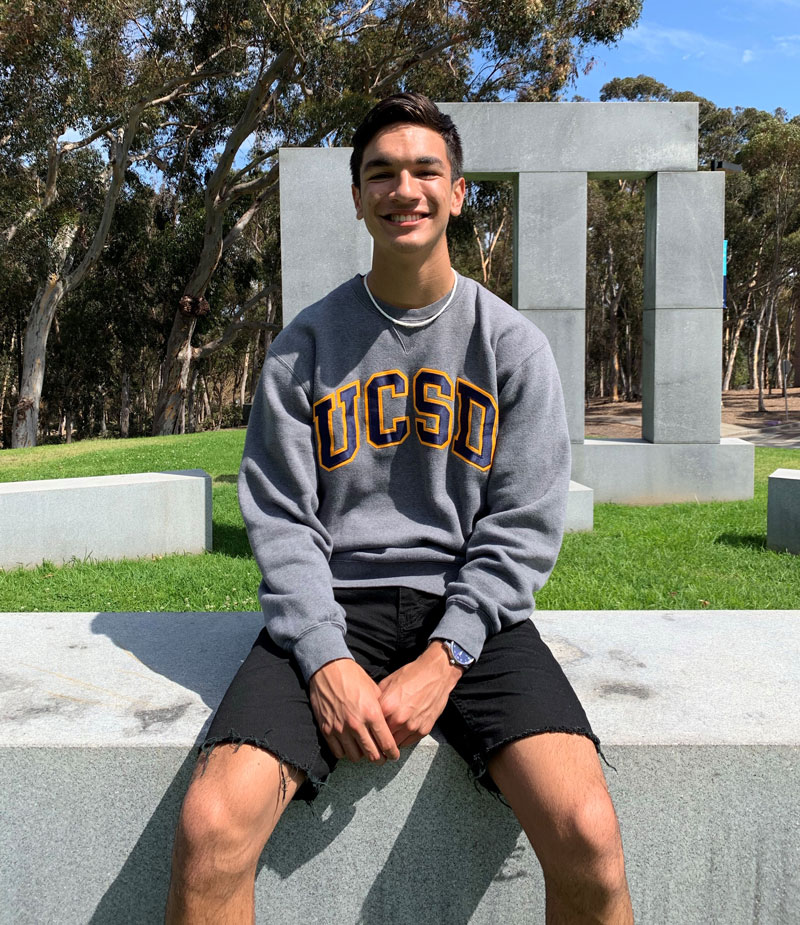 Jacob Rodriguez, UC San Diego
Major: Biology
Hometown: Dinuba, Calif.
Part of a low-income family of four led by a single mom who's an instructional aide, Jacob Rodriguez wants to become a doctor to help others in his community and to provide a better life for his family, particularly his grandparents, who still labor in the fields as farmworkers.
Thanks to a summer bridge program, Rodriguez has already been on the San Diego campus taking classes for several weeks. His first class explored issues of race and class in the American higher education system. It was eye-opening to the student from Dinuba, Calif., a community made up almost entirely of Latino immigrants.
"Coming from a town where everyone has a similar background to me, I'm excited to meet people from different cultures and ethnicities, and to learn about their stories and their struggles."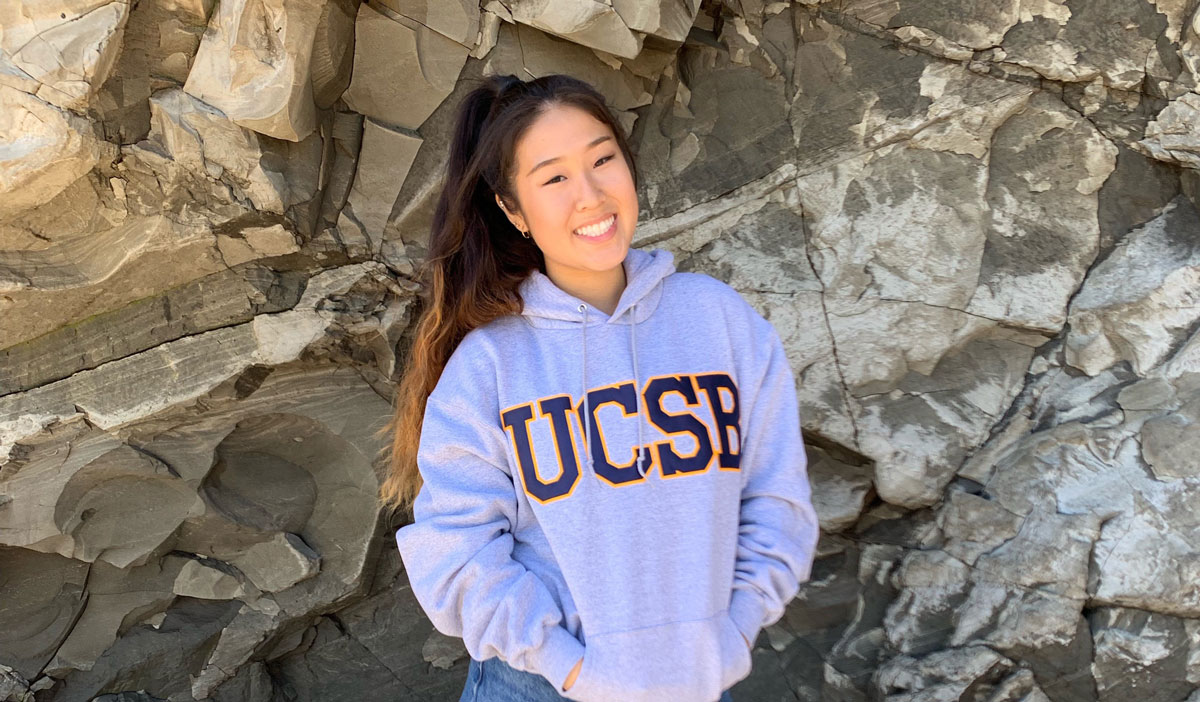 Yulim Choi, UC Santa Barbara
Major: Undecided
Hometown: Irvine, Calif.
"I've been doing art, specifically oil painting, since third grade. I'm also obsessed with acai bowls," said Yulim Choi. Choi was born in Korea and grew up in Southern California. She attended the Orange County School of the Arts but fell in love with science while specializing in visual art.
"Right now, I'm pre-biology, but I plan to explore other majors," she said. "I'm looking forward to meeting people I can grow with for the next four years. I hope to establish connections that grow even more after college and can set the direction for where I go next."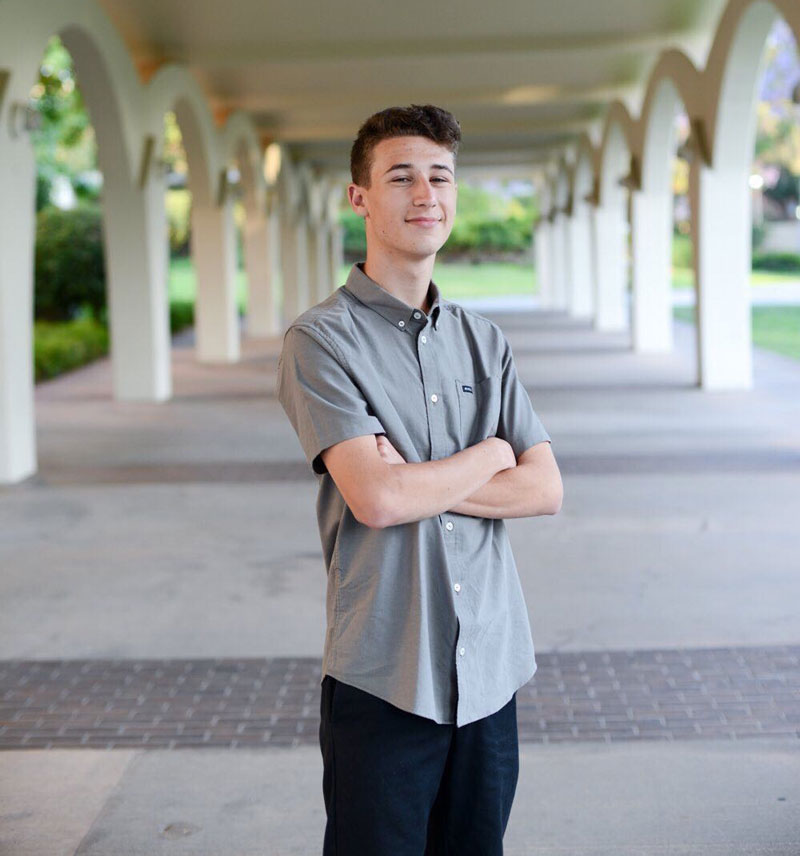 Ethan Crossman, UC Riverside
Major: Public policy
Hometown: Riverside, Calif.
As the child of two UC Riverside alumni — his mom works as a fundraiser for the school's athletics department — Ethan Crossman was practically raised on campus.
But in preparing for his own experience as a Highlander, he plans to immerse himself in the unfamiliar: "I'm looking forward to meeting a lot of people, making new friends, trying new sports — basketball, ultimate Frisbee and flag football — and learning a new language. I haven't decided which one yet," he said.
"My parents have always pushed me to live those dreams I've set for myself," Crossman said. He's set his sights on eventually working for an agency that safeguards civil liberties. "Throughout high school I was always into politics," he said. "My hope for the next four years is to further my education and abilities so I can assist society with the many problems we face today."
Jeannie Johnson, UC Santa Cruz
Major: Marine biology
Hometown: San Diego, Calif.
Growing up in a coastal community, Jeannie Johnson has always loved the sea — just not all of its inhabitants. "I had a terrible phobia of sharks as a kid," she explained.
But as a biology student in the San Diego Community College District, "I became aware of how important they are to our oceans and how destructive the shark finning industry is, endangering almost 300 species of sharks," she said.
"So I turned my biggest fear into my greatest passion. I want to educate the public and help others understand these magnificent creatures."
An avid juggler as well as photographer, Johnson hopes her studies at Santa Cruz will continue to challenge her assumptions. "I want to find out more about what I don't know and explore the world around me with an open mindset."
---
UC's incoming class at a glance
Among all new students:
68 percent (47,100) are freshmen
32 percent (22,050) are community college transfer students
81 percent are California residents
Among California students:
47 percent are first-generation college students
44 percent are low-income
Explore the data to learn more about our students.
Top photo credit: Elena Zhukova/University of California