Nine UC faculty elected to National Academy of Medicine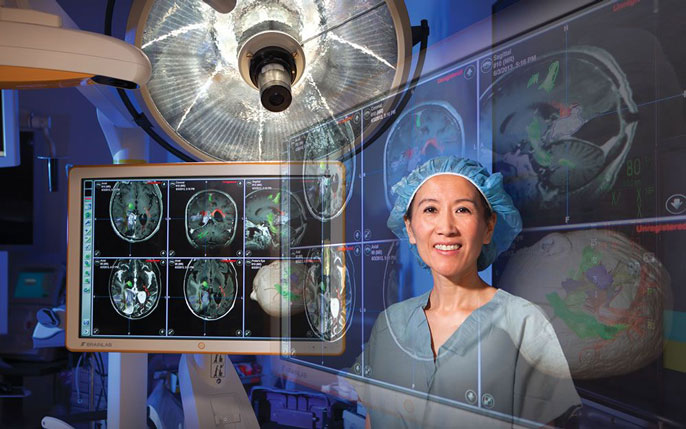 Nine University of California faculty from four campuses have been elected to the National Academy of Medicine, one of the highest honors in the fields of health and medicine.
The UC scholars join a class of 85 new members announced by the academy on Monday (Oct. 15).
"The inductees into the National Academy of Medicine have significantly expanded the world's understanding of human biology and illuminated new paths of discovery for battling diseases," said Dr. John Stobo, executive vice president of UC Health. "We are incredibly proud of the University of California's representation in this elite body, and congratulate the nine new honorees for 2018."
New members are chosen by current members through a process that recognizes individuals who have made major contributions to the advancement of the medical sciences, health care and public health. At least one-quarter of the membership must be selected from fields outside the health professions.
More than 200 members affiliated with UC have been elected since 1970.
One of those new members is Dr. Linda Liau, an internationally renowned neurosurgeon-scientist and chair of the neurosurgery department at the David Geffen School of Medicine at UCLA. Her research in the early 1990s led to her creating one of the first personalized vaccines, using a patient's own tumor specimen and white blood cells to activate the immune system to fight off cancer.
"I have always had a huge drive to prove that things that seem impossible can actually be possible someday," Liau said. "When I first started working on brain tumor immunotherapy, everyone told me that you can't mount an immune response in the brain. Now we know that's not true."
The other members include:
UC Berkeley
John Kuriyan, professor of molecular and cell biology and chemistry
Barbara J. Meyer, professor of genetics, genomics and development and investigator for the Howard Hughes Medical Institute
Hector P. Rodriguez, Henry J. Kaiser Endowed Chair and professor of organized health systems at the UC Berkeley School of Public Health, Health Policy, and Management
UC San Diego
Lucila Ohno-Machado, associate dean for informatics and technology, biomedical informatics department chair and professor of medicine at the School of Medicine
UCSF
Ying-Hui Fu, professor of neurology
Ophir David Klein, Hillblom Distinguished Professor in Craniofacial Anomalies, Epstein Professor of Human Genetics and professor of orofacial sciences and pediatrics
Catherine Reinis Lucey, Faustino and Martha Molina Bernadett Presidential Chair in Medical Education, executive vice dean and vice dean for education, and professor of medicine
Peter Walter, distinguished professor in the department of biochemistry and biophysics and investigator for the Howard Hughes Medical Institute
The National Academy of Medicine, established in 1970 as the Institute of Medicine, is an independent organization of eminent professionals from diverse fields including health and medicine; the natural, social and behavioral sciences; and beyond. It serves alongside the National Academy of Sciences and the National Academy of Engineering as an adviser to the national and the international community.
For more information, please read the National Academy of Medicine's announcement here.