Nursing student, cancer survivor draws on experience to help patients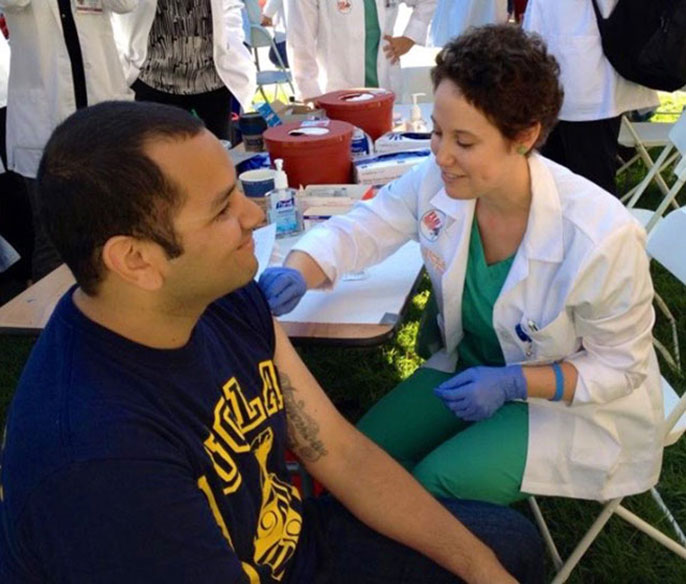 Growing up in Louisiana, Allyson Stephens had long thought about a future in nursing. But rather than pursuing a traditional bachelor of science degree in nursing, she was drawn to Hollins University, a small liberal arts school for women in Roanoke, Virginia, that, while lacking a nursing program, is known for fostering the values of community, diversity and leadership.
Here, Stephens excelled in chemistry and math, worked as a peer tutor and enjoyed personal growth that would shape her future.
Upon graduation, she sought new experiences in the diverse city of San Francisco, working as a math and science tutor and planning her path toward a graduate nursing education. She began taking prerequisite courses and volunteering as a clinical assistant at San Francisco General Hospital, the primary health center for the Bay Area's most underserved residents. In summer 2013, Allyson began applying to graduate nursing programs when an unexpected event nearly jeopardized her preparation and hard work.
In late October 2013, Stephens was taking a prerequisite exam when she started feeling excruciating abdominal pain. After visiting urgent care, it was recommended that she go directly to UC San Francisco's emergency room, where a CT scan revealed a large mass in her abdomen. The surgery to remove this mass lasted eight hours, and the diagnosis was in: ovarian cancer.
But Stephens would not be deterred from her path. The day after surgery, she submitted her application to UCLA School of Nursing.
"This could be me one day"
On Saturday, two years after being told she was clear of cancer, she will finally reach her destination. After surviving cancer and embracing her nursing school experience, Stephens is one of 57 nursing students in the Masters Entry Clinical Nurse program who will be receiving a master of science degree in nursing.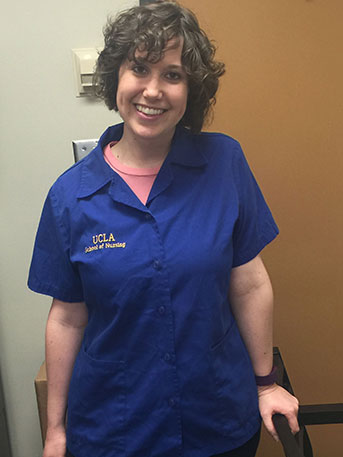 "I chose UCLA because I knew they had a great hospital and a top nursing school," she said. "I'm grateful for the care I received at UCSF, and, because UCLA is in the same system, I knew it would be a wonderful experience. "
Stephens knows that her time as a patient will be invaluable in the care and compassion she will provide to patients; because she is a cancer survivor, she comes from a better place of understanding. "I know what it's like when someone has to try four times to get an IV in. It's frustrating and painful.
"When I see a patient grimace during an IV insertion, I empathize," she said.
Throughout her hospital stay and chemotherapy, Stephens observed nurses and the kind of care they gave their patients. "All through the experience, I kept thinking, 'This could be me one day, I hope!' I really noticed what they were doing and how they made me feel."
She had never thought about oncology nursing before. "But now, oncology nursing has a special place in my heart. It takes bravery and strength. It takes very compassionate, understanding nurses."
From cancer patient to co-president of the Oncology Nursing Club
As a nursing student who has taken the mission of community service to heart, Stephens heads UCLA's chapter of the Foundation for International Medical Relief of Children, a nonprofit organization that provides global medical care to children in underserved communities. Last summer, she and four fellow nursing students spent 10 days in the city of La Merced, Peru, caring for people. "It was an eye-opening and rewarding experience," she said. "We were humbled by the gratitude of the communities we helped through nutritional, environmental and health education."
As co-president of the newly formed Oncology Nursing Club, she and fellow members raised money for research on rare cancers by participating in the Cycle for Survival last March. She also helped lead the group's involvement in the American Cancer Society's Relay for Life, held at UCLA's Drake Stadium.
Stephens completed her clinical immersion at Children's Hospital Los Angeles in the Neonatal Intensive Care Unit. When the mother of a newborn first nervously balked at the idea of Stephens, a nursing student, working on her baby, Stephens commiserated — as a patient at UC San Francisco, she had once been nervous when a student nurse, performing a procedure for the first time, treated her.
The mother later embraced Stephens as "one of her girls, one of her favorite nurses," the nursing student recalled.
Stephens said she would like to work in pediatrics, hopefully in critical care or oncology. "I like caring for people when they really need help, when they are most frightened. I like the challenge and pace. And I like making sure that the families are being cared for, just like the patient is."
As she approaches graduation, she is excited for the future. "Every day is a special day — I have the potential to make a difference."
This story was adapted from one that ran in the spring 2016 issue of Re: Magazine, a publication of the UCLA School of Nursing. Scroll to page 10.