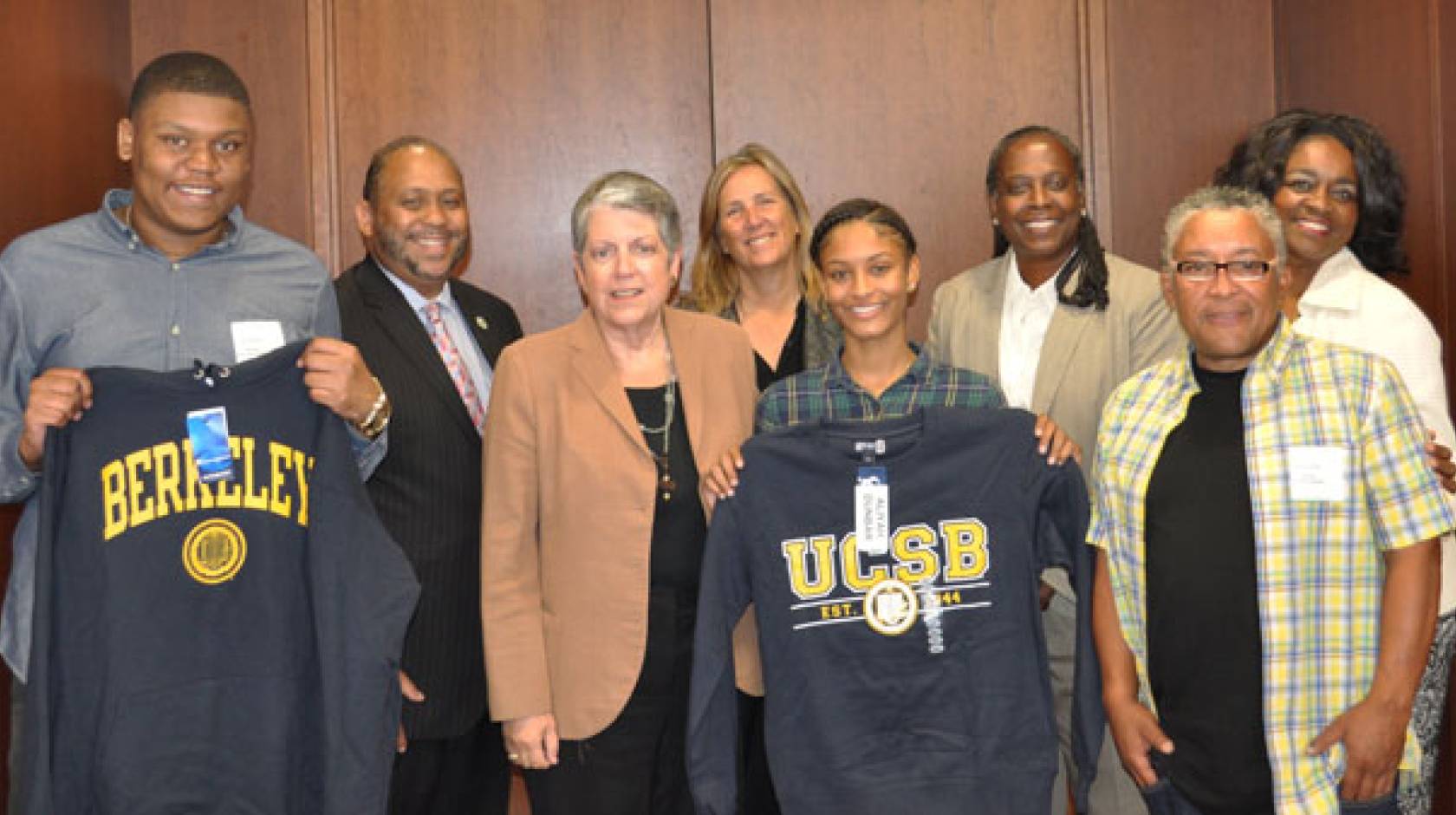 Credit: University of California
University of California President Janet Napolitano today (July 27) awarded college scholarships to five UC-bound Oakland students in recognition of their academic achievements and volunteer service to their communities.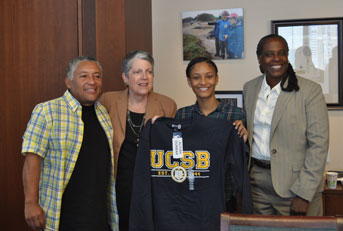 The recipients of the Oakland Promise Scholarships will each receive $4,000 per year, over four years, for their UC studies.
Napolitano personally congratulated the awardees at a celebration lunch at the university's Oakland headquarters, and gave each student a sweatshirt emblazoned with the name of their UC campus.
"Each of you has shown a commitment to making Oakland's communities better," Napolitano told the students. "I look forward to hearing about your continued contributions as you advance through your studies at UC."
This year's recipients are: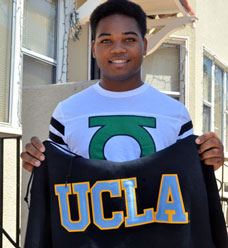 Darius Aikens — UCLA
Aikens serves as the president of the Oakland NAACP Youth Council. In his role, Darius works to ensure that African American youth are provided with equitable opportunities in the City of Oakland. Darius is also the Oakland student representative on Oakland's Board of Education and attended Oakland High School.
"This scholarship means a lot to me," Darius said. "It'll give me the opportunity to break generational curses and instead, inspire generational blessings. Thank you, UCOP and East Bay College Fund!"
Lizbeth Garcia Bermudez — UC Santa Cruz
Bermudez volunteered at her church by assisting with children's field trips and bible studies. A student at LPS Oakland R&D High School, Lizbeth also volunteered at the church's annual car wash, which helped raise money for the church.
Aliyah Dunbar — UC Santa Barbara
Dunbar, who attended Oakland High School, volunteered with BuildOn, a youth service after-school program in which youth contribute intensive local service to help homeless people, seniors and children in their communities.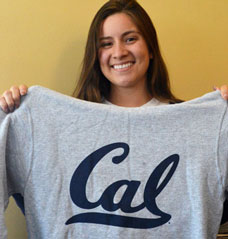 Gladys Lopez — UC Berkeley
Lopez volunteered at Stepping Stones, where she provided homework support and literacy enrichment to 22 special needs students ranging in ages from five to 22. She is a graduate of LPS Oakland R&D High School.
"This scholarship means I get to repay all my parents' sacrifices," said Lopez. "They've crossed borders, left countries, worked day and night and have been there for me so that I can be here today."
Jaevion Reed — UC Berkeley
Reed, also a graduate of LPS Oakland R&D High School, volunteered as a student tutor at the EC Reems Academy, where he helped students with homework assignments in subjects ranging from mathematics to U.S. history.
Napolitano launched the scholarship program in 2014 as part of her UC Oakland Partnership Initiative, which aims to strengthen ties between the UC Office of the President and the Oakland community. The scholarship program is administered in partnership with the East Bay College Fund, a nonprofit organization that expands college access and opportunity.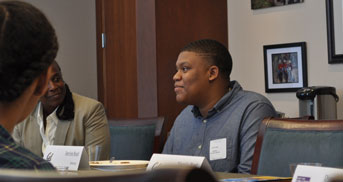 To date, 22 students from 11 Oakland high schools have received Oakland Promise scholarships from the UC Office of the President. To be eligible, students must have graduated from an Oakland high school and be qualified for the university's Blue and Gold Opportunity Plan, which covers most college expenses for students whose total annual family income is $80,000 or less.