UC's Scout gives all students access to a college prep curriculum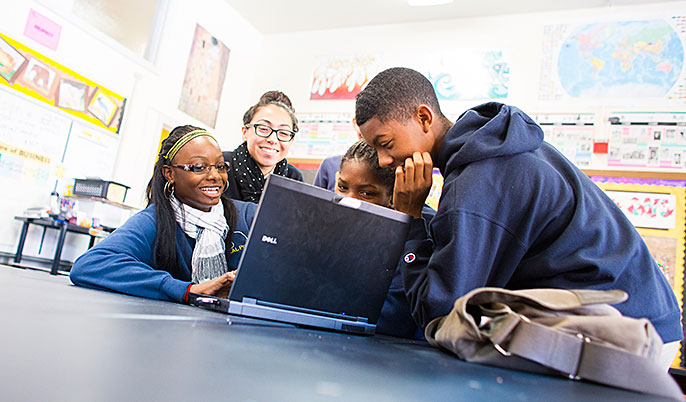 Every year, thousands of California high school students are shut out of a public university education simply by virtue of where they attend school.
More than 40 public high schools don't offer the basic curriculum required for admission to UC or the California State University (CSU) system. Many other schools offer those basics, but lack the college preparatory and honors classes that help students compete for college admission.
A new University of California program is looking to solve both those problems by creating state-of-the-art online learning to offer students a shot at the courses that will make them eligible and competitive for college.
The program, called Scout, launched in September. It offers online high school courses that can be taken entirely over the Internet, or used by teachers to guide instruction and increase the offerings at their school.
Offering a catalog of 23 courses and growing, Scout offers the challenging Advanced Placement courses that can give students an edge in applying to the University of California. It also offers a roster of the core academic subjects, known as the "a-g" requirements, that are mandatory for admission to one of California's public four-year universities.
The materials can be downloaded for free by California public school students and teachers. Out-of-state and private school users also may use the online materials for a small fee.
For $149, students can take the course directly from a Scout teacher, one of 20 classroom educators the program employs. Schools also can purchase and offer online instructor-led courses for groups of students, enabling them to easily add an a-g or Advanced Placement offering without having to hire additional staff.
"In a word, Scout is about access," said Scout Dean Lynda Rogers. "This is about providing a high quality college-preparatory and Advanced Placement curriculum to anyone who wants it."
Meeting with unexpected demand
In its inaugural year, Scout has 4,000 enrollments in approximately 20 courses — four times as many as officials expected. Thousands more have requested slots in upcoming classes, including for summer sessions, prime time for students looking to catch up on or build academic credit.
Scout builds on earlier efforts by UC to make course material available over the Internet. Unlike prior programs, which made the content available online without instructional or technical support, Scout works with schools, students and instructors to provide credit-bearing instruction.
Located in the heart of Silicon Valley, Scout partners with leading technology suppliers to produce its courses, each of which is created by a team of classroom educators, academics, animators, multimedia producers and online course designers.
To connect the courses to the kids who need them, UC has sent representatives across the state to meet with schools with limited resources.
As of now, more than 340 schools — mostly public high schools, but also middle and alternative schools — use the program to offer their students access to college-prep courses they otherwise would not be able to provide.
A new option for meeting students' needs
One such school is Walnutwood High School in Rancho Cordova, an alternative school of 171 kids who, for a variety reasons, require more flexibility than a typical high school allows.
Students' abilities range from well above grade level to far below it, said instructor Jessica Cisneros-Elliott. And she has struggled to find challenging material for her highest achieving students.
Using the free, College Board-approved curriculum from Scout, Cisneros-Elliott was able, for the first time, to offer one of her students an Advanced Placement class in U.S. History. She is now considering using additional Scout courses in macroeconomics, psychology and government history. "There's a lot that's tickling our fancy," Cisneros-Elliott said.
Those kinds of AP courses are important for students who hope to attend a research university. Because they are so rigorous, students earn weighted academic credit for taking them, which means that even straight-A students without access to AP classes can be at a grade disadvantage to peers from better-resourced schools.
"In a rural district, say, you may only have one to two students who are interested in taking an AP course," said Scout representative Kevin Heller. "It's financially impossible to hire a teacher to teach that. But if you take three students in Compton and two in Fort Bragg, and you add another who is at home on medical leave, suddenly it makes sense."
Making the most of summer break
Scout also serves students on the other end of the spectrum — those who are in danger of not being able to meet the requirements for admission to a public four-year university because they missed taking key courses or failed to pass them the first time around. The scheduling flexibility of online classes makes it possible for those students to get back on track in the evenings or weekends, and catch up with their classmates.
This summer, UC will reach out to students in underperforming schools who are one course short in meeting California's college entry requirements. Called Summer Up, the program will offer Scout's online Algebra II class to eligible students who need to complete the advanced math course to get on a path to college.
"There's not a high school student in the state who's going to raise their hand every five minutes in a classroom and say, "That was too fast," or "Can you explain that again?" Heller said. "If they can learn at their own pace, it works a lot better."
For Cisneros-Elliott, Scout has offered her new capacity to help students make up critical credits they've missed — and to challenge others with college-level coursework.
"We had no ability to give this to them before, period," she said. "And now we do."