April 12, 2016
Alec Rosenberg
,
UC Newsroom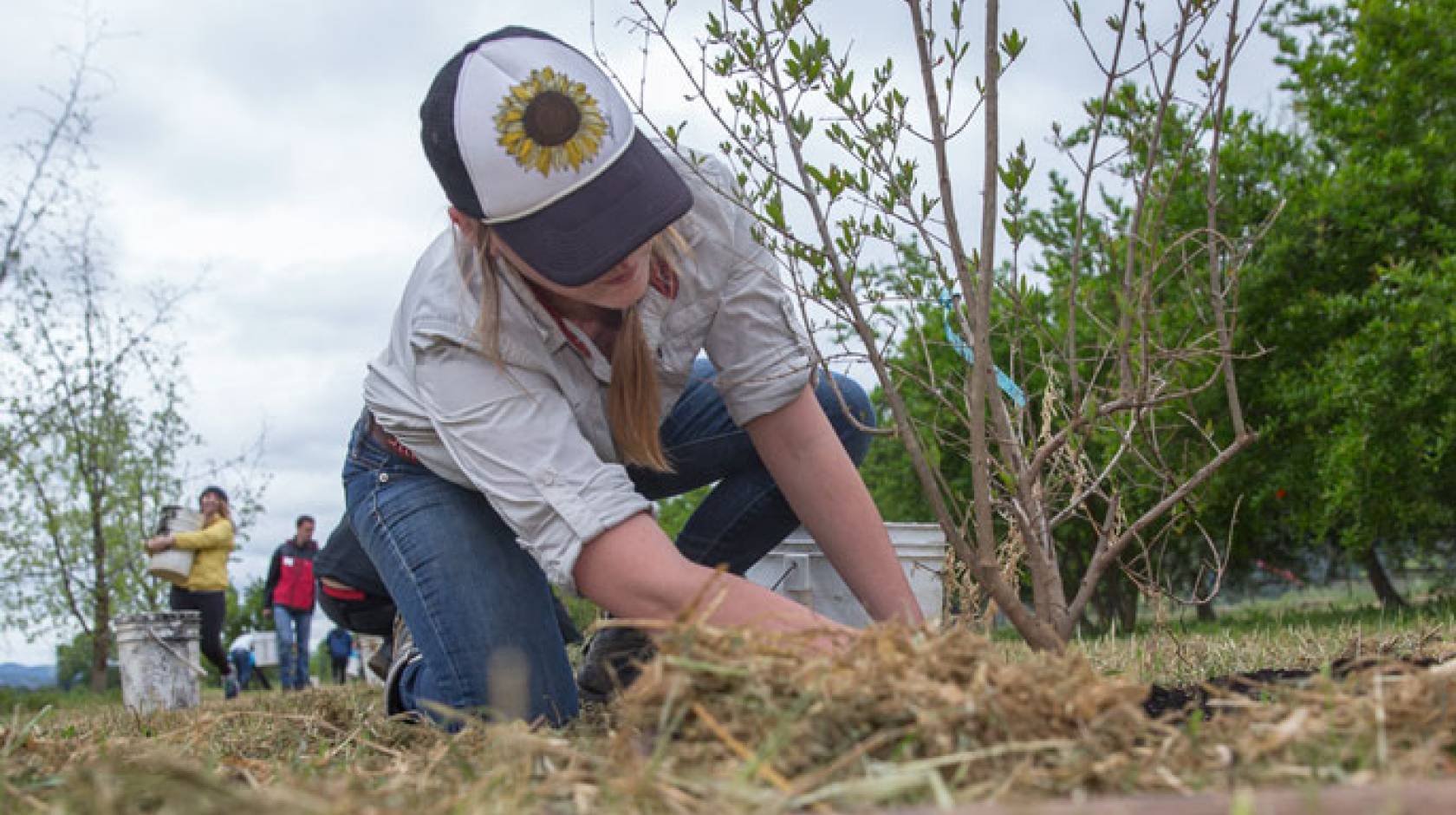 Coming from all corners of California, UC Global Food Initiative student fellows gathered for a springtime field trip in the Central Valley to learn about organic farming and get their hands dirty.
After eating a fresh-from-the-farm lunch and touring the scenic 350-acre Full Belly Farm in the Capay Valley, northwest of Sacramento, the 19 fellows pitched in, clearing weeds and spreading dark brown, aromatic compost on two rows of pomegranate and quince trees.
The far-flung fellows are working on projects that range from ambitious water conservation efforts to reducing food waste. The field trip was a chance to share those projects with one another while learning about the complexities of running a farm and growing food.
That kind of basic food literacy is something that should be more widely disseminated, fellows said.
"Food affects everyone. It should be part of mainstream education," said UCLA undergraduate student Savannah Gardner, a fellow working on a food recovery project that teams with Food Forward to glean produce from farmers markets for students. "GFI has made me hyperaware of where my food comes from and what I eat."
"It's nice to come out here and see face to face how a farm works," said UC Davis undergraduate student Jay Gelvezon, a fellow with UC Agriculture and Natural Resources who is supporting the division's outreach efforts through media relations.
Fellow Claudia Villegas, a UC Riverside undergraduate student whose fellowship project promotes sustainable agriculture to students and families through UC Riverside's community garden, also relished the chance to network with peers.
"This is amazing," Villegas said. "This is giving me an opportunity to talk to my other fellows and learn what they're doing, the techniques they're using to reach out to students."
UC President Janet Napolitano, together with UC's 10 chancellors, launched the Global Food Initiative in 2014 in an effort to help put UC's campuses, the state, nation and world on a path to sustainably and nutritiously feed themselves.
This is the second class of GFI student fellows. The undergraduate and graduate student fellows, representing all 10 UC campuses plus UC Agriculture and Natural Resources and Lawrence Berkeley National Laboratory, have helped advance GFI by working on food-related projects and raising awareness of the initiative.
'Cream of the crop'
Full Belly co-owner Judith Redmond detailed the ins and outs of the Capay Valley farm, which has been certified organic since 1985, including the importance of soil, compost, cover crops, environmental stewardship, fair labor, and building community through CSAs, farmers markets and hosting outreach activities. With the help of about 60 employees, the farm now grows and markets over 80 crops, including vegetables, fruits, nuts, herbs and flowers. The farm also has chickens, cows, goats and sheep.
Redmond was impressed by the fellows' engagement, enthusiasm, thoughtful questions and work ethic. "You did a great job," she told the fellows, calling them "the cream of the crop."
Valuable experience
"I don't want to leave," said UC Santa Barbara undergraduate student Genesis Gilroy, whose GFI project addresses campus food policy. "My research focuses on the big picture. This is the local, organic side, which is good to see."
The Full Belly visit showed the complicated nature of agriculture, said Tara Benesch, a graduate student in the UC Berkeley-UC San Francisco Joint Medical Program, who is working to connect research to policy in such topics as soda taxes.
"Seeing the thought process that went into the farm and that it's taken them 30 years to get here, it makes me realize I can't change all policy at once and the importance of working with local farmers," Benesch said.
Powerful projects
Following the day at Full Belly Farm, fellows next toured the UC Davis Student Farm and Robert Mondavi Institute for Wine and Food Science. They also visited the Simmons Lab, where returning GFI fellow Ryan Dowdy, a UC Davis graduate student, is working to reduce food processing waste by converting such waste as grape pomace and tomato pomace into bioenergy and soil amendments.
Another returning GFI fellow, Andrew Zumkehr of UC Merced, is studying the potential of reducing greenhouse gas emissions through local sourcing of food. He also is exploring another audacious solution: putting solar-topped shade structures over the canals that deliver water from California's reservoirs to parched corners of the state.
With 3,000 miles of canals and billions of gallons of water being lost to evaporation, "it's enough water that it can't be overlooked," Zumkehr said.
Hamutahl Cohen has delved into issues around food access for her GFI fellowship, expanding her experience, which includes working as an undergraduate with the Student Organic Garden Association at UC Berkeley and serving as an apprentice at UC Santa Cruz's Center for Agroecology and Sustainable Food Systems. The UC Santa Cruz graduate student has started a crowdfunding campaign to support her research project on bee microbiomes: To Save the Bee, We Need Guts.
Aria Wexler, a UC Davis undergraduate student, is working on the Fruit and Veggie Up program with Nugget Markets. Nugget donates slightly blemished (but still tasty) produce to UC Davis, which picks up the produce three times a week, reducing food waste, and makes it available for free to students at the Student Health and Wellness Center and campus food pantry.
Wexler, who also has coordinated cooking demos on campus, wants to become a dietitian to help educate people about their food.
"If more people learned what went into every step from seed to plate, that would be really valuable and we would eat healthier," Wexler said.
Dhruti Khetani, a UC Irvine undergraduate student, is making a cookbook with recipes that are quick, easy and affordable for students to prepare while also being healthy and sustainable. An information and computer science major, Khetani isn't planning a career in food but says her GFI fellowship has inspired her.
"(Food) is something I'm very passionate about," Khetani said. "My shopping habits, my buying habits, they're all changed dramatically because of this."
Serving as a springboard
In June, UC Global Food Initiative and Carbon Neutrality Initiative fellows will gather around the California Higher Education Sustainability Conference in Fullerton for a symposium.
While this year's fellowships will end in June, the hope is that the experience will inspire fellows to stay active around food issues, said Tim Galarneau, an education coordinator at the UC Santa Cruz Center for Agroecology and Sustainable Food Systems, who joined fellows on their field trip. "Hopefully, GFI is a springboard for their careers and academic pursuits."
He encouraged the GFI fellows to continue to pursue further opportunities, such as the Sustainable Agriculture Education Association Conference in July at UC Santa Cruz.
"There are still many ways to participate," Galarneau said.
That's the case for UC San Diego undergraduate student Gabriela Estrada, who saw the power of growing your own food as a child, from her grandparents' farm in Mexico to her parents' backyard garden.
For her GFI fellowship, Estrada is working to help transform a former vacant urban lot in southeastern San Diego into a thriving community garden. After her fellowship ends in June and she graduates in December, she plans to continue working at the Ocean View Growing Grounds.
"I'm too invested," Estrada said.