Pioneering a new dimension in virtual reality: The nanoscale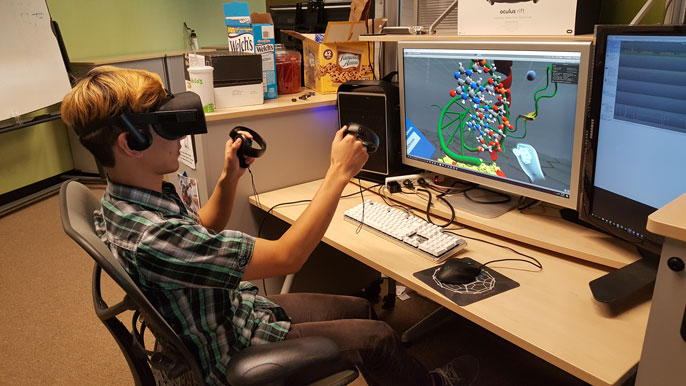 Like many other tech entrepreneurs, UC San Diego Class of 2017 engineering grad Dennis Chiang got his start in a basement. But he and fellow classmates behind the UC San Diego startup Nanome haven't exactly been working amid dusty garden tools and old sports equipment as they seek to establish their business. Their Basement — UC San Diego's high-tech incubator — includes access to cutting-edge equipment and mentoring from world-renowned engineers and business leaders.
It was just what Chiang and his fellow inventors needed, not just to create a new company, but to revolutionize an industry.
Nanome lets scientists, researchers and drug manufacturers use virtual reality to visualize and explore nanoscale materials as if they were large enough to touch and to hold.
Many people think of virtual reality as the next wave of video gaming. Nanome's founders are leapfrogging forward to its potential for tangible real-world uses — allowing researchers to manipulate objects thousands of times smaller than the width of a human hair.
"It's hard to wrap your head around an object you'll never see," said Chiang. "This enables us to actually scale up these objects so we can see their dimensions."
Nanome was co-founded by 2015 graduate Steven McCloskey, part of the first class to earn a degree in nanoengineering. Together with fellow 2016 management science graduate Keita Funakawa, he seized upon the idea to use virtual reality to help people grasp difficult engineering and math concepts.
The company, which has completed its first round of seed funding, is focused on building applications for drug manufacturers that will enable them to see in fine detail the surfaces of the molecules they are constructing.
Up to now, scientists have had to rely on still images taken with high-powered microscopes, along with their own imaginations, to see things at the molecular level. Nanome incorporates detailed molecular information from scientific databases to build three-dimensional models of nanoscale materials so researchers can visualize the molecules and simulate how they will interact with target cells.
The information can help manufacturers work more quickly and with greater precision.
Combining fun with serious study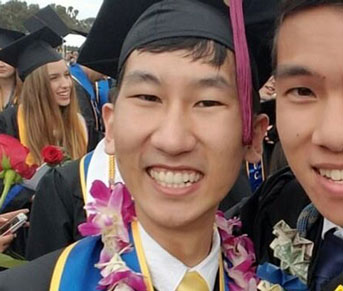 Chiang, a native of Fremont, California, was drawn to UC San Diego by its sunny, beachside location and the world-class Jacobs School of Engineering.
"Going through undergrad really opened up the world to me," Chiang said. "I really had no idea of all the different engineering sciences that are out there. It's not just circuits and semiconductors."
The die-hard video gamer never realized his pastime could have professional applications, however, until he learned about Nanome at a student entrepreneurship showcase.
A member of the school's virtual reality club, he immediately saw the potential of the company's products to help engineers better do their jobs.
"Just going through my own coursework, it was extremely hard to grasp the 3-D concept of things I couldn't actually see," said Chiang. "This allows you to perceive everything as if you were actually holding it in real life."
He applied to be a summer intern, which turned into a part-time and then a full-time position.
He now helps to design and implement the foundational programming, alternating between the computer screen and virtual reality goggles to test the experience for glitches and adjust the programming to fix any bugs.
Pioneering a UC San Diego startup
Through the Basement, Chiang and his colleagues have had access to advisers who can help with the legal and logistical particulars of launching a startup — leaving the engineers more time to focus on building their products.
In developing their product, they get guidance from faculty who are leaders in the field — many with offices just across the courtyard.
The team at Nanome are all UC San Diego students or graduates. They share a love of video games and the experience of countless hours spent in the "dungeon," the computer lab where computer science and engineering majors go to complete projects and assignments.
"We have a real identity of being a UC San Diego company," said Chiang. "We were already very close and that plays over into the work environment."
The company has completed its first round of seed funding and signed on a large pharmaceutical company as a customer. Going forward, Chiang and his colleagues at Nanome see applications not only for medicine, but for robotics, energy sources and computer technology.
"Virtual reality is barely two years old," Chiang said. "The possibilities are endless. One day, when VR is everywhere, I'll be that grandpa who's able to say, 'I was part of that right from the beginning.'"