Premature baby grows up to be a 'cuddler'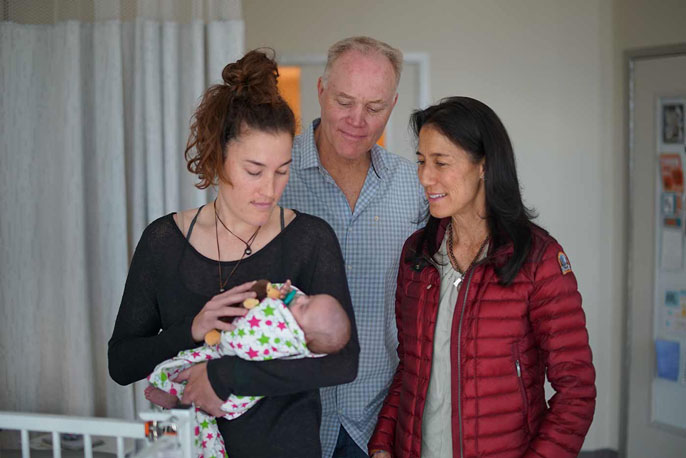 Twenty-five years ago, Sean and Mihi McNanie anxiously watched their premature baby fight for her life. Shea was born at just 25 weeks gestation—she weighed less than two pounds. She was kept alive, in critical condition, by machines, medications and a dedicated staff at UC San Diego Medical Center's neonatal intensive care unit (NICU). She required round-the-clock care for three and a half months.
"I will never forget the doctor coming out and saying, 'I'm going to tell you that your daughter is in dire straits right now,'" said Sean, tears welling in his eyes more than two decades after the experience. "It was tough, but then the doctors gave Shea this certain medication and it was like God reached down and touched her. From that day forward, Shea thrived."
Today, Shea is a college graduate, a fierce competitor on her mountain bike, competes in triathlons, is an avid backpacker and continues to live life to the fullest. She is considered to be a miracle by her parents.
But if you ask Shea, her most rewarding accomplishment on a long list is volunteering time to hold other "miracles" in the NICU at Jacobs Medical Center at UC San Diego Health.
"I describe it to people as the best thing I have ever done," she said.
UC San Diego Health's Cuddler Program gives volunteers the opportunity to hold, rock, feed and change the diapers of the hospital's tiniest patients under the supervision of nursing staff.
"In the intense and vulnerable environment of the NICU, parents at times need a break. There are also some parents who are unable to visit on a regular basis for a variety of reasons," said Lynne Trumbore, NICU nurse and volunteer coordinator for the Cuddler Program. "The cuddlers, as we call them, are giving parents some peace of mind that when they are not in the NICU, their babies are in loving hands and not alone."
It has also been shown that when premature babies are touched or held, it can improve their vital signs, neurodevelopmental outcomes and growth, which assists in an earlier discharge to home.
"NICU babies have a difficult start in life. When the parents are unable to be at their baby's bedside, the cuddler volunteer provides the needed TLC (tender loving care)," said Trumbore. "The volunteers have such a significant impact on each of the baby's lives."
The Cuddler Program requires volunteers to complete an interview, background check, vaccinations, annual online hospital training and a four-hour training in the NICU. As one of the most popular volunteer services at UC San Diego Health, there is an 18-24 month long wait list.
"It took me a year and a half to get the call," said Shea. "But it was worth every minute of the wait."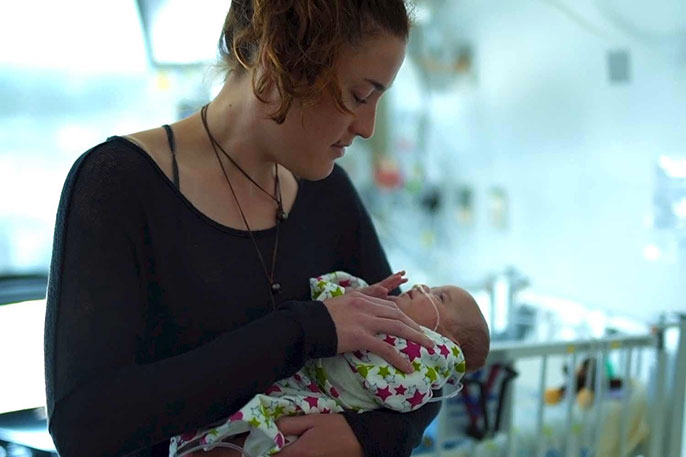 The program benefits moms like Jazmin Strobelt, whose son Axl was born four months premature. The NICU at Jacobs Medical Center became her second home.
"There are times when you have to step away and you feel kind of guilty and sad and you worry. It is really such a relief to know that along with the incredible NICU staff, volunteers like Shea are stepping in," said Strobelt. "I know of several moms who live really far away and can't be at the hospital as much due to distance and other life obligations, so it's important to all NICU families that this program exists."
Shea volunteers as a cuddler once a week for two and a half hours. Recently, she visited the NICU with her parents. It was a full circle moment.
"When I look down at their adorable faces, it hits home that I was once this small," said Shea. "To have my parents see me volunteer is very emotional and fills my heart with such happiness."
Sean and Mihi watched their daughter hold Axl with such pride.
"What Shea gets out of this program is so awesome," said Mihi. "I can't help but smile. I am reminded how far we have come as a family, from when we sat in the NICU as terrified parents to watching our grown up daughter give back in such a personal way."
Sean shared a moment with Strobelt, providing the new mother with the same kind of encouragement he and Mihi had once received.
"We know what she is going through," said Sean. "I just wanted Jazmin to know to never give up hope. Her little baby is going to grow up to be a beautiful person."
The commitment to the Cuddler Program is for 12 months, but Shea said she plans on volunteering for years to come.
"It's just so special," said Shea. "I can't imagine not coming here. It's become the highlight of my week."
To learn more about volunteer services at UC San Diego Health, visit https://health.ucsd.edu/volunteer.