President Napolitano visits Merced campus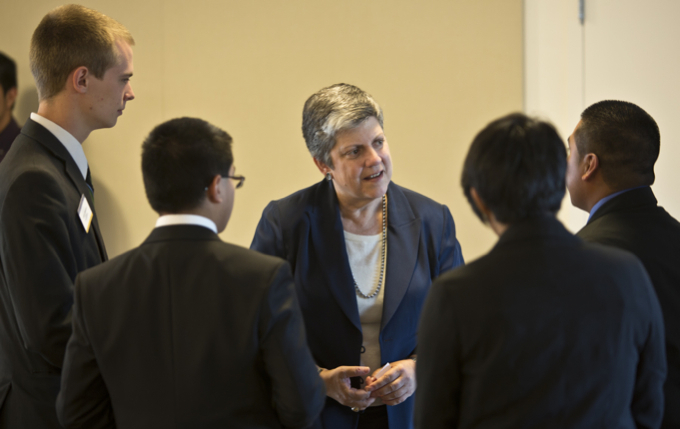 University of California President Janet Napolitano today (Oct. 3) met with the chancellor, faculty, students and staff of UC Merced, the system's youngest campus.
Napolitano chose to visit Merced during the first week of her tenure as UC president to get a first-hand feel for the successes — and challenges — unique to a campus that aspires to be a research powerhouse in the San Joaquin Valley as the first new doctoral research university of the 21st century.
"I've come to listen and to learn," Napolitano said. "The future of UC Merced is linked to the future of California. Both the University of California and the state must be prepared to meet the needs of a growing populace."
Along with UC Merced Chancellor Dorothy Leland, Napolitano dropped in Wednesday night (Oct. 2) on the Contemporary Bio Lab class, which, because of the high demand for space during normal instruction hours, begins at 9:15 p.m. in the Science and Engineering Building.
"I won't forget the sight of hardworking Merced students learning late into the night," Napolitano said. "This was my introduction to the campus and to the dedication of its students and faculty."
Napolitano said she realized that such adaptations, while admirable, also point to the need for continued financial support for the campus from the UC Office of the President. She told Leland she is committed to extending a financial memorandum of understanding — due to expire at the end of this academic year — to help ensure the success of the campus' 2020 Project, which aims to increase UC Merced enrollment to 10,000 students by 2020.
Tied to the success of the 2020 Project are the important systemwide goals of fulfilling the UC Master Plan commitment to find a place for every eligible California student, to mature the campus as a research university and preserve the unique character of a campus intentionally built in the San Joaquin Valley.
On Thursday, Napolitano met with undergraduate and graduate students, faculty, staff, community leaders, current and former members of the campus foundation, government officials and other supporters. She toured campus classrooms, labs, student housing, and student activities and athletic facilities.
UC Merced, which opened in 2005, has greatly increased accessibility to a UC education for thousands of students in the largely underserved San Joaquin Valley as well as for others from throughout the state. With campus growth - undergraduate enrollment was up 7 percent this fall to 6,195 students — has come pressure for more classroom and research facilities.
Of Merced's undergraduate population, 62 percent are first-generation students and Pell Grant eligible — the largest percentage within the University of California system. This fall the campus also saw a 9 percent increase in graduate students, to 358. The increase in graduate student enrollment supports the university's ambition to rank among the top public research universities in the country.