July 28, 2014
Lorena Anderson
,
UC Merced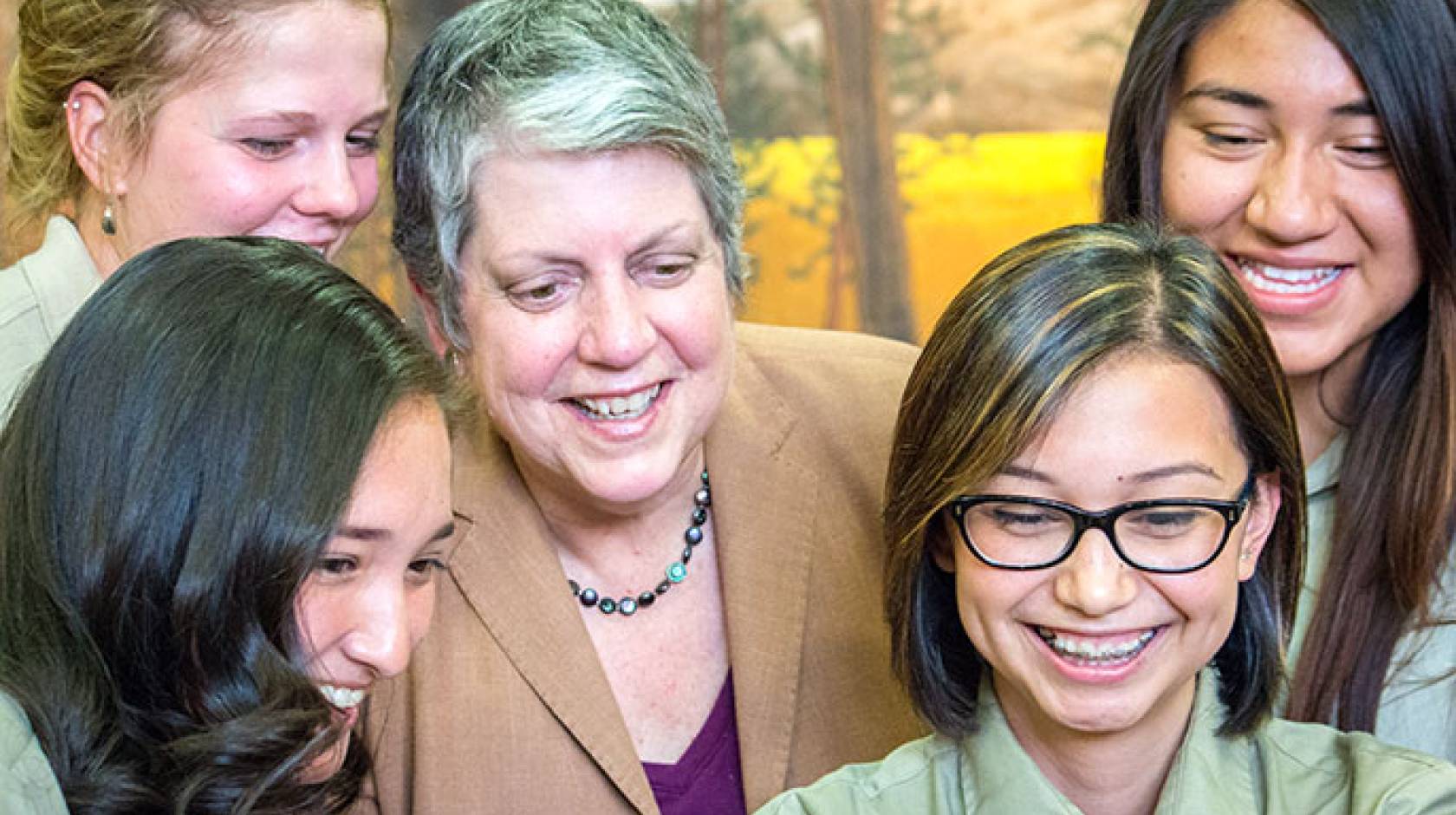 Credit: Veronica Adrover/UC Merced
A two-day visit to Yosemite gave University of California President Janet Napolitano an up-close look at UC Merced's partnership with the neighboring national park, including some of the students whose lives have been transformed by their experiences there.
"I have really been looking forward to this week," Napolitano told a group of Yosemite Leadership Program students, park officials and UC Merced leaders at a luncheon at the Yosemite Lodge on Thursday (July 24). "I started my week at Los Alamos National Lab, and I'll finish it in Yosemite. Getting a first-hand look at the fascinating research UC is engaged in, meeting so many dedicated and inspiring people — it doesn't get too much better than that."
UC Merced has more than a decade of partnership with the park, being the only university to have a research facility there. Much of the work conducted through the Sierra Nevada Research Institute centers on the park and its ecosystems, and Yosemite is also the focus of UC Merced's Yosemite Leadership Program (YLP) and many outdoor adventures the campus leads.
"I am honored President Napolitano came out last week to learn about our work in Yosemite National Park," Chancellor Dorothy Leland said. "The University of California is a driving force for this great state, and there's no better way to hear about the impact of our efforts at UC Merced than from our faculty and students."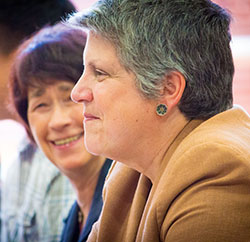 More than 50 people gathered for an interactive lunch with Napolitano just after her arrival in the park Thursday. Students from YLP and the Research Experience for Undergraduates Program ate with her and UC Merced Chancellor Dorothy Leland, Vice Chancellor for Student Affairs Charles Nies, Yosemite Superintendent Don Neubacher, Delaware North's Dan Jenson, and Yosemite Conservancy President Mike Tollefson. YLP leaders and others were invited to ask Napolitano about her professional background, future plans for the University of California and her core leadership values.
"You have to clearly communicate your vision to get people to buy in," Napolitano told UC Merced alum Andres Estrada, who asked about leadership values. "You also have to have the courage of your convictions, and you need to be able to explain what you're doing and why you're doing it."
Napolitano related some of her experiences as governor of Arizona and Homeland Security chief, and marveled at how much she has learned since taking the reins at the UC 10 months ago.
After introducing her new UC Global Food Initiative, which she launched to harness the collective power of UC to help put the world on a path to sustainably and nutritiously feed itself, she told the students about her support for UC Merced's 2020 growth plan.
She also gleaned important insights about the students during a series of presentations, hearing about the research being conducted during the summer Research Experience for Undergraduates program and the lessons being learned by students in YLP.
"These programs are building leaders, and I am one of them," said Vera Reyes, a first-generation college student from Dos Palos. She was introduced to UC Merced through Adventure Risk Challenge (ARC), and inspired to go to college by the YLP students she met during her time in that high-school program.
Park Superintendent Neubacher explained that Yosemite youth programs welcome about 45,000 young people each year.
"For me, YLP is one of the highlights," he said. "We have a lot to be proud of."
So do the students, like Jesus Dolores, who became emotional explaining his experience in the park and at UC Merced. The program gave him confidence he'd never had.
A recent graduate, Dolores had to choose between working in Yosemite or at his alma mater, and was able to blend the two, now working for the School of Engineering, heading up an effort to improve the propane-tank recycling program in Yosemite.
"I found out I was a leader," he said. "This is one of the greatest experiences of my life, being part of the partnership between UC Merced and Yosemite."
Napolitano attended a poetry reading by the students in YLP and ARC, met with Leland and other campus leaders, heard a presentation from the Sierra Nevada Research Institute and took a guided hike with Leland during her visit.
Jacob Croasdale, YLP coordinator on the UC Merced campus, said he was proud of the students who met with Napolitano and impressed by the positive energy of the event.
"Having President Napolitano's partnership really invests a lot of confidence in what we're doing," he said.