President Napolitano honors legislators' and community advocate's commitment to higher education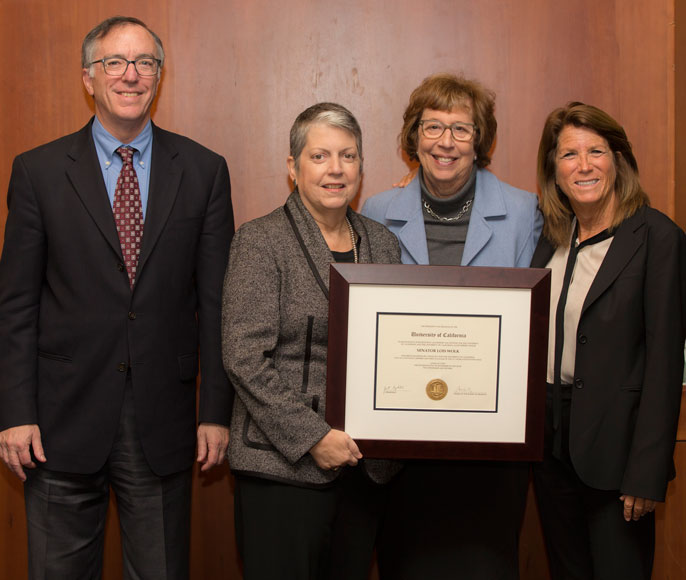 (San Francisco, CA) — University of California President Napolitano today (Nov. 16) presented two state lawmakers and one community leader with Outstanding Advocacy awards.
The awards, granted jointly by Napolitano and Board of Regents Chair Monica Lozano, recognize the efforts of state legislators who champion public higher education and fight consistently to keep it accessible and affordable for California students.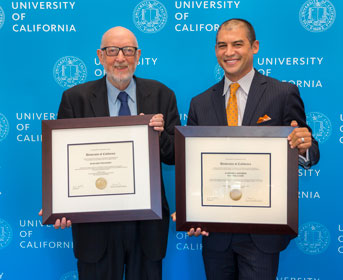 The awards went to Assembly member Das Williams, D-Santa Barbara, who is the former chair of the Assembly Higher Education Committee; Sen. Lois Wolk, D-Davis, one of the founding co-chairs of the UC Legislative Roundtable; and Sen. Carol Liu, D-La Cañada Flintridge. Additionally, community leader and UCLA alumnus Howard Welinsky was recognized as one of UC's strongest allies.
"I am pleased that Assembly member Williams, Sen. Wolk, and Howard Welinsky could join us in person today, so that we may honor them appropriately for their service in the Legislature and the community and for their ongoing support of UC," said President Napolitano.
"Assembly member Williams, a double alum of UC, consistently prioritized access, quality and affordability of public higher education during his six years in the Assembly. He was always willing to take on the tough issues, and always put students first. Through her leadership of the UC Legislative Roundtable, Sen. Wolk and her staff brought together legislators who share a common interest in the university. In addition, she has been an ardent supporter of UC Davis, championing the growing campus and helping foster a stronger connection with the Sacramento community."
"Champions of public higher education in the legislature are critical to ensuring a university system that is accessible to the people of California. And there is no one better than those in the community to tell the story of the value of UC. One of our most incredible advocates in the community is Howard Welinsky. Howard is retiring from Warner Brothers, so we hope he will have even more time to advocate for UC, and he has set a high bar for steadfast and ceaseless support for UC."
Although Sen. Liu could not attend the meeting in person, Napolitano and Lozano publicly thanked her for her commitment to public service and for her support of the university during her tenure in the legislature.
Assembly member Don Wagner, R-Irvine, was recognized in a previous Regents meeting.