Professor's e-book featured on startup site for women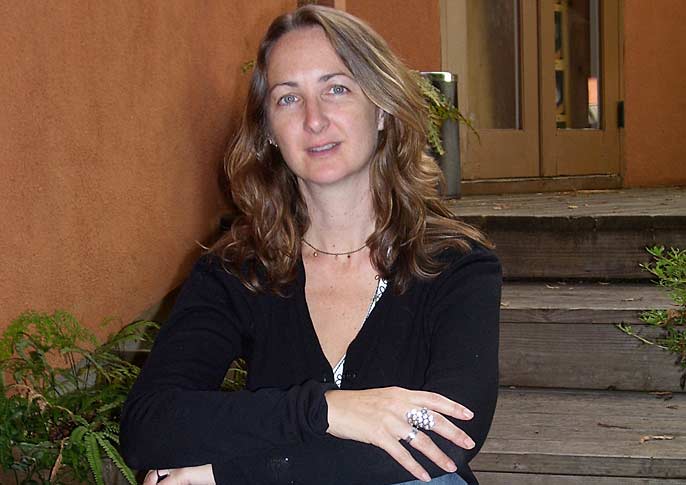 A new e-book by literature professor Micah Perks is one of 12 titles featured on Shebooks — a just-launched startup that publishes short pieces designed to bridge the gap between magazines and books, with carefully curated high quality fiction, memoir, and journalism tailored to women's interests.
Perks's memoir, "Alone in the Woods: Cheryl Strayed, My Daughter, and Me," is a perceptive exploration of women and the wild — examining the wildness Perks experienced as a child on a commune, the different ways women and wildness are portrayed in the media, as well as the wilderness she finds out is inside her own daughter.
"It's a short memoir about women in the wilderness, about fear and bravery, about what we teach our daughters about wildness," Perks noted.
"It moves from the story of my own solo adventure in the wilderness when I was 17, to a contemplation of women and wildness in books and popular culture, to the story of a camping trip my daughter and I took together in Big Sur that taught us both something about fear."
Perks said the book was inspired by her longstanding interest in ideas of wildness and wilderness in the United States, ideas that she has focused on in previous works.
"When my daughter hit adolescence, she began wanting to go on solo adventures — partly, I'm sure, due to my own encouragement, and partly due to her love of Cheryl Strayed's best selling memoir, "Wild," about hiking the Pacific Crest Trail alone," said Perks. "This brought up a lot of fear in me, and I wanted to write about it, to figure out what was going on."
Perks' volume on Shebooks stands alongside memoirs and fiction by other established authors and essayists, including Hope Edelman, Marion Winik, Faith Adiele and Suzanne Paola.
Now available for Kindle and Nook devices, the growing selection of e-books will be available by subscription through the Shebooks.net website beginning in March.

Shebooks is co-founded by Laura Fraser, a journalist and best-selling author ("An Italian Affair"); magazine editor Peggy Northrop (Reader's Digest, Vogue, Sunset), and publishing veteran Rachel Greenfield (Martha Stewart Living Omnimedia).
Perks said that Shebooks came about after an organization of women writers (VIDA: Women in Literary Arts) began publishing an annual "count" three years ago, in which they produced pie charts showing the number of writers published in print venues broken down by gender.
"The 'VIDA count' has produced not only a lot of conversation, but a small revolution in publishing," said Perks. "Here are all these new startups, in print, but especially on-line, that are focused on women writers to try to correct the gender bias in the publishing world at large, and they are capitalizing on the fact that women as a group read more than men do."
"Shebooks publishes long-form journalism and short stories — pieces between 30 to 40 pages," Perks added. "The size makes sense for people who don't have a lot of time, but who want to read something more in depth than an article.
They're also inexpensive at $2.99 apiece, and they can be downloaded on any device, even a phone.
Perks also is the author of a novel, "We Are Gathered Here," and a memoir, "Pagan Time," about growing up on a commune in the Adirondack wilderness. "Pagan Time" is now an audiobook from Audible, as well as an e-book, and has been translated into Korean.
Her short stories and essays have appeared in such journals and anthologies as Epoch, Zyzzyva, Tin House, and The Rumpus. The recipient of an NEA Award and four Pushcart Prize nominations, Perks also is co-director of the UC Santa Cruz Creative Writing Program.
"I'm really excited about Shebooks," Perks added, "and especially about the renewed enthusiasm around women's writing in general."