Professor helps save endangered languages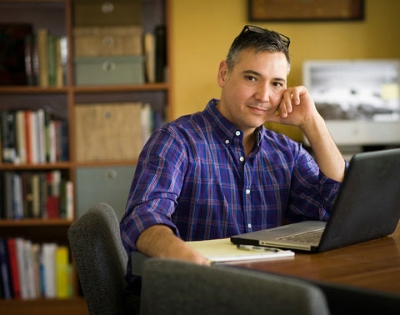 To keep endangered languages spoken by indigenous people alive and vibrant, a UCLA professor of world arts and cultures has set up a user-driven website where speakers of languages that could go extinct can contribute to a working dictionary, chat, post audio and video clips, play word games and create a language-learning workbook.
The site, Wiki for Indigenous Languages (WIL), currently supports only one language as a preliminary test model, Yoem Noki, spoken, according to one estimate, by fewer than 400 Yaqui Indians living in Arizona and other parts of the southwest U.S. and by approximately 12,000 in other Yaqui communities in Mexico.
But that's only the beginning of David Delgado Shorter's vision for the website. Shorter, an associate professor of world arts and cultures, said several Native American tribes have already contacted him about the possibility of having their own languages featured on their own WIL site. The site shows placeholders for other endangered languages spoken across the southwest U.S. and northern Mexico, including Chalon, Tarahumara, Opata and four others. Shorter said he's excited about taking a working model of the website to these and other communities in order to demonstrate what the site can offer them.
"Where there's a WIL, there's a way," Shorter said of the venture, which places authorship of the webpages in the hands of speakers of these dying languages. "This site will not be put together by me, or a linguist, or even a tribal politician telling Yoeme language learners which spellings are official, or even where the language must be learned."
In February, his project was awarded a $24,000 Transdisciplinary Seed Grant from the UCLA Office of the Vice Chancellor for Research and the Academic Senate Council on Research to help him continue this work.
From his field work with the Yoeme (or Yaqui) people of Sonora, Mexico and Arizona dating back to 1992, Shorter has also created an ethnographic website on their culture and struggles and published an award-winning book, "We Will Dance Our Truth: Yaqui History in Yoeme Performances." But this latest project has implications for indigenous people everywhere who are trying to preserve their language, he said.
The project linking the language learning needs of indigenous people with the technological promise of a wiki began in 2009 when Shorter started working with Craig Dietrich, an assistant professor of practice at USC's Institute for Multimedia Literacy. Dietrich created a way to digitize the most respected Yoeme-English dictionary — with more than 7,000 entries of Yaqui and English words — into a searchable WikiMedia platform.
"The wiki approach made sense to Craig and me because it enables language learners to add to the dictionary and shape the dictionary's structure," Shorter said.
From there, Shorter began working with programmers at UCLA's Center for Digital Humanities to build a dynamic website where words could be translated to and from Yoeme, video and audio clips and photographs could be shared, quizzes and word games played, and language-learning workbooks created.
"The wiki approach is not from the top down," Shorter explained. "So the various language wikis we hope to support will either be used or not, based on whether people want to engage the site's features and interact with other members."
Sometime this summer, community members will be invited to enroll to the site, enabling them to then post, edit and contribute to each page of their language's Wiki.
Site members will be able to create profiles, chat with each other, help each other develop fluency and change the website's contents and even the site's structure, Shorter explained. Users can now access the Wiki for Indigenous Languages from laptops, but within the next year, they will be able to use their smart phones as well — a primary means of social networking in the Yoeme communities in Mexico, Shorter added.
The interdisciplinary nature of the project has brought together experts from different parts of the campus. Shorter, a social scientist in the arts, is working with UCLA education professor Teresa McCarty and two staff members from the Center for Digital Humanities, Jun Wan and Michael Lynch. Shorter also works closely with a friend and fluent Yoeme speaker, Felipe Molina, and linguist David Shaul, who documents Native American languages as a visiting scholar at the University of Arizona.
"You cannot simply hope to work with indigenous communities and to represent one academic discipline," Shorter said. "Most indigenous communities do not divide their lives up into discrete structures of knowledge. Thankfully, these generous grants demonstrate how UCLA recognizes that innovation must come from collaborating across campus and, indeed, sometimes off campus, with the communities of experts who must be involved in our work."