Providing a medical home for HIV patients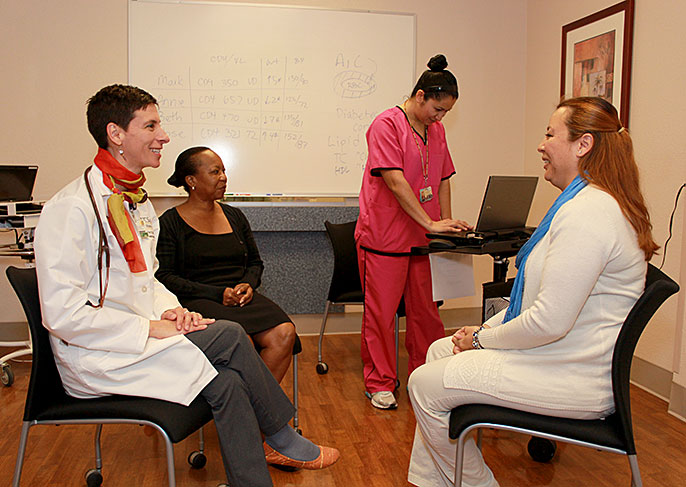 Improving care
How do you make a renowned health system even better? From improving medication management to preventing dangerous blood clots to providing a medical home for HIV patients, UC is improving care across its medical centers through a first-of-its-kind program.
UC and other California designated public hospitals are participating in the Delivery System Reform Incentive Program (DSRIP), a pay-for-performance initiative that aims to expand access to care, enhance quality and improve population health.
UC's DSRIP achievements are detailed in a new report, with campus examples highlighted here from UC Davis, UC Irvine, UCLA, UC San Diego and UC San Francisco. View the report here.
Though incurable, HIV today is a manageable, chronic condition. With advances in drug therapy, those infected with HIV in North America can expect to live into their early 70s — almost as long as the general population.
However, HIV is a chronic illness that typically requires a complex treatment regimen and has the added layer of social stigma.
At UC San Diego Health System, providers have implemented a novel multidisciplinary approach to HIV care management that is improving outcomes for patients. This approach could be a model for chronic care management in other populations.
UC San Diego's HIV care delivery transformation began under the California HIV/AIDS Research Program and was implemented as a special Delivery System Reform Incentive Program (DSRIP). DSRIP is a novel, pay-for-performance initiative in which California's 21 designated public hospitals receive Medicaid dollars in exchange for meeting pre-set milestones.
California's public hospitals had the option of participating in a fifth DSRIP category focused on HIV care. UC San Diego is one of the state's 10 public hospitals working in this category.
UC San Diego, through DSRIP Category 5, was able to overhaul its outpatient care delivery for HIV/AIDS patients into a medical home model.
'Truly transformative'
"This is what the 'triple aim' is all about," said Dr. Angela Scioscia, chief medical officer at UC San Diego Health System. "This project has been truly transformative. We took a clinic that had lost its way in terms of structure and turned it into a model for care delivery."
Also known as the Owen Clinic, the UC San Diego HIV/AIDS outpatient center is located on the third floor of a medical office building across the street from UC San Diego Medical Center at Hillcrest. The clinic treats about 3,500 patients annually. Last year, 500 new patients joined, with the demand for services growing by approximately 40 percent in the past five years, said Dr. Amy Sitapati, Owen Clinic director.
About 70 percent of patients served at the clinic are in Medi-Cal managed care plans. DSRIP support enabled the clinic to hire more staff, with a total of 60 personnel, both full- and part-time.
Team-based approach
The clinic uses a team-based approach, with four teams, each led by a primary care physician. Two of the teams have Spanish-language fluency.
Each morning, the teams meet in "huddles" and review the patient panel for that day. A computer printout shows patient names, ages and reasons for the visit, status on preventative screenings and viral loads. The printouts also show each patient's Veterans Aging Cohort Study (VACS) score, an evidence-based score that assesses HIV patient risk of mortality. The Owen Clinic may be the only outpatient clinic in the country using patient VACS scores in daily huddles.

Knowing a patient's risk of mortality helps to frame the office visit because providers understand before the patient walks through the door his or her need for additional support services, Sitapati said. A patient with a high VACS score might need more time in the clinic to meet with a staff pharmacist or psychiatrist or social worker, for instance.
Comprehensive, coordinated services are available to all patients. Because of the complexity of many of these patients' treatment regimens (patients take on average seven medications each day), the staff aims to make each visit as productive as possible. For instance, staff pharmacists on site work together with physicians to educate patients about their prescriptions, help them find affordable options, get adequate reimbursement from payers and avoid adverse reactions to drugs.
Eight to 10 drugs are commonly used in HIV treatment, meaning there are between 30 and 50 total drug combinations. Finding the right balance for patients can be a challenge, especially with myriad side effects, co-payments and insurance pre-authorization requirements to fill a prescription.
"There are a lot of barriers to patients taking the right medications," Sitapati said.
Incorporating health information technology
Access to health information technology resources has been crucial to the clinic's transformation. UC San Diego assigned a four-person team of health IT specialists — including a physician informaticist, a data analyst, a programmer analyst and a Master of Public Health team member — to work on the clinic's patient-centered medical home innovation projects. Having a clinical informatics team that understands the patient population, is invested in the clinic's success and is aligned with the project's vision and goals has been absolutely critical, Sitapati said.
Ongoing communication with patients is an important component to care. Patients at the clinic are avid adopters of MyUCSDChart, a Web portal that sends reminders for appointments and preventative screenings.
In 2013, there were an average of 1,003 MyUCSDChart patient encounters per month, up from 288 MyUCSDChart encounters in 2012. These patient portal interactions are on par with in-person and phone visits in 2013, which averaged 1,135 office visits and 1,455 average phone calls per month in 2013.
Perhaps one of the most valuable clinic informatics tools is SmartSet — an electronic medical record tool that allows clinicians to order lab tests in batches for patients who haven't received recent laboratory screenings. The Centers for Disease Control and Prevention recommends annual screening for sexually transmitted diseases (STDs) in HIV-positive individuals. The SmartSet allows clinicians to quickly identify patients due for screenings and then order tests without manually ordering each lab for each patient, increasing clinic efficiencies and productivity.
Focusing on care transitions
The Owen Clinic focuses on care transitions for its patients. The clinic has a dedicated "nurse transition specialist" skilled in HIV/AIDS care to assist patients moving between inpatient care and the Owen Clinic. The nurse transition specialist program is part of another DSRIP project at UC San Diego.
These proactive, integrated approaches are garnering results. Viral load monitoring rose from a baseline of 63 percent in 2011 to 81.9 percent for the period of January through December 2013. Screening for both chlamydia and gonorrhea increased from 57.4 percent in 2011 to 84.2 percent for the period of January 2013 through December 2013. Wrap-around services for HIV care — including nutrition, substance abuse counseling, pharmacy, psychiatry and case management — increased 34 percent.