June 19, 2020
Nicole Freeling
,
UC Newsroom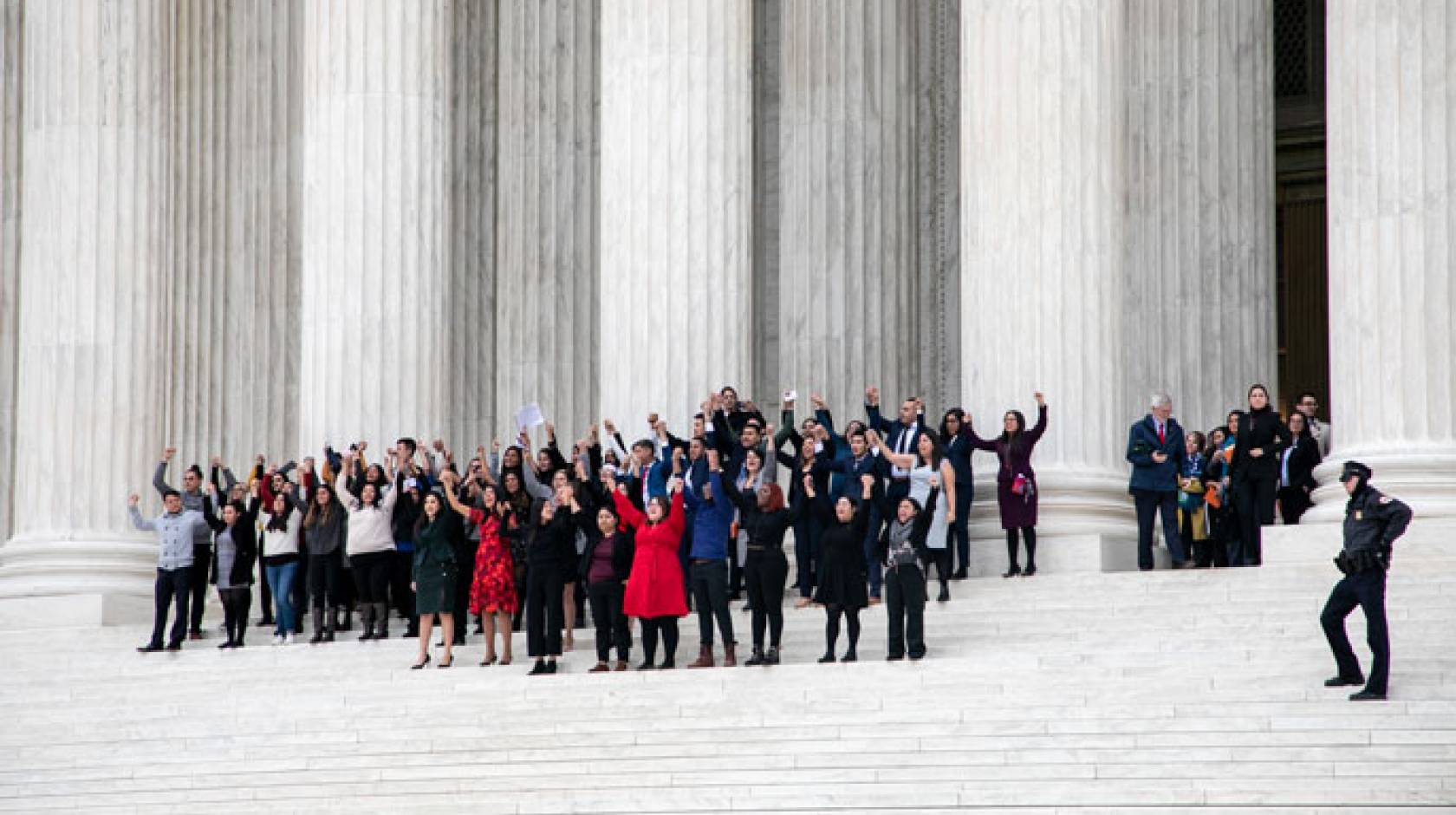 Credit: Scott Henrichsen/University of California
When the Trump administration moved to end the program that lets people like UCLA graduate Angelica Reyes legally live, work and study in the U.S., the beloved Los Angeles high school teacher cried with her students. "We thought I was going to be ripped away from them," she said.
She cried with them again Thursday — only this time with relief after the Supreme Court issued a decision that will continue, for now, the Deferred Action for Childhood Arrivals (DACA) program that legally allows her to continue teaching and which protects her from possible deportation.
"This is great news not just for me, but for my students, my family and my community," said Reyes, who has lived in the U.S. since she was a baby. "It's validation that we'll be allowed to work here, to live here, to contribute and put down secure roots in the place that is our home."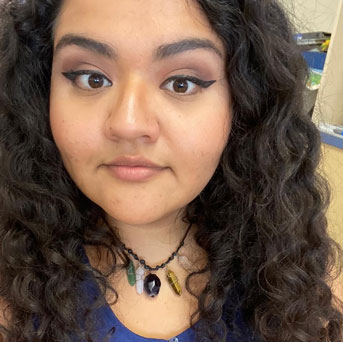 The University of California was the first university in the country to file suit to block the Trump administration from moving forward with its plan in 2017 to abruptly end DACA for the roughly 650,000 young people who currently benefit from its protections to go to school, hold jobs and build their lives. Among them are approximately 27,000 front line health care workers who would have lost their their ability to provide critical services during the pandemic if the Supreme Court had ruled against UC and other plaintiffs in its case.
This week, in a 5-4 opinion, the court ruled that the Trump administration had failed to follow the proper procedural rules before ending the program, nor did it provide sufficient justification for ending a program that would have such far-reaching impacts on the people who had relied on it.
"Justice and the rule of law won the day," said UC President Janet Napolitano, who helped create DACA when she served as secretary of homeland security under President Barack Obama. "The Supreme Court's decision to uphold the University of California and the California attorney general's challenge against the Trump administration's capricious action is a victory for hundreds of thousands of young people who are making vital contributions to their families, schools, employers and the nation."
An end to an agonizing wait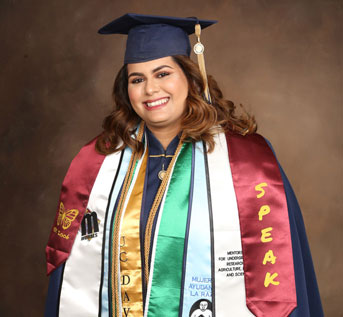 Thousands of UC students, alumni and staff rely on DACA for their lives and livelihoods.
For them, Thursday's decision ends months of waiting to learn the fate of the program, as their futures hung in the balance.
"I was making breakfast when I read about the DACA decision, and a huge weight just came off my shoulders," said Adriana Quintana-Lopez, a UC Davis grad student in education who is expecting her first child in a few weeks. She relies on DACA for the teaching assistantship position that gives her valuable training and enables her to fund her education. "It was like, 'Oh my god, finally! I'm going to be able to keep my work permit and stay in school.'"
As director of UC Berkeley's undocumented student service center, Liliana Iglesias was scrambling Thursday to respond to the flood of emails and phone calls about the news.
"I think a lot of us were surprised, given how the media reported the way the day went and the types of questions that were asked at the Supreme Court, that the court decided in our favor," she said.
"With COVID-19, everything going on with policy brutality, and on top of that, waiting for this decision, it's been a triple whammy of things to be worried about. It was a great surprise to wake up to. I'm overwhelmed with joy."
For health care providers, the ability to keep helping patients
The news is especially timely for the UC DACA recipients who have just graduated and completed their degrees. Many of them, such as UCSF pharmacy school graduate Min Ku Choi, are serving in urgently-needed fields.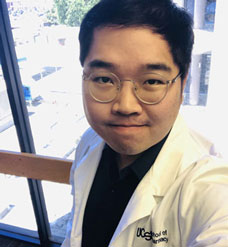 "The first thing I did today was call my mom and sister to relieve them of fear for my well-being," said Choi, who came from South Korea with his family as a youngster. Choi earned his pharmacy degree just weeks ago, along with completing his board exams. He is now eager to start his residency as a clinical pharmacist in Santa Rosa.
He believes his Korean language skills and desire to connect personally with patients are especially critical right now as the world battles the coronavirus pandemic. Yet his ability to take up his position has hinged on the Supreme Court's decision.
"This means I can continue doing what I'm doing and be a valuable part of the workforce," he said. "COVID-19 has affected every single one of us by creating worry and changes in people's lives. I'm very, very grateful I can be part of providing an essential service, and I don't have to do that while I feel fearful and concerned for my immediate future."
"Waiting for the Supreme Court decision was like an alarm set to go off each morning, that today, everything I've worked for could change," said Oscar Hernandez, who has just completed orientation for his medical residency in general surgery at Cleveland Clinic. Last month, Hernandez became the first DACA student to earn an M.D. from the UC Irvine School of Medicine.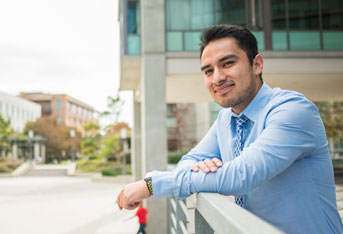 "My residency, my training, my ability to work is all made possible by DACA," he said. When he read about the Supreme Court's decision, it took a few minutes to sink in. "I took a big, deep breath and celebrated that I could go to work tomorrow."
For UC Irvine graduate Rene Amal Peralta, Thursday's DACA decision means he can keep his job at UC Irvine Health and move forward with his plans to be an emergency room physician.
"It means people like me can continue to do the work we're eager to do in our community, that we've trained and been preparing ourselves to do, and at the same time, didn't know if we would be able to contribute."
One step in the right direction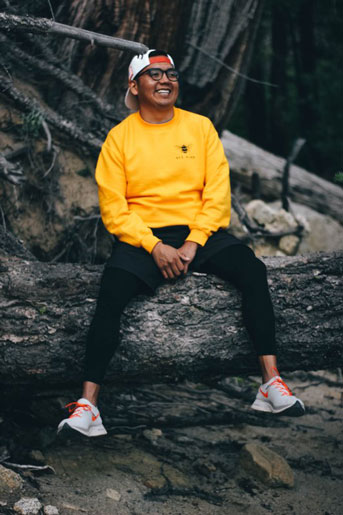 Amel Peralta and other members of the undocumented community note that, while the decision comes as a tremendous relief, it is just a first step in the move to secure their long-term ability to contribute in the country they know as home.
The Trump administration could still renew its efforts to terminate DACA by more fully detailing its reasons for ending the program. And many DACA recipients say they cannot fully celebrate when their family, friends and neighbors still live in fear of deportation.
But the Supreme Court's decision gives them hope: not just that they can secure long-term legal protection, but that they can come out of the shadows and advocate for broader reforms.
Even though it's summer vacation, Reyes is already setting up chats with her students to use this as a teachable moment. "This shows them they can be empowered," she said. "It shows when we fight for equity and to humanize ourselves, we can win."