May 5, 2015
Nicole Freeling
,
UC Newsroom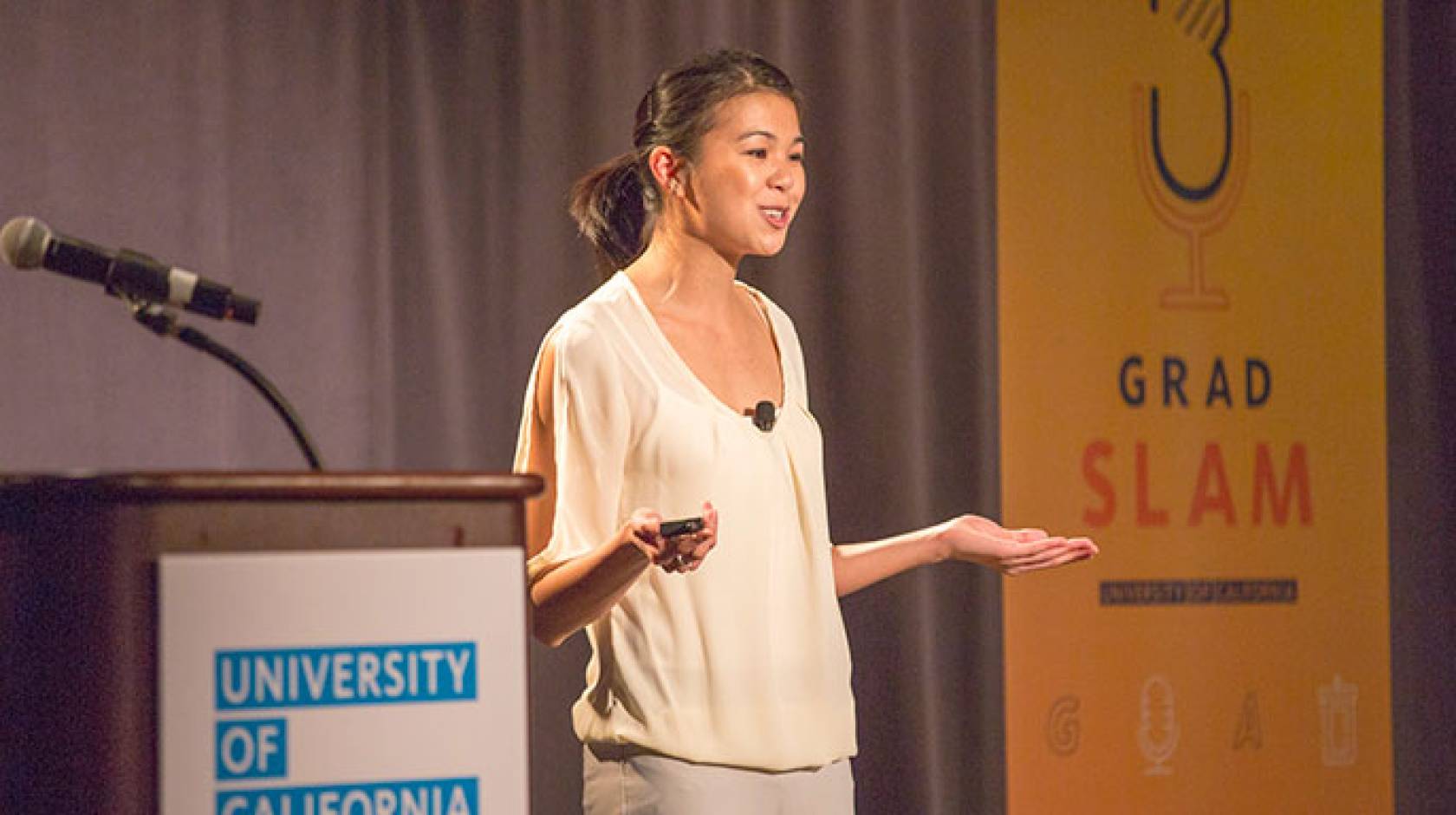 It took UC Irvine graduate student Ashley Fong years to make significant advances in her research using stem cells to repair damaged heart muscle, but just minutes — three to be exact — to wow a panel of judges with a succinct explanation of her work and capture the championship at the first UC-wide Grad Slam tournament.
Graduate students are rarely rewarded for being brief or simple, but those were the exact requirements to win Monday, as 10 UC scientists and scholars competed to deliver the most illuminating three-minute explanation of their work.
An elated Fong took home $6,000 in prize money and the glory of out-talking her peers — all of whom had won similar contests at their home campuses and provided some tough competition.
Coming in second and third place were Daniel Hieber of UC Santa Barbara and Alex Phan of UC San Diego, with talks on efforts to save a language from extinction and a device to help glaucoma patients.
"I have experience speaking at conferences," Fong said. "But those are long talks, with dozens of slides, to a roomful of experts."
She participated in Grad Slam, she said, to learn to communicate her work and why it matters to people outside the field. That skill is a growing necessity for researchers everywhere, as public funding for research and higher education grows ever more competitive. In such a climate, academics who can articulate the value of their research have an important edge. Grad Slam was aimed at giving master's and Ph.D. students important career-building skills, while offering the public a window into the breadth of work being done across UC campuses.
Contestants spent weeks preparing, taking workshops and working one-on-one with coaches to hone their ideas, craft the structure of their talk and present extremely complex ideas in a way that would be relatable to a general audience.
By the time they took to the stage Monday, the students had honed their presentations to a fine point. Most were also well-versed in speaking in front of an audience, having competed in several qualifying rounds before taking the top prize on each of their campuses.
Public speaking did not come naturally at first, said Phan, a graduate student in mechanical and aerospace engineering. "But once you take this on, it stops being quite so uncomfortable. You begin to build up your confidence."
The effort paid off: Phan won third place for his talk Fight for Sight, about an implantable pressure sensor that provides continuous monitoring for glaucoma patients. Phan ultimately hopes to patent the technology and bring it to market. When the award was announced, Phan's parents, who had traveled from Los Angeles to watch the competition, leapt from their seats. "We are so proud of him," said his mother.
Learning to demystify their research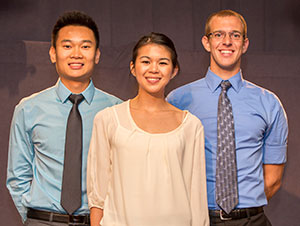 "Making the mysteries of basic research more understandable and accessible to the public is one of my priorities, and part of our responsibility as the nation's premier public research university," said UC President Janet Napolitano, who served as the event emcee. "Grad Slam plays a key role in highlighting the broad, societal significance of research at UC."
Non-academics, including NBC Bay Area News anchor Jessica Aguirre, Silicon Valley venture capitalist Josh Green and Oakland Mayor Libby Schaaf, joined UC Regent Eddie Island and UC Provost Aimée Dorr as the contest judges. They evaluated contestants based on their ability to clearly and concisely explain their research and its impact.
The judges had a difficult task in determining the winner from a field of students, all of whom came across as polished, engaging and passionate about their pursuits.
"It's been so great to be able to explain my research to people in my church, to my friends," said UCLA master's student Jean Paul Santos, who told the audience about a small, more powerful antennae he is engineering to help NASA scientists communicate directly with the Mars rover. "I had to figure out, how can I share the novelties of my research without going overboard or over your head?"
UC Riverside plant pathologist Jeannette Rapicavoli, who is a first-generation college student, said the experience had helped her better explain her research to her family. "It was like: 'So this is why you want to be in college for nine years. We can understand it now.'"
Students described new insights into how species behave, how to help crops withstand drought, and how food waste can be harnessed as a source of fuel.
Reviving a dead language
Daniel Hieber, a linguistics Ph.D. student and the lone competitor not in a science, technology or engineering field, took second place for his talk about how he has helped to revive a language in the Louisiana bayou whose last native speakers died in the 1930s. From wax audio recordings of their voices, along with written archives, Hieber has reconstructed the Chitimacha language, even creating a Rosetta Stone audio tape, which tribal members now listen to in their cars.
"For the first time in 70 years, you can hear Chitimacha being spoken again in the schools and communities of the bayou," Hieber said.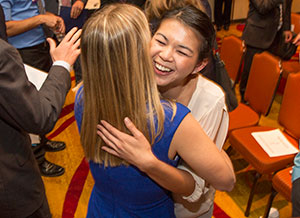 Following each of the presentations, Napolitano bantered with researchers, asking them about how they got interested in their line of research. "The work you're doing represents years of serious research. But there's no reason we can't have a little fun," she said.
UC Davis food scientist Ryan Dowdy described how as a boy, he would mix together water, oil and food coloring as a kid and sell it on the street, instead of the usual lemonade.
"I charged 50 cents. I made a killing."
Dowdy and his peers represent an emerging breed of researchers, who are breaking down the stereotype of the elite intellectual, said National Public Radio contributor Sandra Tsing Loh, who teaches a science communications class at UC Irvine and had come to cheer contestants on. The public is hungry, Loh said, for scholars and scientists who can unleash the excitement of their discoveries.
Far from fitting the image of the aloof scientist, Grad Slam contestants described their passion pursuing advances that directly touch the lives of Californians and people elsewhere.
Fong described the mantra she uses when the rigors and frustrations of research overwhelm her. It was the same one she used at Grad Slam to get herself primed for the competition. "When I need to ground myself, I just remember, I want to save lives. That's the reason I got into research."