February 6, 2014
Ross French
,
UC Riverside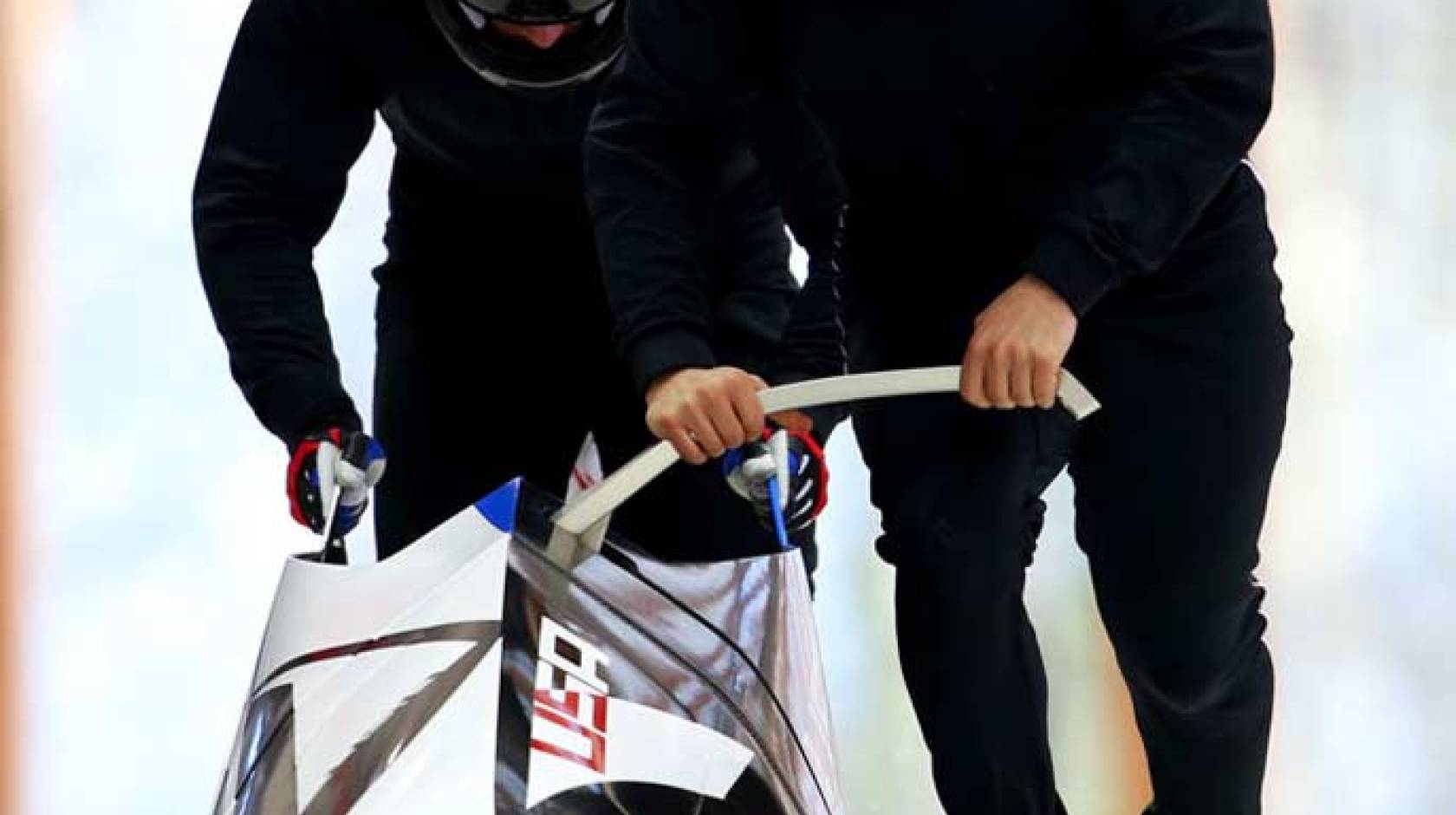 During his time at UC Riverside, Cory Butner was what Student Recreation Center Associate Director Mike Eason describes as a "gym rat." Whether it was working as a SRC staff member in the weight room, playing basketball, or working out himself, when Butner wasn't in the classroom pursuing his degree in statistics, he could likely be found within the walls of the Student Recreation Center.
Now just eight years after earning his degree and six years after taking up the sport of bobsledding, the 32-year old, 6-2, 210-pound Yucaipa native is representing the United States as a pilot of a two-man bobsled at the 22nd Winter Olympic Games in Sochi, Russia. The two-man competition is scheduled for Feb. 16 and 17 at the Sanki Sliding Center.
"Being a part of this team is the best thing to happen to me," Butner said. "I'm really excited to be representing the USA on the big stage."
Butner is currently ranked fifth in the world and is in the midst of a strong 2013-14 World Cup campaign that has seen him record bronze medal finishes at Lake Placid on Dec. 14, 2013, and Winterberg, Germany, on Jan. 3. He also has three fourth-place finishes, including the most recent event on Jan. 25 at Schönau am Königsee, Germany. In 2012-13, he won silver medals at the Park City World Cup and Lake Placid World Cup. He finished ninth overall in the competition at the Sochi track and finished the season ranked eighth in the world.
"Most people don't know about 95 percent of the stuff that goes into racing. You only get to see 5 percent of what we do on TV once every four years," he said. "Four years for four minutes of racing to prove to the world who is the best."
A basketball and track athlete at Colton High School, Butner didn't play intercollegiate sports at UCR, but fed his desire for competition in the weight room and through intramural sports. He credits his sister, Charity — who played volleyball at UCR and graduated in 2000 — with giving him the idea to pursue the bobsled following his graduation in 2005.
"My sister was the one who mentioned trying out for bobsled when she graduated from UCR and it caught my interest," he recalled. "I filled out a form online, went to Lake Placid, N.Y., to try it out and here I am seven years later."
Butner started in the sport as a "push athlete" in 2007, responsible for pushing the sled the first few yards down the icy track before disappearing behind the pilot for the plunge down the icy chute. Butner made the move to driving prior to the 2009-10 season, but narrowly missed out on a spot at the Vancouver Olympics.
Charity Butner said that she is happy to have encouraged him on the path that has led him to Sochi and is looking forward to seeing him compete in person.
"It is truly amazing to watch him compete in person. I was lucky enough once to see him take a silver medal in a World Cup race, I hope I am lucky enough to see him medal at the Olympics," she said. "I know all he has sacrificed, all he has had to go through to get to this point and I could not be happier. He has worked so hard and given up so much in his quest for the Olympics and I am such a proud sister."
Cory Butner credited the knowledge gained while earning his statistics degree at UCR with helping him to be a better pilot.
"I'm great with numbers and that's all we do here," he said. "We get time sheets and break down the data to see how and where we can pick up extra time."
While Butner is likely the first Winter Olympian in UCR history, he isn't the first to wear the red, white and blue. In 1972 Hugo Salcedo was a member of the USA Soccer team that competed in Munich and Daron Kirkreit was a pitcher for the USA baseball squad during the 1992 Barcelona Olympics. Looking forward, distance runner Brenda Martinez ('10) is a hopeful for a spot on the 2016 Summer Olympic Track and Field Team.
But for now, all eyes are on Butner as he and teammates make practice runs on the Sochi course. And, of course, there are now many more bobsledding fans in the Inland Empire, among them UCR adjunct math faculty member Mike Curtis. A friend of the Butner family who played intramural volleyball with both Butners and taught Cory in Math 5, Curtis described the Olympian in effusive terms.
"He's giant, enthusiastic, outgoing, self-effacing," Curtis said. "I'm definitely a bobsledding fan this year."
Butner is based in Charlotte, N.C., but returns to California regularly to visit his parents Yvonne and Jim in nearby Yucaipa. During a visit this past summer he returned to UCR for a visit and said he was amazed by the changes. "So much more growth," he said.
And he had a message for current UCR students.
"Follow your dreams and never give up on what you believe, even when people say you can't do it or it's a dumb idea," he said. "Also, enjoy your time in college because the time flies by."