October 29, 2015
Sean Nealon
,
UC Riverside
The University of California, Riverside has announced the name of the professor who has been named a climate action champion and the students who have been named climate neutrality fellows.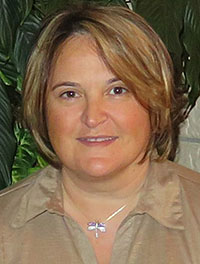 Mihri Ozkan, a professor of electrical engineering, whose research focuses on making eco-friendly battery materials and green wearable technologies, was named UC Riverside's Faculty Climate Action Champion. She will receive $30,000 to engage the campus on climate change related issues.
Hannah Campi, Drew Story, Benjamin Sommerkorn and Chao Wang were all named climate neutrality fellows. Their projects include: revising UCR's Climate Action Plan; developing eco-leaders for labs in campus; preparing a feasibility study and model for capturing kinetic energy from water movement on campus; and creating a carbon footprint tracking network for campus. Each of them will receive $3,000.
The honors are part of the Carbon Neutrality Initiative launched by UC President Janet Napolitano in May 2015. The initiative commits UC to emit net zero greenhouse gases from its buildings and vehicle fleet by 2025.
With the funding, Ozkan plans to start a campaign at UC Riverside to encourage 100 percent recycling. She plans to give lectures on campus and across UC-campuses on green and sustainable technologies. And she plans to work with Riverside Public Utilities to increase public awareness on recycling and eco-friendly technology development and use.
Furthermore, she plans to continue working on using natural resources towards making eco-friendly engineered devices and wearable technologies.
Since earning her Ph.D. in 2001, she has been actively engaged with the public and K-12 students to raise awareness for green energy technologies and their environmental benefits through science festivals at universities, high schools and middle schools. She estimates she has reached more than 25,000 people through that outreach.
Meanwhile, she has been actively researching the same issues in her lab. In recent years, breakthroughs have included:
Using a material found in Silly Putty and surgical tubing to make lithium-ion battery anodes that will last three times longer between charges compared to the current industry standard.
Creating a lithium-ion battery anode made of sand that outperforms the current industry standard by three times.
Developing a lithium-ion battery anode made of portobello mushrooms that stop cell phone batteries from degrading over time.
Creating a material that is a key component of a swimsuit that won an international design competition for its ability to clean water as a person swims. The reusable material is derived from heated sucrose, a form of sugar. It has a highly porous structure that is super hydrophobic, meaning it repels water, but also absorbs harmful contaminants. The material also has applications for cleaning up oil or chemical spills or desalinizing water.
Here are more details about each student project:
Hannah Campi will work on revising UCR's Climate Action Plan to include the 2025 Carbon Neutrality Initiative, a stronger financial analysis, a section on climate education and a section on resiliency planning. She will provide support for the Cool Campus Challenge and the February GCLC meeting to be held at Riverside.
Drew Story will engage the Graduate Student Association (GSA) to develop eco-leaders for a variety of labs on campus, from wet labs to sculpture labs, to promote the green lab and green event certifications. He will prepare a referendum proposal for the GSA to start a Graduate Green Fund like UCR's undergraduate GCAP to fund graduate student sustainability projects on campus.
Benjamin Sommerkorn will prepare a feasibility study and model for capturing kinetic energy from water movement via pipes, irrigations ditches, aqueducts and canals on campus. After mapping campus water flows and measuring campus water use, a computer-aided design prototype will be designed for in-conduit hydrokinetic turbines that could be deployed across campus.
Chao Wang will develop a carbon footprint tracking network for UCR, capturing individual students, staff and faculty direct and indirect emissions from activities on campus. The network will also send customized tips for reducing participants' carbon footprint based on their current activities.