August 29, 2014
Bettye Miller
,
UC Riverside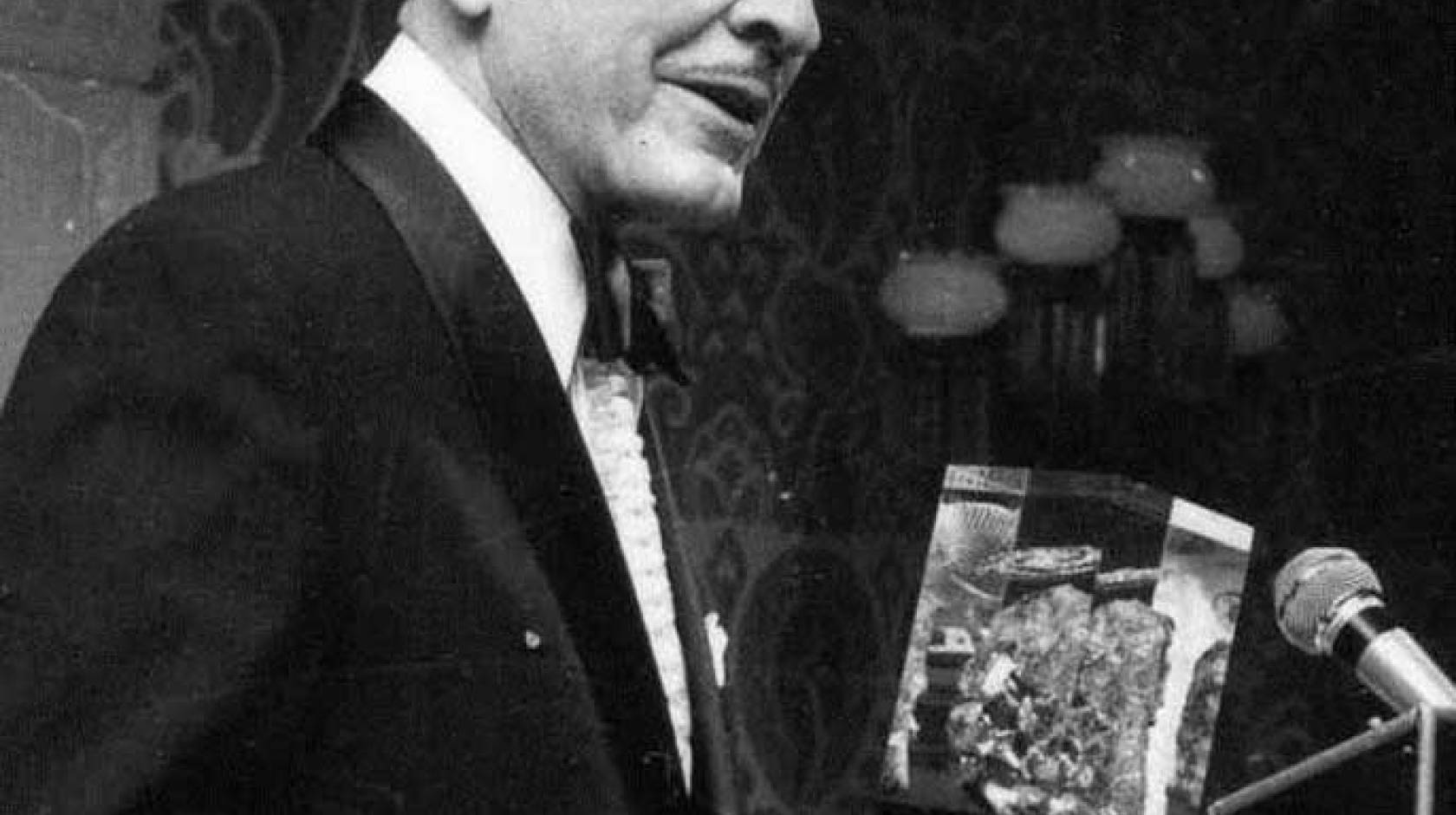 Isaac Asimov. Ray Bradbury. Arthur C. Clarke. Robert A. Heinlein. Frederik Pohl. L. Sprague de Camp.
Jay Kay Klein photographed these and other luminaries in the world of science fiction at conventions around the world in the last half of the 20th century. Klein, who died in 2012 at the age of 80, left his $3.5 million estate and his collection of thousands of photographs — appraised at more than $1.4 million — to the University of California, Riverside's renowned Eaton Collection of Science Fiction & Fantasy.
His bequest, which was finalized this summer, will be used to support and maintain the Jay K. Klein Collection within the Eaton Collection, and the Eaton Collection itself. The latter is the largest publicly accessible collection of its kind in the world and attracts scholars from around the world.
Klein, who worked in advertising at General Electric Corp. and Carrier Corp., began photographing science fiction conventions in the late 1940s, submitting photos of fans and authors to fanzines and well-known SF publications such as Locus. He was an occasional author of science fiction short stories and a member of the Science Fiction and Fantasy Writers of America, and received the Big Heart Award for services to the field of science fiction in 1990.
"This is an amazing collection," said University Librarian Steven Mandeville-Gamble. "Because of his continued presence he became such a trusted part of that community that he gained unusual access to editors, authors, and members of the fan community. His photography provides a documentary record of the science fiction fan phenomenon and a record of how authors interacted with their fans. He became the chronicler of science fiction in North America in the last half of the 20th century."
The collection includes photographs, slides, glass slides, and correspondence with authors such as Asimov, Pohl, de Camp and Heinlein over a period of more than 40 years. During that time Klein attended fan conventions throughout the United States and around the world, award ceremonies, and events such as a party Doubleday threw for Isaac Asimov in 1990 to celebrate the author's 40th year with the publisher.
Klein's camera captured icons of science fiction literature and film at the podium, at parties, in bars, and talking to fans at hotel elevators, among them Bradbury, Clarke, Robert Madle, Harry Turtledove, Ray Harryhausen, Gene Roddenberry, Rod Serling, Anne McCaffrey, Stephen King, George R.R. Martin, Harlan Ellison and Samuel Delany.
"We are tremendously grateful for the trust Jay Kay Klein put in the University of California, Riverside to care for this collection and his legacy," said Alison Scott, associate university librarian. "This collection offers incredible opportunities for thinking through questions of 20th century life of the mind as enacted in these conventions. It provides an opportunity to study 20th century culture, such as fashion and interior design, as well as the imaginative world of science fiction."
Klein agreed to donate his collection to UC Riverside after developing a friendship with Melissa Conway, head of Special Collections and University Archives, "who greatly admired his encyclopedic knowledge," according to the memorandum of understanding establishing the Jay K. Klein Endowed Fund for the Support and Preservation of Science Fiction and Fantasy Collections of the UCR Libraries. "The two maintained faithful contact for over six years until Mr. Klein's passing."
In a tribute read at Chicon — the world science fiction convention in Chicago — in 2012, Klein's friend and executor of his estate, Craig S. Peterson, recalled the months he spent helping the photographer sort through his papers, photographs and memorabilia before boxing up the collection to ship to UC Riverside. Klein's wife of 57 years, Doris Klemmer Klein, died in October 2011.
"As I continued to help Jay clean and organize I began to better understand his relevance to the science fiction world," Peterson wrote. "After seeing and understanding the contents and his meticulous indexing method I immediately realized that he had a piece of American history in his basement that needed to be preserved. … I feel as though I was a part of something significant and I am proud to have been able to accomplish it and happy to be involved with the other individuals, specifically Melissa Conway and the staff at UCR who were integral as well with assembling Jay Kay's collection."
Mandeville-Gamble said the Klein endowment will provide dedicated funding for the Eaton Collection for the first time, enabling the recruitment of a science fiction librarian. Two additional priorities, he said, are acquiring more papers of significant science fiction authors and editors, and expanding the collection to include more works by underrepresented authors.
"The papers of authors and editors since the 1960s could be a rich source of scholarship for our students," he explained. "I want to see us expand our collection of books and papers that reflects the output of Asian American, Hispanic and African American writers, and authors from Latin America and other parts of the world. That is an interesting niche that would add to our excellence and uniqueness."
This would give UCR students a competitive advantage in their research, he said, noting the 2013 launch of the Science Fiction and Technoculture Studies program in the College of Humanities, Arts and Social Sciences. The program examines the histories and cultures of science, technology, and medicine to understand the role that culture plays in the production of science and how changes in science and technology have shaped culture. It offers a designated emphasis at the Ph.D. level and an undergraduate minor.
Mandeville-Gamble noted the recent acquisition of a collection of correspondence between Gardner Dozois, founding editor of the award-winning The Year's Best Science Fiction anthologies, and numerous SF writers and aspiring writers. The extensive collection of letters offers a deeper understanding of how science fiction authors interact with each other and with editors, enriching research opportunities for science fiction scholars, Mandeville-Gamble said.
The Year's Best Science Fiction, published annually since 1984, has won numerous Hugo and Locus awards. Dozois has won the Nebula Award for Best Short Story twice, and was inducted into the Science Fiction Hall of Fame in 2011.