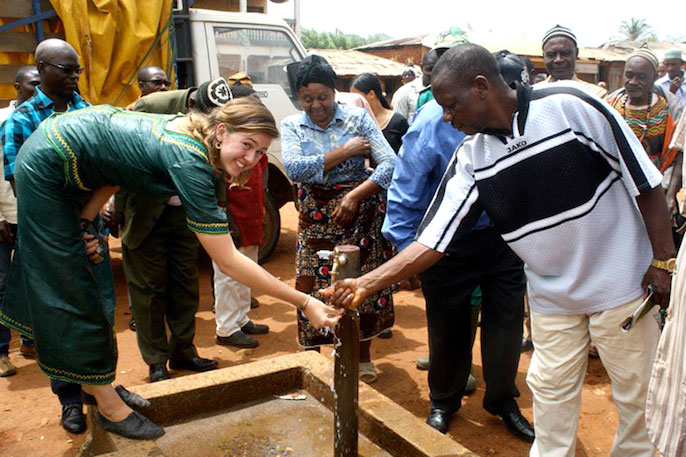 University of California alumni like to do well by doing good.
If you need proof, look no further than the fact that the Peace Corps this week included three UC campuses — Los Angeles, Santa Barbara and Davis — on its 2017 list of the Top 20 Volunteer-Producing Colleges and Universities.
UC Berkeley, meanwhile, firmly held its "lifetime achievement" ranking, logging 3,640 total volunteers since the Peace Corps' inception, more than any other university.
All told, more than 11,000 UC alumni have served in the Peace Corps since it was founded by President John F. Kennedy in 1961. Behind UC Berkeley, UCLA is the second-highest all-time contributor of Peace Corps volunteers among UC campuses.
Multiple UC campuses rank among top Peace Corps universities each year. It's the 16th consecutive year UC Davis has been on the top 20 list, and the seventh consecutive year UC Santa Barbara has been named.
UC's public service muscle helped power California to the No. 1 spot among U.S. states represented by Peace Corps volunteers, with 916 volunteers serving worldwide.
Global ambassadors
The Peace Corps offers extended, immersive volunteer experiences in dozens of countries around the globe, from rural villages in the Peruvian Andes to farms in the African Serengeti. Volunteers typically spend two years in projects related to agriculture, health, education, youth development or economics – projects that can make a lasting difference in communities of need.
Sarah Edwards, a UC Berkeley graduate with a degree in environmental sciences, spent two years in Misaje, in northwest Cameroon, as a Peace Corps volunteer from 2013 to 2015. She led beekeeping trainings, organized vegetable farmers' groups and provided education to prevent HIV/AIDS, among other projects.
"A volunteer's work depends entirely upon the community's needs and interest," says Edwards. "My community saw food security, clean water access and HIV/AIDS prevention as priorities, and I was able to assist to support those needs."
Edwards, who now works for a nonprofit that serves San Francisco Bay Area military veterans, says the Peace Corps taught her that people are the same everywhere.
"My friends and neighbors cared about taking care of their families and ensuring their children have better lives than they do," she says. "The same things that people care about here."
This year's Peace Corps rankings follow the launch of a rebranded platform aimed at making the agency more accessible. A simple Peace Corps application process can now be completed online in about an hour. Service opportunities by assignment area, country and departure date are all viewable at its web site.
"Many college graduates view Peace Corps as a launching pad for their careers because volunteers return home with the cultural competency and entrepreneurial spirit sought after in most fields," said Acting Peace Corps Director Sheila Crowley.
The 2017 Peace Corps' Top Volunteer-Producing Colleges and Universities list can be tracked via this interactive map.