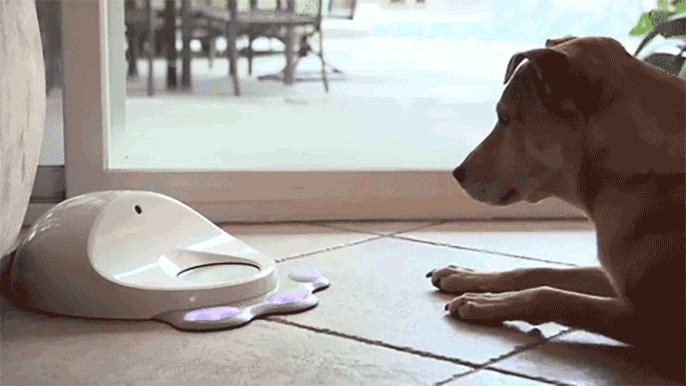 Two UC San Diego alumni took home a top prize at the 2016 Consumer Electronics Show for a buzz-worthy new product – a first-of-its-kind game console for dogs.
Developed by Leo Trottier, a Ph.D. candidate with a master's in cognitive science, and Dan Knudsen, who received his Ph.D. in 2013, the CleverPet Hub aims to entertain pets left at home during the day with interactive games featuring lights, sounds, and of course, treats.
"We want to give dogs something to do during the day so that they're not bored all the time," Trottier says. The CleverPet Hub's goal is to entertain, engage and ultimately teach dogs using traditional operant conditioning techniques, but with a modern edge.
The toy's algorithm keeps pets engaged by automatically adjusting the difficulty level of the games based on a dog's success. Owners can monitor their dog's progress and customize games remotely using an app.
Trottier's well-honed pitch – featuring several videos of dogs using the CleverPet Hub – earned the team the CES Launchit ShowStoppers award and inclusion in a four-hour long media event.
"It was an amazing experience," Trottier says, and led to an appearance on NBC's "The Today Show" on Jan. 13. Buzz around the product continues to build, but Trottier says he and his team are funneling all their energy into preparing for an April product launch.
CleverPet's beginnings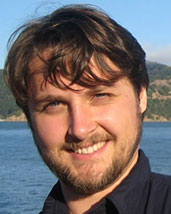 Trottier and Knudsen came up with the idea for the product after meeting on the UC San Diego campus. Fusing Trottier's interest in automating pet interaction and Knudsen's studies in animal behavior, the CleverPet Hub was born.
Their first customer was Trottier's cat Salk, who learned to play "hot or cold" with their software back in 2013. The program called him over to a designated area in the room, and let him know when he approached the target. If he reached the target and remained there for five seconds, he received a treat. Those early tests revealed both the potential of the CleverPet idea and the many obstacles yet to be overcome.
"We had to solve a bunch of really difficult mechanical and engineering problems to get our product ready," Trottier says.
Challenges ranged from making the toy tough to destroy – even by an excited dog ­– to ensuring that kibble rewards be doled out one piece at a time. The latter challenge had eluded several companies in the past, but the CleverPet team was able to crack it.
Now animal lovers will be able to enjoy the benefits of the team's innovative problem-solving, along with their four-legged friends. CleverPet's first units ship this spring.