Sloan Foundation names its 2018 rising stars of science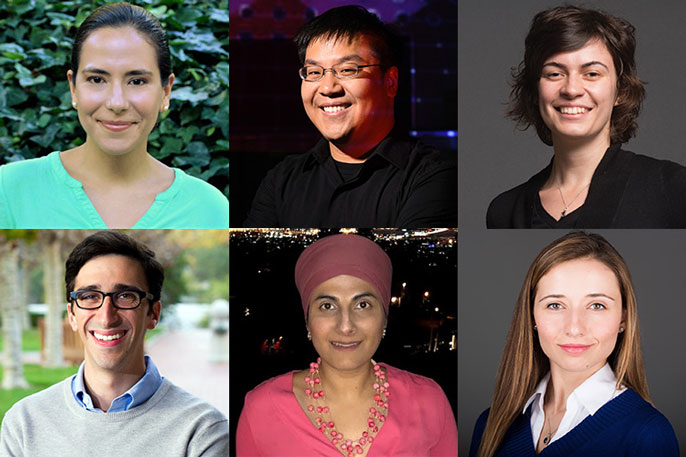 Eighteen faculty from across the University of California have been named 2018 Sloan Research Fellows, a prestigious award that recognizes rising stars among early-career scientists and scholars.
In all, the Alfred P. Sloan Foundation selected 126 tenure-track faculty from 53 colleges and universities for the two-year fellowship program. Awardees, who were nominated by their peers, were chosen based on standout performance in their field and their likelihood to make substantial future contributions. Recipients receive $65,000 to advance their research.
"The Sloan Research Fellows represent the very best science has to offer," said Adam Falk, president of the Sloan Foundation. "The brightest minds, tackling the hardest problems, and succeeding brilliantly — fellows are quite literally the future of 21st century science. A Sloan research fellow is a scientist to watch."
The fellowship started in 1955 to give a boost to promising young scientists in the fields of chemistry, computational or evolutionary molecular biology, computer science, economics, mathematics, neuroscience, ocean sciences, or physics.
Over the years, 45 of its fellows have gone on to receive a Nobel Prize, 16 have won the Fields Medal in mathematics, and 69 have received the National Medal of Science.
The 2018 Sloan Fellows come from UC Berkeley, UC Irvine, UCLA, UC Riverside, UC San Diego and UC Santa Cruz. The recipients are:
Chemistry
Hosea Nelson, UCLA
Nelson, an assistant professor of chemistry and biochemistry, focuses his research on the discovery of new chemical reactions that will enable the efficient and environmentally benign syntheses of fuels, materials and medicines.
Ellen Sletten, UCLA
Sletten, an assistant professor of chemistry and biochemistry develops molecules, methods and materials to enhance the visualization and delivery of therapeutics.
Jenny Y. Yang, UC Irvine
Yang's research focuses on the discovery and study of inorganic electrocatalysts for the generation and utilization of chemical fuels.
Computational & evolutionary molecular biology
Ludmil Alexandrov, UC San Diego
Alexandrov, assistant professor of bioengineering, focuses on understanding mutational processes in human cancer through the use of mutational signatures.
Jingyi "Jessica" Li, UCLA
Li, an assistant professor of statistics, conducts research at the intersection of statistics and biology. She and her research team develop new statistical methods for understanding biological questions, especially those related to large-scale genomic data.

Computer science
Anca Dragan, UC Berkeley
Dragan runs the InterACT lab and is a principal investigator in the Center for Human-Compatible AI, where she focuses on artificial intelligence. Her goal is to enable robots to work with, around and in support of people, autonomously generating behavior in a way that formally accounts for their interactions with humans.
Raluca Ada Popa, UC Berkeley
Popa is a co-founder of the RISELab, where she focuses on computer security. She is trying to develop a learning and analytics framework that can run on encrypted data. This would let organizations that are not allowed to share data conduct useful medical or financial studies on the combined data, which is not possible today.
Economics
Supreet Kaur, UC Berkeley
Kaur is a development and behavioral economist who studies the functioning of labor markets in poor countries. She examines how social norms and behavioral biases, such as the limits of human cognition and self-control problems, affect individual behavior and shape market equilibria.
Danny Yagan, UC Berkeley
Yagan is an applied microeconomist who studies topics of macro importance. He applies careful data analysis to classic issues in economics, such as taxes and business investment, recession recovery and rising inequality.
Neuroscience
Markita Landry, UC Berkeley
Landry creates nanosensors to image molecules in the body, focusing on neuromodulators such as dopamine in the brain. She is designing a modified two-photon microscope to image dopamine sensors deep in the brain of living, behaving animals, hoping to find a way to assess how psychiatric drugs affect the release and concentration of dopamine in the brain.
Carolyn Parkinson, UCLA
Parkinson, an assistant professor of psychology, studies how our brains allow us to represent and navigate the social world. Her computational social neuroscience laboratory takes a multidisciplinary approach to research that integrates theory and methods from cognitive neuroscience, machine learning, social network analysis and social psychology.
Ocean sciences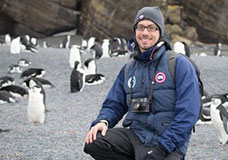 Daniele Bianchi, UCLA
Bianchi, an assistant professor of atmospheric and oceanic sciences, studies how physics, chemistry and biology come together to regulate ocean ecosystems, and seeks to learn in what direction they may change in the future.
Sandra Kirtland Turner, UC Riverside
Turner's research combines geochemical records from deep ocean sediment cores with Earth system modeling to investigate the drivers and consequences of carbon cycling during the early Cenozoic era — the period spanning from 66 million years ago to the present day.
Physics
Elena Koslover, UC San Diego
Koslover is an assistant professor of physics whose research centers on the multiscale physics of intracellular soft matter — from biopolymers to membranes to fluids.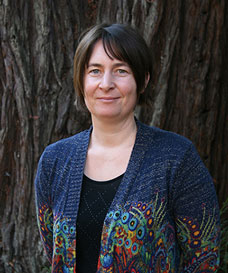 Alexie Leauthaud, UC Santa Cruz
Leauthaud, an assistant professor of astronomy and astrophysics, focuses on understanding the connection between galaxies and dark matter.
Tongyan Lin, UC San Diego
Lin is an assistant professor of physics whose research aims to address basic questions about dark matter, such as its non-gravitational interactions.
Tenio Popmintchev, UC San Diego
Popmintchev is an assistant professor of physics whose research interests are focused on extreme nonlinear optics and attosecond science.
Norman Yao, UC Berkeley
Yao works at the interface between atomic, molecular and optical physics, assembling complex, strongly interacting, quantum many-body systems from individual atoms, ions, molecules and photons. These advances have opened the door to realizing non-equilibrium phases of matter, such as time crystals, and to understanding the dynamics of quantum thermalization.