November 2, 2016
Brian Back
,
UC Newsroom
Many of the startups emerging from the University of California have one thing in common: They aim to make the world a better place.
That was on full display Oct. 26 when a handful of female entrepreneurs showed off their innovations to a gathering of TEDWomen Experience participants.
The startups ranged from a gaming company that uses virtual reality to help people overcome trauma to an exoskeleton that lets people with disabilities transcend their wheelchairs.
"These women are part of a great and inspiring community of innovators and entrepreneurs from UC ," said Christine Gulbranson, UC's senior vice president for research innovation and entrepreneurship, who hosted the event. "Their research and resultant products demonstrate the incredible positive impact UC entrepreneurs are making in the world."
Games that heal
Gaming technology is sometimes criticized for its violent virtual worlds that favor blazing guns over human interaction.
That won't fly at Funomena, a San Francisco-based game studio led by Robin Hunicke. The seasoned developer and UC Santa Cruz professor believes virtual reality games can not only have a positive impact on the world, they can even heal grief and emotional trauma.
Hunicke showcased Luna, a VR experience that was inspired by a dream, and which features an enchanting score created by Grammy-nominated composer Austin Wintory. Users are challenged to solve puzzles that let them rebuild a serene forested world that is inhabited by an owl, a songbird and a turtle.
Rising with the Phoenix
The Phoenix, created by suitX, is the world's lightest and most advanced exoskeleton. It is designed to help people with disabilities improve motor function and mobility. It takes just a few minutes to put on and costs a fraction of the price of existing products on the market.
Based on technology developed by UC Berkeley engineering professor Homayoon Kazerooni, researcher Minerva Pillai and design engineer Yoon Jeong, the Phoenix is making its way through the U.S. Food and Drug Administration's lengthy approval process for medical devices.
Steve Sanchez, who as a paraplegic has personally tested several iterations of the suitX in clinical trials and travels across the globe, recalled the first time he tried the exoskeleton and was able to stand eye-to-eye with his parents: "We said, 'wait — can we hug?'"
When light means life
After witnessing the tragic death of a woman giving birth in a northern Nigerian hospital that lacked a consistent power supply, obstetrician Laura Stachel learned a heartbreaking statistic: more than a quarter of a million women were dying each year from pregnancy and childbirth complications, most of which are treatable.
That spurred the UCSF alum and her husband to create a compact, rugged, easy-to-use solar electric kit for midwives and doctors in rural health centers in Africa and Asia. We Care Solar and its nonprofit counterpart We Share Solar have since deployed more than 2,000 solar suitcases to dozens of countries around the world — in hospitals, schools, shelters and disaster relief areas.
Once she understood the scope of the problem and saw that We Care Solar was saving the lives of women and their babies, Stachel said her mission became a moral obligation.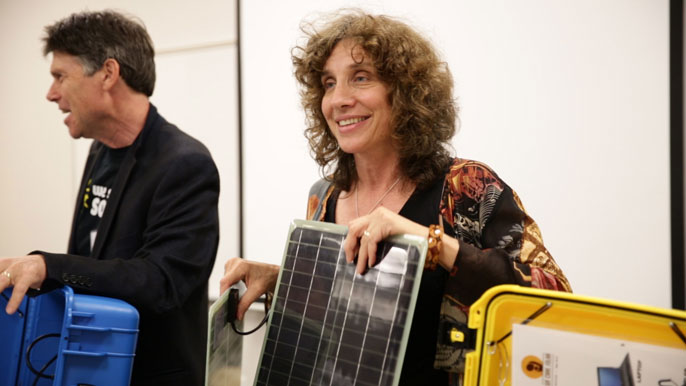 A window into the mind
The Glass Brain is kind of like it sounds: a colorful, three-dimensional window into the myriad mysterious activities that light up the brain. Aided by virtual reality technology, users can journey through a person's brain in real time.
Of all the fascinating reasons researchers may want to take such a journey, neuroscientists are especially focused on using the Glass Brain technology to study diseases, including Alzheimer's, autism and multiple sclerosis.
The Glass Brain technology was developed by UCSF researcher Adam Gazzaley and colleagues at UC San Diego.
Jyoti Mishra, an assistant professor of neurology and psychiatry in the Gazzaley lab, utilizes this technology to develop therapeutics aimed at improving cognitive function and reducing attention deficit disorder in children.