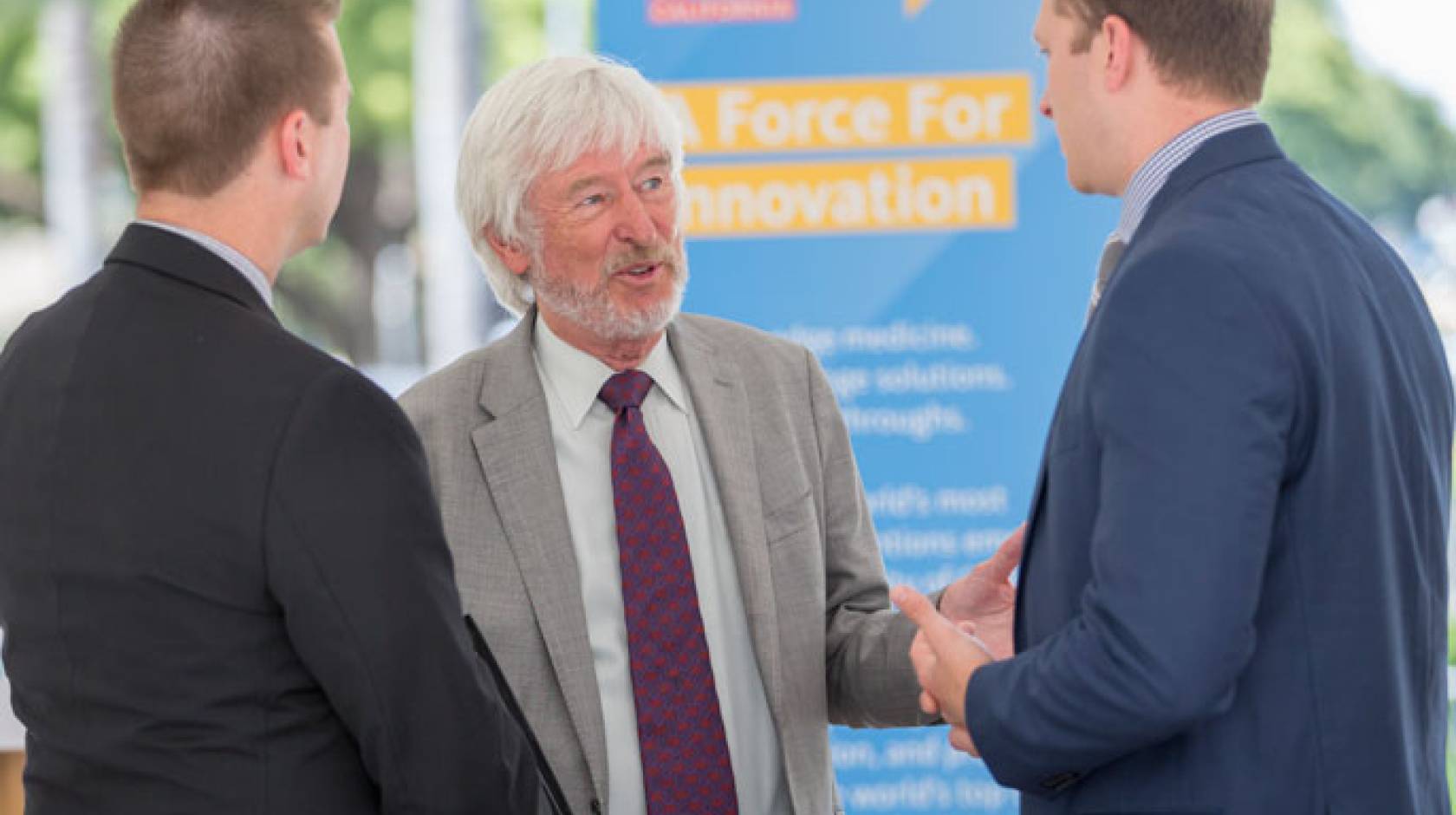 University of California President Janet Napolitano has awarded a Citation of Excellence to neuroscientist and UC startup champion Regis Kelly in recognition of his work over the past 18 months as her senior adviser on innovation and entrepreneurship.
Kelly, who directs the California Institute for Quantitative Biosciences, known as QB3, has been a longtime catalyst for startup partnerships linking UC research with the private sector.
During his tenure as an adviser to Napolitano, Kelly lobbied for creation of a senior vice president for research innovation and entrepreneurship, a role that was assumed May 16 by Christine Gulbranson, whose expertise spans venture capital, clean energy and tech transfer.
Gulbranson is tasked with expanding the innovation and entrepreneurial capabilities of the UC system. She will also be responsible for forging alliances in government, private and philanthropic sectors to create new opportunities for research and economic growth.
In presenting Kelly with the University of California Citation of Excellence earlier this year, Napolitano commended him for his "unwavering dedication to promoting and supporting innovation and entrepreneurship across all 10 campuses."
Kelly and Neena Kadaba, QB3's director of industry alliances, helped the university launch primeUC, a pitch competition that showcased UC life sciences startups to investors. The inaugural event, held Dec. 2 at UC San Francisco's Mission Bay campus with industry partner Johnson & Johnson Innovation, awarded $300,000 in prizes to four winners who were selected among dozens of competitors.
Kelly also worked with Kadaba to advise UC campuses at Berkeley, Los Angeles and San Diego on how to create their own local venture funds, much like the fund he pioneered at UC San Francisco.
UC is not alone in its focus on helping researchers bring their innovations to market, Kelly said.
"Every major institution in the country is trying to focus on this right now," Kelly said. "Everyone is teaching their students entrepreneurship and offering mentorship. Everyone is saying the same things in meetings. Where UC has been really been quite different is that it is executing on these things."
Kelly said one effort he is most proud of during his time as Napolitano's adviser was in helping draft California Assembly Bill 2664. If approved by lawmakers in June, the bill would allocate up to $6 million to each UC campus over the course of three years to fund innovation and entrepreneurship programs. The bill is sponsored by Assemblywoman Jacqui Irwin, D-Thousand Oaks.
"Legislators can absolutely understand and like the idea that the University of California is looking beyond … and asking what it can give back to the economy and to local job creation," he said.