Startup helps people find out what they're drinking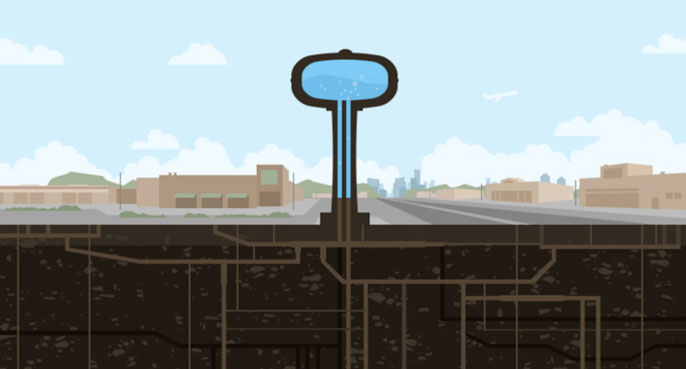 Two factors that contributed to the poisoning of tens of thousands of Washington, D.C., residents through their drinking water in the early 2000s — lead pipes and a disinfectant called chloramine — continue to coexist in countless water systems nationwide, including in the Bay Area. But not to worry, says UC Berkeley water expert and engineering professor David Sedlak; they're safe when properly managed, which happens in the vast majority of public water systems.
However, tens of millions of U.S. residents get their water from private wells that have no oversight at all. That's where a team of UC Berkeley scientists and entrepreneurs — led by John Pujol, civil and environmental engineer; and Susan Amrose, assistant project scientist and lecturer in Cal's engineering department, and program director at Berkeley Lab's Institute for Globally Transformative Technologies — sees the largest unchecked threat to drinking-water safety in this country.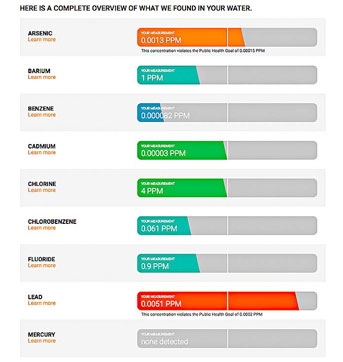 To help plug the gap, Pujol and Amrose formed a startup called SimpleWater. They hired a small staff including six Berkeley MBA- and Ph.D.-level interns, and recently launched their first, and so far only, commercial product: a water-testing and product-recommendation service called Tap Score. Customers order their Tap Score testing package online for $199, then fill testing bottles with tap water and mail them to the nearest laboratory in the Tap Score network.
A sample report from TapScore shows the color-coding for unsafe levels of contaminants.
"The long-term vision is that people can take more control of their own water," said Pujol, who serves as SimpleWater's CEO. Lead may be among the most dangerous hazards, but it's far from the only threat looming in aquifers and water pipes. "There's a lot of new contaminants in our water supply, and people are becoming more aware of that. A lot of these contaminants are on-premises issues."
Read the full article "Well in control: Berkeley startup helps people find out what they're drinking" at California Magazine here.