Stem cell grants awarded to pursue 'great ideas'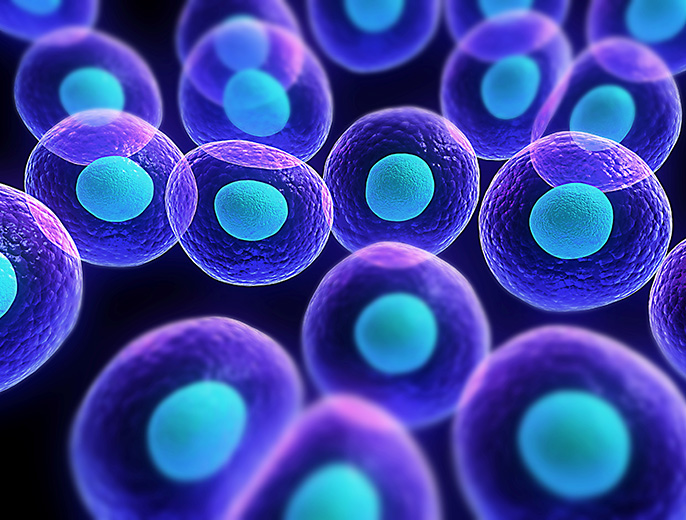 University of California researchers from four campuses received 11 grants totaling $2.5 million in funding from the state's stem cell agency to pursue budding ideas that hold the potential to greatly impact the field of human stem cell research.
The funding was part of $4 million awarded to 19 projects by the California Institute for Regenerative Medicine (CIRM), providing seed money for "great ideas" that need testing and early data before they can compete for later, larger funding opportunities.
"This is a program supporting early stage ideas that have the potential to be groundbreaking," said C. Randal Mills, CIRM president and CEO. "We asked scientists to pitch us their best new ideas, things they want to test but that are hard to get funding for. We know not all of these will pan out, but those that do succeed have the potential to advance our understanding of stem cells and hopefully lead to treatments in the future."
CIRM Discovery Inception Program recipients from UC include:
UC Berkeley
Jacob Corn, $235,800: He will use gene editing to help study myeloproliferative neoplasms, a collection of blood disorders, which could lead to improved drugs to treat these disorders.
UCLA
Stanley Carmichael, $229,396: He will use pluripotent stem cells – which can become any cell type in the body – to see if they can help repair the damage caused by a stroke, which is the leading cause of adult disability.
Arjun Deb, $230,400: He will work to identify special tissue-specific stem cells in the heart that are capable of regenerating healthy heart tissue in order to reduce or reverse scarring after a heart attack.
Bennett Novitch, $230,400: He will create three-dimensional 'mini brains' from pluripotent stem cells to study brain function and test drugs for neurological diseases, which are among the most debilitating medical conditions.
April Pyle, $230,400: She will use pluripotent stem cells to create muscle stem cells, and study ways for delivering the muscle stem cells as future treatments for patients with muscle diseases such as muscular dystrophies.
Owen Witte, $230,400: He will work to identify proteins found on the surface of both human prostate stem cells and cancer cells, and study how those proteins could potentially be targeted with drugs, which could help patients with advanced prostate cancer.
UC San Diego
Alysson Muotri, $232,200: He will investigate how existing anti-retroviral drugs work and whether they can be used effectively to treat neuro-inflammation across a broad range of disorders.
Dionicio Siegel, $232,200: He will study ways to expand the supply of hematopoietic stem and progenitor cells, which offers the potential to help treat multiple blood diseases.
Karl Wahlin, $232,200: He will investigate ways to build a better retina for blinding diseases.
UC San Francisco
Andrew Brack, $180,000: He will examine whether the protein GDF 11 can boost aged human skeletal muscle repair and facilitate its translational potential.
Holger Willenbring, $206,460: He will investigate ways to create mini livers with stem cells to help patients waiting for liver transplants.
Overall, CIRM's governing board has awarded more than $2 billion in stem cell grants, with nearly half of the total going to the University of California or UC-affiliated institutions.