March 8, 2018
Christine Clark
,
UC San Diego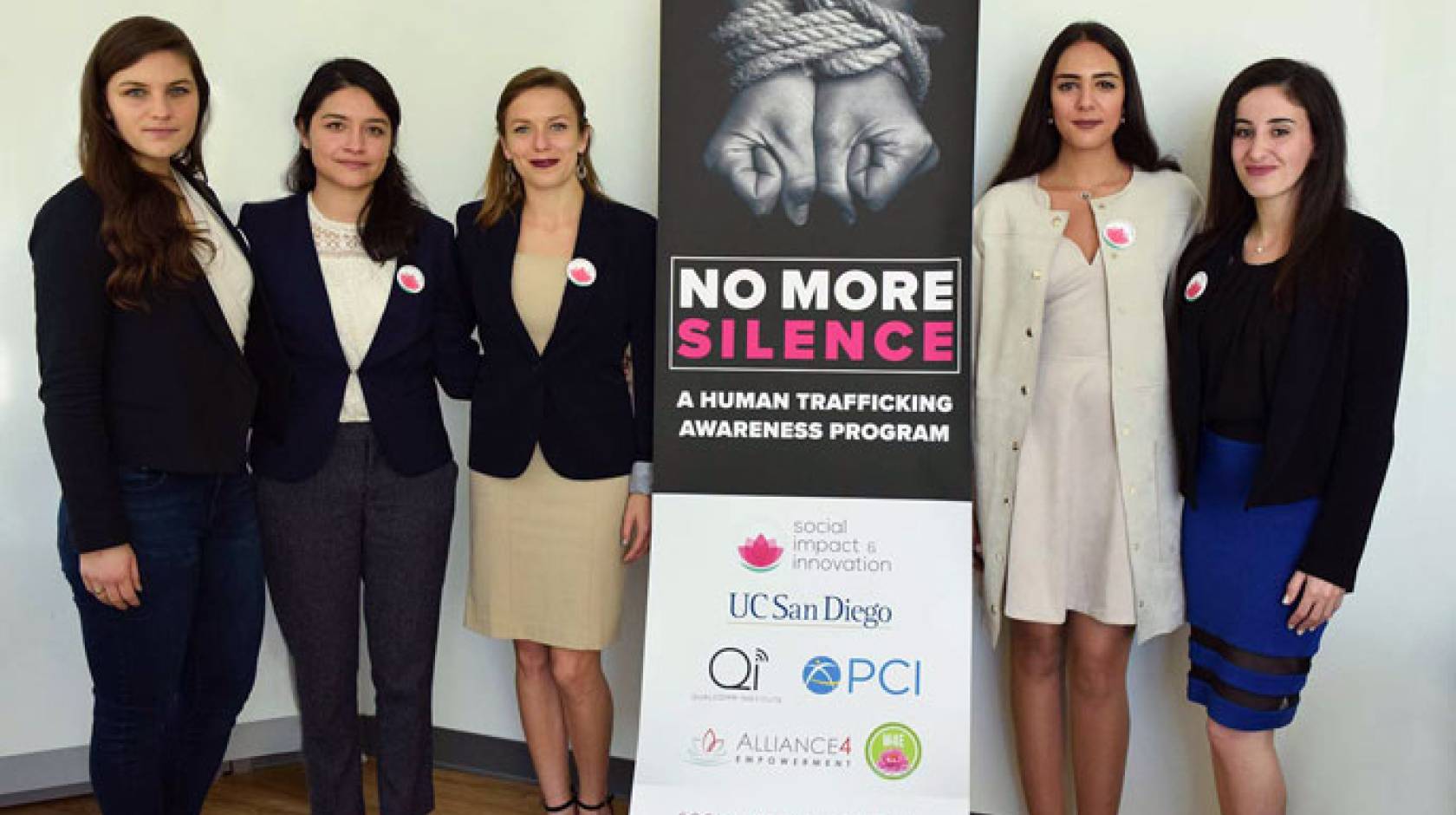 Although slavery is commonly thought to be a thing of the past, human traffickers generate billions of dollars in profits from holding millions of people against their will throughout the world, including the United States. The International Labor Organization estimates there are nearly 21 million victims of human trafficking globally, second only to drug trafficking as the most profitable form of transnational crime.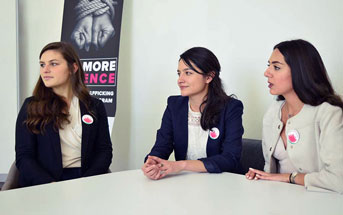 "Human trafficking is widespread and it's neglected," said Ashley F. Halabi, a graduate student at UC San Diego's School for Global Policy and Strategy (GPS). "It occurs is every country in the world. Many people have met victims of human trafficking and don't even know it."
Halabi and a group of other GPS graduate students teamed up to host the second annual Intercollegiate Convention Against Modern Slavery at UC San Diego. The conference with student leaders across the nation took place March 2 to 4, where they convened to discuss what is currently being done and what can be done to fight modern slavery.
"As student leaders, our duty at this conference is to understand the source and the details of these trafficking networks, and then learn the different ways we can break the silence and raise awareness to save as many lives as possible," Halabi said at the opening reception Friday night.
The work of Halabi, along with fellow students Alisar El-rayess, Ambar Valles, Elizabeth Linn, Brenna McKee — all of whom are working towards their masters in international affairs — caught the attention of CNN. The network profiled the students for an upcoming story that will air on March 11. The story also will be posted on CNN's Freedom Project blog in anticipation of the network's #MyFreedomDay campaign March 14, when students across the globe are encouraged to speak out against human trafficking using the hashtag #MyFreedomDay and hold events dedicated to addressing this pressing issue.
Human trafficking is the trade in people, especially women and children, and does not necessarily involve the movement of the person from one place to another. It can come in many forms; however, all trafficking victims share one essential experience: the loss of freedom. Halabi and the other event organizers all have examined the issue in their research and co-curricular work as well.
El Rayess, who presented on the second day of the conference worked at UNHCR, the UN Refugee Agency, in Geneva over the summer. Her work addressed how humans were being trafficked from Yemen to Libya. Because trafficking is very common in those areas, El Rayess helped develop pamphlets and additional resources for families who fall victim to it.
However, as she explained to the attendees, human trafficking is more wide-spread than most people think.
"It is insane to think that in this day and age we still have slavery in almost every part of the world," she said. "The more shocking part is how often human trafficking occurs right here in San Diego. In fact, it is among the FBI's 13 highest child sex trafficking areas in the nation."
She added, "Since human trafficking adversely impacts vulnerable populations and youths, it's especially important for students to work together to put an end to this."
Research with real-world results
The conference brought together practitioners, academics and students to frame solutions. They examined three sectors of human trafficking: sex trafficking, refugee trafficking and labor exploitation.
On Saturday and Sunday, student leaders presented their research papers and/or work experience to the experts and survivors attending the conference, a highlight for the conference organizers.
"Student presentations gave insights on how rising academics are already tackling human rights violations and trafficking concerns through data analysis, journalism, public sector program studies and legislative action — to name a few," McKee said.
In addition, participants learned to identify the signs if someone is a victim of trafficking and labor exploitation, and how to intervene.
The first Intercollegiate Convention against Modern Slavery took place last year at Harvard University. The event was established by Collegiate Leadership in the Fight for Freedom, which the conference organizers are a part of.
"We hope to build a network of students, experts and survivors to stand against the network of modern slavery, and we hope that this conference will open your eyes to topics and realities that can help you realize the magnitude of this issue," said Halabi. "We've had a great exchange between survivors of human trafficking, experts in the field and students, who will soon be making an impact in fields from policy making, to supply chain management, to government affairs."
Education that provides tools to transform
As students studying international affairs at GPS, Halabi, El Rayess, Linn, McKee and Valles all plan to pursue careers in global business, diplomacy, nonprofits, regional development and more.
Valles, who worked in the corporate responsibility industry prior to pursuing her master's degree is also a researcher at GPS's Laboratory on International Law and Regulation (ILAR). She said she feels her education and research experience being gained on the ground at ILAR has helped prepare her to make an impact on the world.
"I love that our school allows us to see different dimensions of an issue," Valles said. "Our students come from all over the world, but we are all dedicated to making a difference."
Valles, and the other her teammates who organized the Intercollegiate Convention against Modern Slavery, personify why UC San Diego was recently designated as a Changemaker campus by Ashoka U, an initiative of the world's largest network of social innovators. The prestigious honor recognizes the changemaking efforts taking place on campus every day — such as this group's work to curb human trafficking.