October 12, 2016
Alec Rosenberg
,
UC Newsroom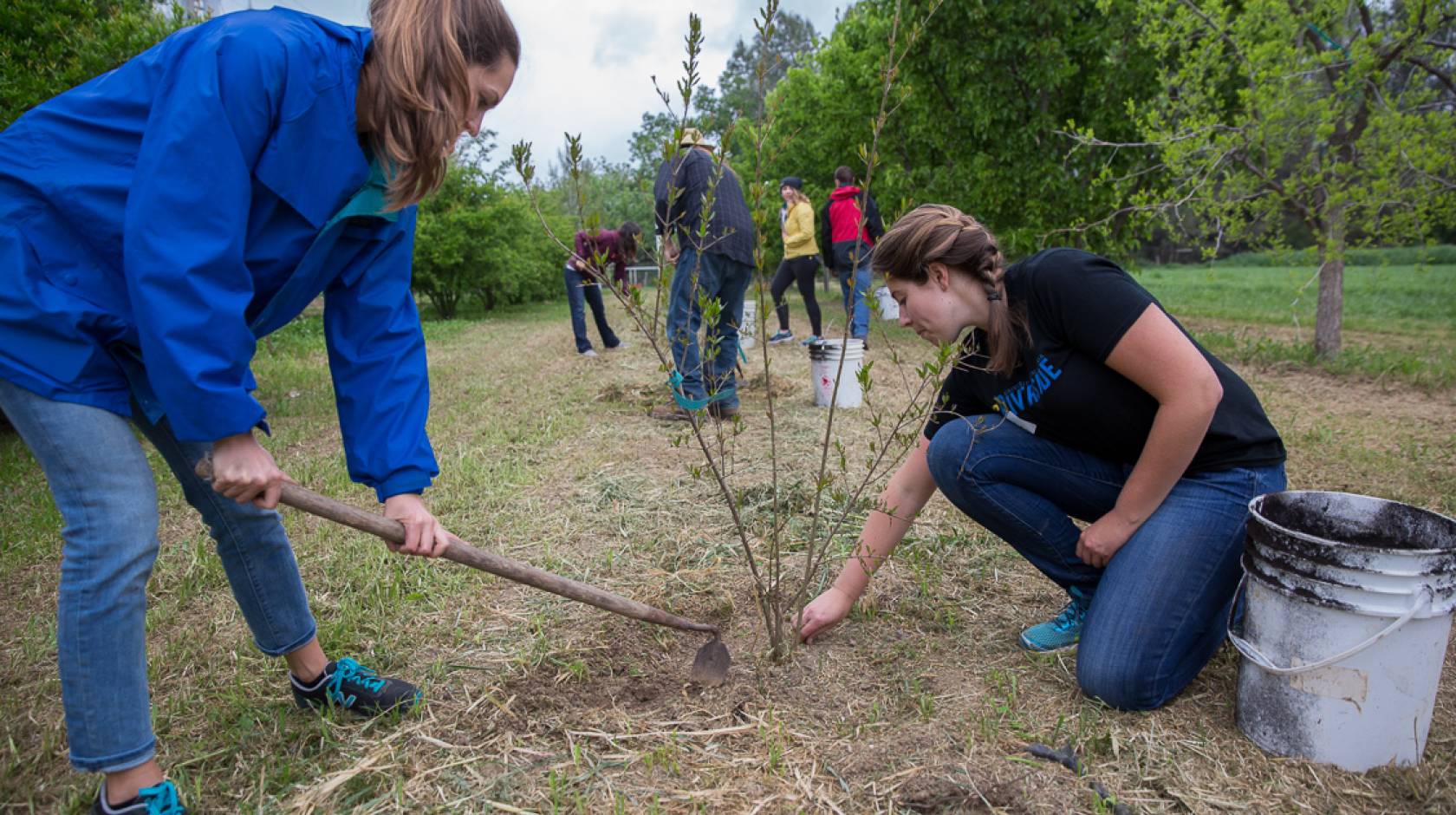 As a University of California Global Food Initiative student fellow last year, Hannah Malan explored the intersection of food, health and sustainability.
She conducted focus groups on food literacy, visited an organic farm, and connected with the best and brightest in the field of food. By the year's end, she had not only learned more about the food system, she had found a professional calling.
Inspired by her GFI fellowship, Malan is now pursuing a Ph.D. in community health sciences at UCLA after completing her master's degree there in June. Her focus is on increasing food system awareness, equity and participation, which she will advance this year by serving as a GFI student ambassador.
"It's empowering," Malan said. "It's more than learning. I feel like I'm becoming trained to be a leader in my field."
Malan is one of 14 returnees in this year's class of 55 GFI student fellows. The class – the third since UC President Janet Napolitano launched the Global Food Initiative Student Fellowship Program – has participants from all 10 UC campuses plus the UC Division of Agriculture and Natural Resources and Lawrence Berkeley National Laboratory.
The program is open to both undergraduate and graduate students. Fellows, who are selected by their respective campuses, receive $4,000 for research, internships or other projects that support GFI's efforts to address food security, health and sustainability. Malan is one of 10 GFI ambassadors who work to elevate awareness of the initiative and boost participation among students, faculty and staff for campus events like those celebrating World Food Day (Oct. 16) and National Food Day (Oct. 24).
"We're trying to reach students where they are – dining halls, campus eateries," Malan said. "Food is a connector. It's something we can use as a unifying force."
Expanding student outreach
GFI ambassador Holly Mayton from UC Riverside, another returning fellow, is looking to get more graduate students involved in the initiative.
Mayton, a graduate student in chemical and environmental engineering, last year studied ways to improve food safety and sustainability. She soaked up knowledge from visiting farms in California and Arizona and learned from other fellows and the GFI leadership group.
"I've gained a lot of opportunity by stepping out of the lab," Mayton said. "Building the community of students, faculty and staff who are all engaged in food is something I haven't seen at other universities."
Making a difference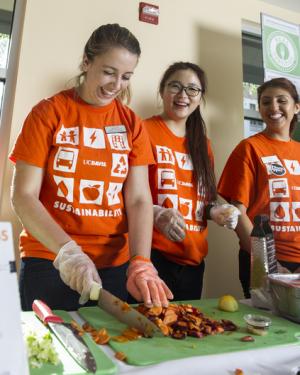 About half of the GFI fellows are undergraduate students and half are graduate students.
Returning fellow Aria Wexler, a UC Davis undergraduate student, is continuing her work on the Fruit and Veggie Up program with Nugget Markets in Davis. Nugget donates slightly imperfect but still fresh and tasty produce to the campus, which picks up the produce three times a week, and makes it available for free to students at the Student Health and Wellness Center and campus food pantry.
"It's really humbling to be with a group of other students who are very passionate about what they're doing," said Wexler, who served as a GFI ambassador last year. "UCLA is running a similar food access program for graduate students. It was great to connect with them and brainstorm."
UC Davis has recovered more than 7,000 pounds of produce in the past year from Nugget Markets and is looking to begin including produce from the UC Davis Student Farm, Wexler said.
Wexler, who wants to become a dietitian, will supplement the produce pickups this year by helping to educate students about the different fruits and vegetables and how to cook and make dishes with them.
Wexler also will be collaborating with others to increase student access to services such as CalFresh, California's nutrition assistance program. When students work with the campus CalFresh representative, they have an 89 percent acceptance rate on their applications, more than double the rate for those who try to do it on their own, she said.
Tackling food security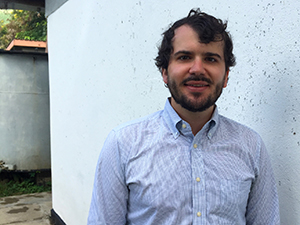 Several other GFI fellows also have projects that address food security.
Returning UC San Francisco fellow and GFI 30 Under 30 winner Matthew Spinelli will study food insecurity and substance abuse among homeless adults with HIV. This follows up on his research last year that found higher HIV viral loads among HIV-positive women who were food insecure.
Spinelli, an infectious disease fellow who will be serving as a GFI ambassador this year, is looking to build awareness about food insecurity among medical, nursing and pharmacy students.
"Food insecurity is the issue most upfront to us," Spinelli said. "This is a burgeoning field. We'll probably find that food insecurity has a large impact on health."
To date, the GFI Student Fellowship Program has supported more than 150 fellowships. Here is a list of the third class of GFI student fellows and their projects:
UC Berkeley
Emily Altman, food access and security
Grace Lihn, experiential learning
Melina Packer, equity and inclusion
Hortencia Rodriguez, equity and inclusion
Agnes Zhu, ambassador
UC Davis
Ryan Dowdy, food waste reuse and communications around student food resources and other food news
Dana Ng, food access
Tucker Sprinkle, ambassador
Aria Wexler, food access
UC Irvine
Christina Hughes, ambassador
Emma Peterson, UC Irvine Garden Project
Emanuel Preciado, UC Irvine Garden Project
Gracie Wong, reducing food waste on campus
UCLA
Evelin Escobedo, using gardens to improve the well-being of patients with dementia; support for food studies minor
Savannah Gardner, food recovery and food security
Jacob Garson, Sunset Canyon Recreation Center Edible Amphitheater Garden
Jessica Huang, incorporating agricultural sustainability into courses taught at UCLA; encouraging nutrition and sustainable eating on campus; exploring the advantages of eco-friendly chemicals in agriculture
Megan Lonsinger, support for food studies minor
Hannah Malan, ambassador
Meghan O'Connell, Seeds to Plate
Carly Randolph, food procurement and healthy eating as a means to minimize obesity rates
Daniel Shen, Sunset Canyon Recreation Center Edible Amphitheater Garden
Tyler Watson, food recovery and student food security
UC Merced
Isabella Beltran, ambassador
Christian Cambrelen, composting
John (Jack) Cronin, managed grazing in vernal pool ecosystems
Ever Serna, promoting sustainable food in campus dining; developing and maintaining Elizabeth's Dining Garden; developing dining center plans to address food security
UC Riverside
Claudia Avila, trace metal cycling in urban agricultural soils
John Chater, urban pomegranate grove project
Holly Mayton, ambassador
Ryan Natividad, food security
UC San Diego
Yingqi Chen, improving urban agriculture
Didra Felix, ambassador
Jess Gambel, climate change and floriculture
Elizabeth Mournier, urban food disparities
UC San Francisco
J. Daniel Kelly, impact of public health messages and control measures on food security and nutrition
Rashon Lane, how socio-structural factors impact food security among HIV-positive African-American and Latina women in managing chronic diseases
Matthew Spinelli, ambassador
UC Santa Barbara
Ryan Carr, Edible Campus Project
Kate Columbus, community supported agriculture and the Gaucho Certified Farmers Market
Bryn Daniel, ambassador
Audrey Horn, sustainable purchasing of animal products in campus dining
UC Santa Cruz
Keli Benko, fumigant regulation and the future of the strawberry industry in the Pajaro Valley
Cassidy Carmichael, promoting access to community supported agriculture and reducing food waste
Hamutahl Cohen, food security and Blum Center food hub
Emily Reisman, ambassador
Anne Wiesenfeld, food equity and sustainable food procurement
UC ANR
Gemma DiMatteo, UC Berkeley, nutrition policy
Reid Johnsen, UC Berkeley, Graduate Students in Extension
Mingxuan (Elaine) Liu, UC Davis, UC ANR media relations and community outreach
Alana Siegner, UC Berkeley, Graduate Students in Extension
Laura Ward, UC Berkeley, Graduate Students in Extension
Berkeley Lab
Kripa Akila Jagannathan, UC Berkeley, recommendations for selecting climate models for the analysis of chill hours in California's Central Valley
Sarick Matzen, UC Berkeley, investigating arsenic bioavailability in the context of urban agriculture
Hsuna Yasini, UC Berkeley, investigating the potential of using treated wastewater in urban agriculture