July 16, 2015
Alec Rosenberg
,
UC Newsroom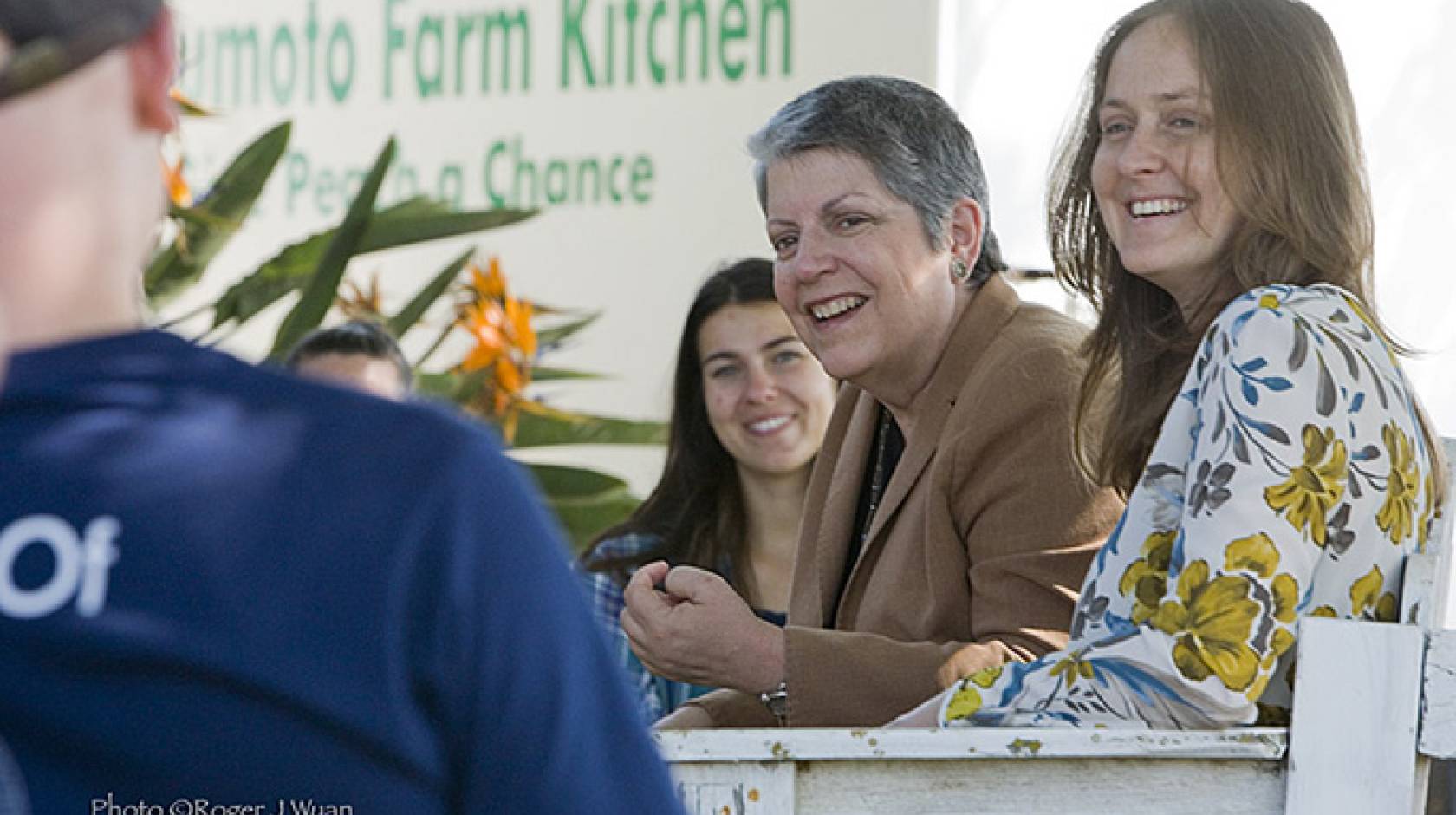 Call it the fellowship of the fellows.
Several dozen student fellows representing two of University of California President Janet Napolitano's initiatives— carbon neutrality and global food — will join together at a symposium July 20 in San Francisco. The daylong meeting is a chance for the fellows to learn, network, build leadership skills and share information about their projects.
The idea is to foster cross-campus collaborations that could help student projects aimed at reducing hunger, improving nutrition and mitigating climate change go even further.
"I think it's great to have the fellows meet and get exposed to each other and learn about their projects," said symposium speaker Tim Galarneau, food systems education and research specialist at the UC Santa Cruz Center for Agroecology and Sustainable Food Systems.
Cross-section of higher ed
The symposium coincides with the California Higher Education Sustainability Conference at San Francisco State University, an event jointly organized by UC, California State University, California Community Colleges and independent/private colleges. Napolitano is scheduled to speak at the conference July 21.
Connecting the carbon neutrality and global food fellows will help integrate Napolitano's initiatives, increase student engagement and offer a forum for feedback on the fellowships — "passing the torch," Galarneau said.
The first class of 37 Carbon Neutrality Initiative student fellows was announced in the spring. They are working on projects that galvanize student participation in UC efforts to produce zero-net greenhouse gas emissions by 2025.
The first class of 54 Global Food Initiative student fellows was announced in the fall. The far-reaching initiative aims to put campuses, the state and the world on a path to sustainably and nutritiously feed themselves. As such, student projects range from developing community gardens and food pantries to conducting research on urban agriculture and food waste. In April, fellows met at Masumoto Family Farm near Fresno to tour the organic peach farm and discuss their projects with Napolitano, who announced she was extending the GFI fellowship program for two more years.
"The visit to Masumoto farm was a very inspiring weekend," said GFI fellow Kate Kaplan of UC Berkeley. "To meet the other fellows showed me how important the initiative is. I'm really excited for the symposium to see how everyone's work has progressed."
For the July 20 symposium, carbon neutrality and global food fellows will meet in the afternoon, with a reception and poster session in the evening. Some fellows also will attend an optional pre-symposium training on leadership, communication and community building, led by UC Irvine's Global Sustainability Resource Center.
Carbon neutrality fellows will participate in breakout sessions on the carbon reduction pledge campaign, led by Kira Stoll of UC Berkeley and Jewel Snavely of UC Santa Barbara, and on communicating carbon neutrality, led by Camille Kirk of UC Davis and Chrissy Thomure of UC Santa Cruz.
Global food fellows will participate in breakout sessions on urban disparities, led by Keith Pezzoli of UC San Diego and Paul Watson of the Global Action Research Center, and on food security, led by Ruben Canedo of UC Berkeley and Galarneau.
Targeting food security
Canedo and Galarneau have worked with outgoing Student Regent Sadia Saifuddin of UC Berkeley to lead the GFI subcommittee on food security and access, which has been developing a systemwide model to eradicate hunger and malnutrition on campuses. In March, Napolitano allocated $75,000 per campus to support the effort.
Galarneau, who will highlight the subcommittee's work, is a prime example of the impact that students can have on UC's sustainability efforts.
As an undergraduate at UC Santa Cruz, he helped lead a campaign that passed a student referendum for a self-imposed fee that raises $250,000 annually for sustainability projects and programs. Spurred on by such success, Galarneau and others throughout the UC system led efforts to add sustainable foodservice practices to the UC Policy on Sustainable Practices.
Now Galarneau is mentoring the next generation of student leaders, working with UC Santa Cruz's global food fellows, co-leading a GFI subcommittee and serving as a steering committee member of the sustainability conference.
"There are multiple pathways to engage," Galarneau said. "Students are a key part."