June 7, 2017
Nicole Freeling
,
UC Newsroom
Credit: Courtesy of Miranda Penn Turin, Voices4Freedom
Even at UC Santa Cruz, a campus known for its idealism, sociology major Jesse Abrams set an ambitious goal: build a community of student abolitionists to help bring men, women and children in India from slavery to freedom.
Abrams founded an organization called the Freedom Coalition, which is working with international non-profit Voices4Freedom to liberate villagers in India from generations of debt-based bondage.
He has since rallied dozens of his fellow Banana Slugs and members of the local community to the cause, including a medical practice, Santa Cruz Integrative Medicine, that has signed on to contribute the full cost of a three-year program to bring an entire village to freedom.
"Most people think slavery is a thing of the past," said Abrams. In fact, the Global Slavery Index estimates that a staggering 45.8 million people around the world can be classified as slaves — meaning they are forced to work under threat of violence, without pay and unable to escape.
An estimated 18 million are enslaved in India, many conscripted to pay off acquired or inherited debts — a practice that is illegal but remains pervasive.
Schools that teach freedom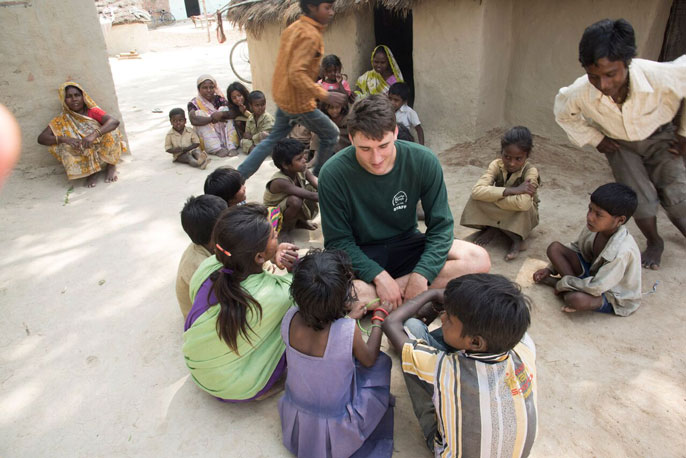 Abrams has long been aware of the problem of modern-day slavery thanks to his father, a literary agent who helped publish an influential book on the subject. But it wasn't until his sophomore year at UC Santa Cruz that he discovered his power to do something about it.
He was introduced to Voices4Freedom, an international organization that was having remarkable success in bringing people to freedom non-violently.
The organization starts by building schools in communities where generations of families work in bondage to pay off debts.
Exorbitant interest rates and rigged repayment schedules mean the loans will never be paid off, even though the average starting loan is just $18. Meanwhile lack of schooling and gainful employment — coupled with a fear of violence — keep families enslaved for generations.
Having known nothing but a life of forced labor, few realize they have options beyond their current lot. Once a school is built in the neighborhood, families will do almost anything to enable their kids to attend, and have a shot at something different.
The organization begins with teaching kids reading, writing and arithmetic. Once the school is established in the community, staff begin educating the parents about their legal rights and provide tools to stand up and demand their freedom.
Faced with widespread resistance and the threat of criminal exposure, slaveholders often have little recourse but to let them go.
"The job is to help people realize there is something better for them — and that they deserve it," said Abrams. "Once that hope is there, it's kind of unstoppable."
The unusual approach has proven remarkably effective: almost 1,800 villagers have been released from bondage, and more than 700 child slaves provided with an elementary education.
The price tag for liberating a village of 100-300 people: $36,000 — the cost of a shelter, two teachers, books and school supplies, hot lunches and a solar light so that children who work during the day can study at night.
Bringing a campus to the aid of a village across the world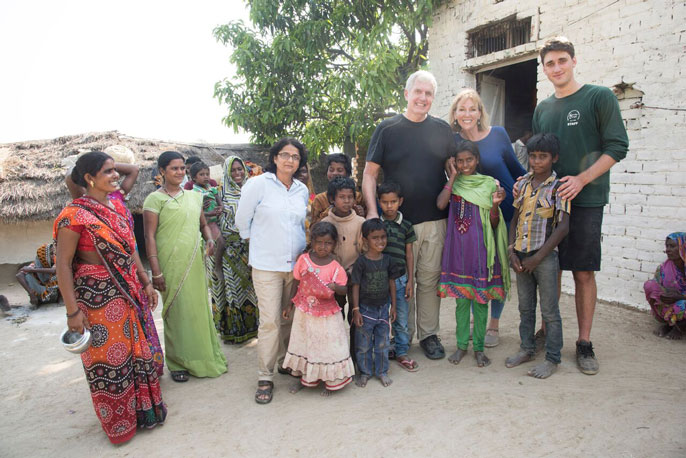 When Abrams, then a sophomore, learned about Voices4Freedom's approach, he knew it was something he wanted to bring to UC Santa Cruz.
"When you look at the cost of the program compared to the horror of slavery and the potential to change it, you can't not do something," he said.
Abrams founded the Freedom Coalition as a student-initiated program, one that is run for and by students with support and resources from the campus.
As a global entrepreneurship and social enterprise minor, he was able to participate in the Everett Program, a project-based seminar that trains students to use digital tools and social entrepreneurship to build organizations that advance social justice.
The guidance proved invaluable, according to Abrams, in helping the Freedom Coalition marshal volunteers and resources.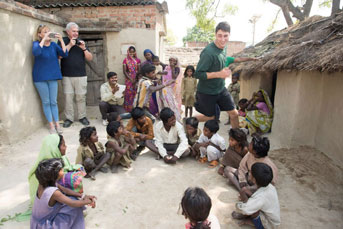 About 35 UC Santa Cruz students have since become involved in the organization, helping to manage the day-to-day operations, coordinate with staff in India and engage community support.
Their work captured the attention of a local medical practice, which pledged to contribute the funds to build and staff the school. It wasn't just the importance of the cause but also the students' passion that led the practice to pledge to help, said Lena Axelsson, a psychotherapist with Santa Cruz Integrative Medicine.
"It's important work and it really helps students hone their skills and experience with helping others," she said.
The medical group holds periodic Saturday clinics and donates everything they make that day.
The proceeds go toward the village of Nandpur in northern India, where dozens of villagers, from preteens to the elderly, labor in the brick-kilns.
It is punishing work that involves laboring in the heat to mold the bricks and carrying them to and from the firing ovens.
The children are beaten and bruised, said Abrams. As they get older, a darkness settles into their eyes and faces.
"You see these kids, and the younger ones are happy and playing and running around," he said. "But as they get older, the happiness seems to have evaporated. The joy seems to have been crushed out of them."
Unlocking the power for change
After graduating, Abrams hopes to work in a business or organization with a social purpose.
His goal is to innovate and advance creative approaches that can magnify the potential for positive change.
He also plans to stay involved with the Freedom Coalition as he turns it over to his fellow classmates.
His hope is to return to Nandpur in two years, to a village that has thrown off the yoke of slavery.
"I am so excited to see the empowerment and the change that I've seen happen in other villages. The light comes back into people's eyes. The feeling of hope and change is tangible," he said.
"Once you know the power of your potential, everything is different."