January 4, 2011
Harry Mok
,
UC Newsroom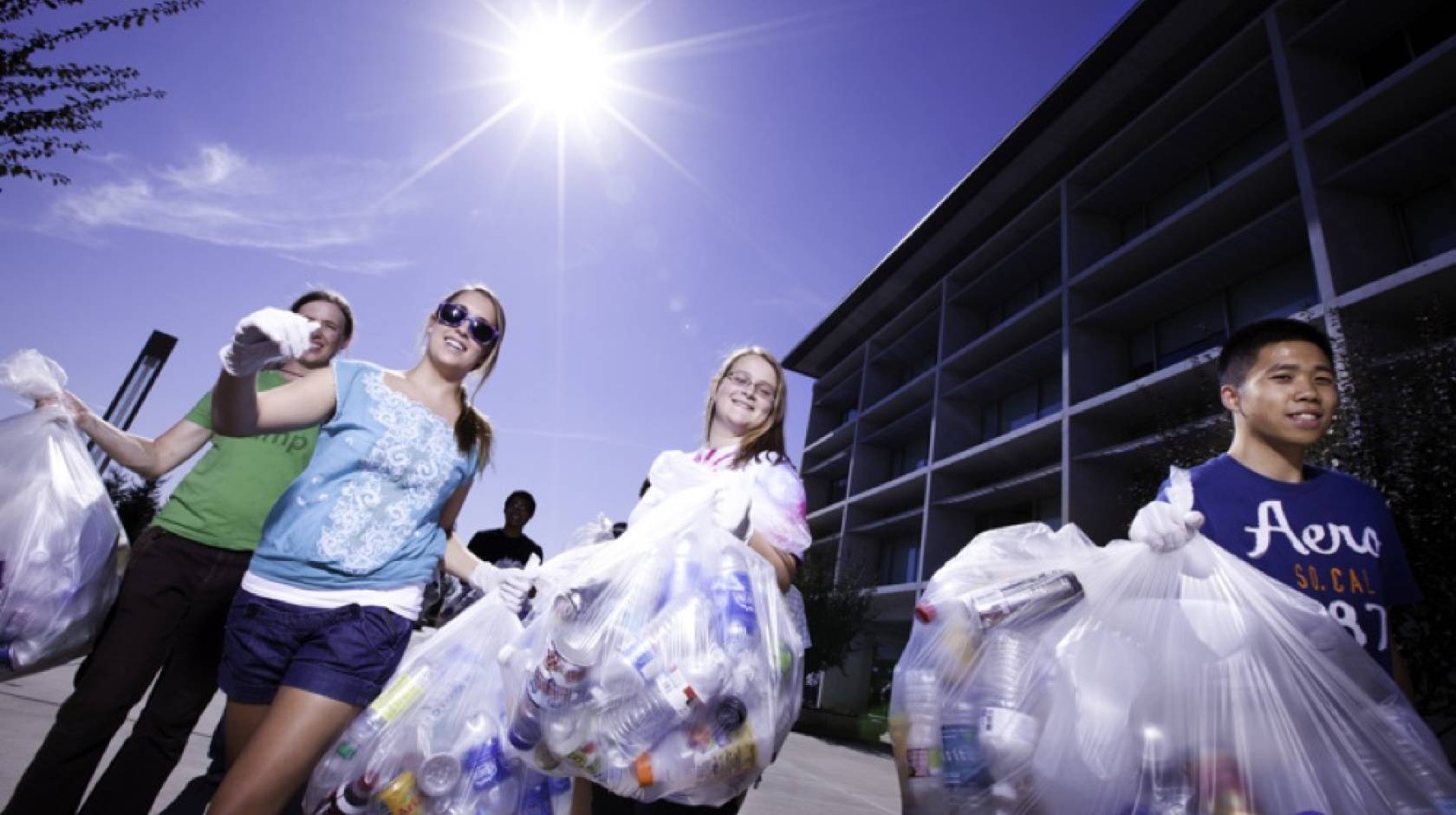 Tanja Roos was strolling through UC Berkeley's Sproul Plaza, something she had done many times without looking twice at the displays promoting student groups. But on that day in her last semester of college, an organization touting a campaign to get the University of California to adopt environmental standards for its buildings made her stop.
"They were talking about wanting to help students campaign to urge the regents to adopt a sustainability policy," Roos said. "Four years of walking through Sproul and nothing ever caught my eye."
Roos was hooked and got involved with the campaign that led UC to adopt a systemwide sustainability policy in 2003. The student activism Roos participated in has long been a driving force behind initiatives that have made the UC system one of the greenest and most environmentally friendly universities in the country.
"I thought that it was very timely," recalled Roos, who graduated in 2002 with an interdisciplinary studies degree emphasizing sustainability development and is now the organic garden program director of Carmel Middle School's Hilton Bialek Habitat in Carmel. "I feel that a university and a higher education institution should be kind of setting the standard or setting an example."
The UC sustainability policy that students, staff and administrators crafted became a trendsetter in higher education.
"The University of California is committed to being a good steward of the environment, and collaborating with students has played an important role in developing our policies," said Nathan Brostrom, UC's executive vice president for business operations, who oversees systemwide sustainability policies. "The passion students display informs and inspires our sustainability efforts."
Sustainability encompasses not only environmental issues but also touches upon economics, engineering, science and social justice, topics that appeal to a broad range of students.
"The reason why people get so excited is because there are so many different issues that you can latch onto," said Lauren Jabusch, a UC Davis student and operating team co-chair of the California Student Sustainability Coalition. "Regardless of what you're interested in, there's probably a little part you can tie into that is near and dear to your heart."
Green pioneers
Students lobbied for green programs and policies at UC long before the term "sustainability" became associated with environmentalism. Some early efforts included an organic farm created at UC Santa Cruz in 1967 and a student-run public bus system started in 1968 at UC Davis.
"We're all young people, and we want this planet to be one that we'd want to live on in the future," said Adam Merberg, a UC Berkeley graduate student in math and a volunteer with the Berkeley Student Food Collective. "It's also about what we can do in our personal lives to minimize the impact we have on the planet."
Promoting sustainability "will improve a lot of problems that we face in world, and that's important to lots of students," said Chelsea McDaniel, who graduated with an environmental studies degree from UC Santa Cruz in 2010 and works as a student coordinator in the Campus Sustainability Office. "We all want clean water, clean air and healthy food. It's important to everyone."
When UC students and the California Student Sustainability Coalition worked with the UC administration to adopt its systemwide policy, the guidelines transformed sustainability from a campus-by-campus effort into one encompassing all of UC. The policy includes mandates for energy efficiency, use of renewable resources, recycling, waste reduction, environmentally friendly construction methods and campus foodservice guidelines.
"In order for change to happen, it needs to come from the top down in terms of policy and regulation, but it also needs to come from the ground up with student energy, passion and ideas," said Roos, who was a founding member of the California Student Sustainability Coalition.
Energy efficiency efforts resulting from the sustainability policy are saving UC approximately $15 million per year. The policy also encouraged the construction or remodeling of UC's 50 LEED green-certified building projects, the most of any university in the country.
UC campuses now are routinely ranked by such organizations as the Sierra Club and Princeton Review for their leadership in sustainability. The environmental group Global Green USA honored the UC system in 2010 with a Millennium Award for the university's commitment to sustainable construction and its number of LEED buildings.
Students remain active, and some recent initiatives they originated include:
UC San Diego's fair-trade food policy, the strongest in the nation of any large university, was adopted after a five-year process begun by students. All future contracts for coffee, tea and sugar sold on campus must be for certified fair-trade products, which are produced in a manner that supports sustainable business practices and humane working conditions that prohibit the use of child labor.
UC Santa Cruz became the latest campus to have Meatless Mondays, vegetarian days at its dining halls.
At UC Santa Barbara, PACES (Program for the Assessment and Certification for the Environment and Sustainability) certifies offices as green. LabRATS (Laboratory Research and Technical Staff) provides similar assessments for lab facilities on campus.
The Berkeley Student Food Collective opened a grocery store near the UC Berkeley campus, which sells locally sourced, organic, healthy and sustainable food. The store opened in the aftermath of student opposition that stopped a Panda Express fast-food outlet from opening on campus.
The work to encourage new programs shows that "students can really empower themselves," said Alex Stone, a UC Berkeley alumna and operations manager for the Berkeley Student Food Collective's store.
Students willing to pay
Students also are flexing the power of their wallets. At seven UC campuses, students have voted to charge themselves extra fees, generally less than $10 per quarter or semester, that go toward programs that promote sustainability.
At Berkeley, Irvine, Los Angeles, Riverside, Santa Cruz, Santa Barbara and San Diego, the money goes to grants that fund student- or faculty-originated programs that promote energy efficiency, recycling and other sustainable practices.
Students at UC Santa Cruz passed three green fees in the spring of 2010. One pays for sustainable food initiatives, another funds student internships, jobs and programming in the Campus Sustainability Office, and the third was a renewable energy measure that redirects money from a fee passed in 2006 to projects to reduce the campus's carbon footprint.
The combination of measures that address food, air and water issues "really spoke to (UC Santa Cruz) students, and they agreed to pass three of these measures, which is unheard of," McDaniel said.
It wasn't always so easy. When Aurora Winslade was a student campaigning in 2002 for what eventually became UC's systemwide policy, she said not many people understood the concept of sustainability and that some said there were more important priorities for the university then adopting eco-friendly practices.
"People would say, 'sustainability, what does that mean?' Some people had never heard of the word," said Winslade, a UC Santa Cruz alumna who is now the manager in the Campus Sustainability Office.
Looking forward
Eventually, the concepts caught on, and UC's systemwide policy encouraged the ideals of sustainability to be accepted on campuses. Now, the challenge is putting those ideas into action.
"When there was no recycling program, it's easy to say, 'Let's set up recycling for cans and bottles'," Winslade said. "When the problem now is how to go from 50 percent waste diversion to 75 percent, that's somewhat more of a challenge than going from zero to 50 percent."
Similarly, educating people about how they can play a role in creating a sustainable environment is evolving. Many people believe basic efforts such as recycling cans is all there is to it, or that sustainability only involves sacrifices, such as becoming a vegetarian or not being able to have a lawn to conserve water.
"You need to kind of explain it further and how it relates to them and do outreach," said Corie Radka, a UC Santa Barbara graduate and operating team co-chair of the California Student Sustainability Coalition, which is comprised of UC, California State University and community college students.
To that end, the coalition has developed an Education for Sustainable Living Program at UC Davis, UCLA and UC Santa Cruz that offers classes and research opportunities for students. The coalition also is working with UC faculty to develop the framework for a sustainability general education requirement, according to Jabusch.
"We're trying to get people to understand what a sustainable lifestyle looks like and that it can fun, exciting and wonderful," Jabusch said.