May 14, 2019
Nicole Freeling
,
UC Newsroom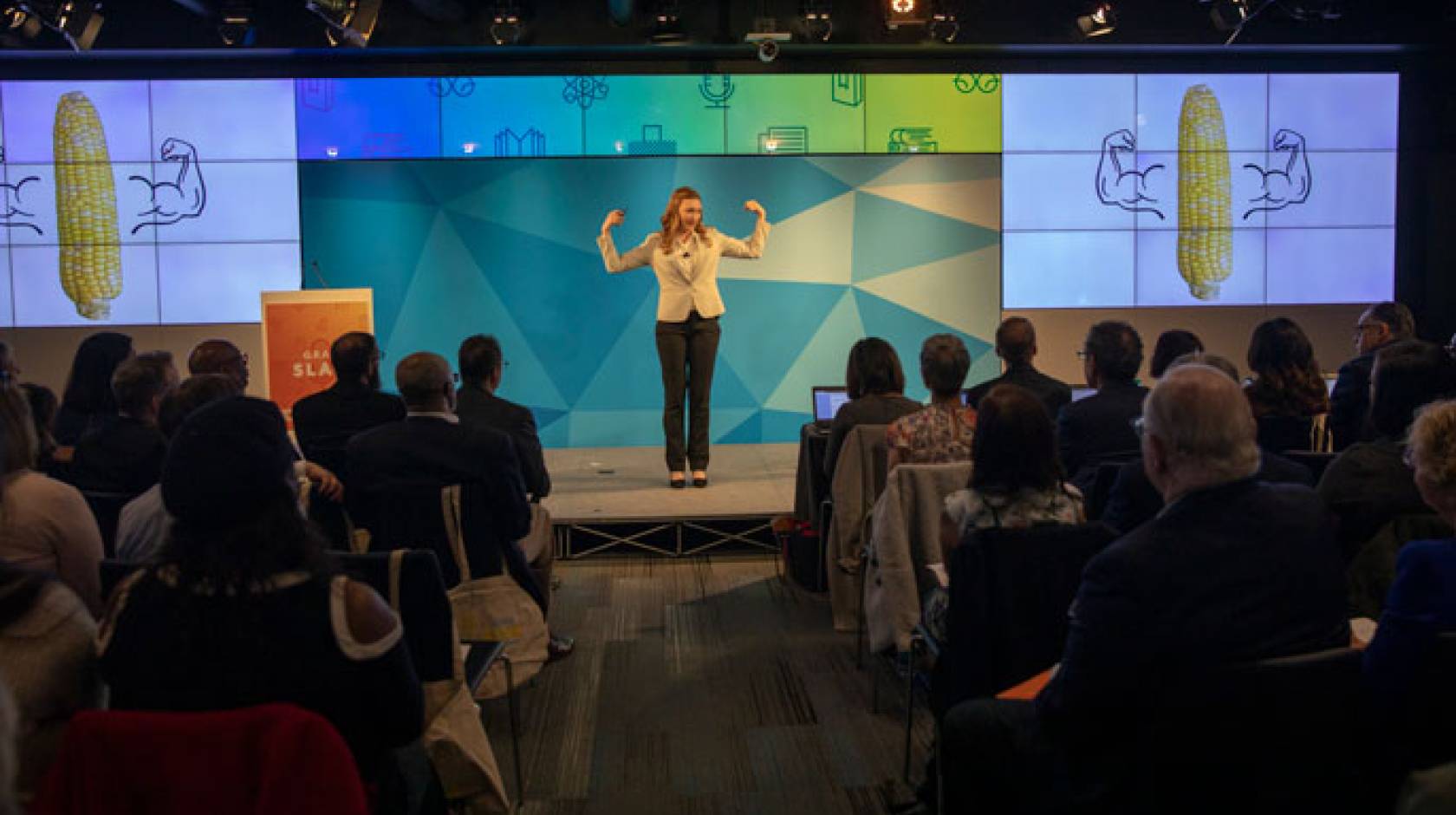 Friends and colleagues call her the Corn Queen, but Katie Murphy can now claim another title: UC-wide Grad Slam champion. The UC Davis plant biology graduate student took home the top prize on May 10 for her three-minute talk on a biochemical hack that could help sick crops heal themselves.
To claim the title and $6,000 in prize money, Murphy described research that could help feed a growing population through genetics and breeding solutions that would make corn — a huge part of the U.S. food supply — less vulnerable to disease.
So much corn is lost to fungus each year that it could fill a cornfield the size of Florida, Murphy explained. Her research has uncovered the fact that some corn varieties produce their own compounds to fight off fungal disease. Scientists like Murphy are working to harness those chemicals for use with other corn varieties — and other crops.
"This will reduce pesticide use and grow us more food and genetically stronger plants to ensure food for the future," she said.
Murphy's research is typical of the brilliance on display at Grad Slam, a systemwide communications contest for UC master's and Ph.D. students.
Now in its fifth year, the competition presents emerging scientists and scholars with a unique challenge: distill their life's work into a three-minute talk that will enlighten and entertain a general audience.
The ultimate goal: Help graduate students build communication skills to make it easier to land jobs, get research funding and demystify science, all while offering the public a fun and accessible window into what graduate school is all about.
'Simplify your research; don't dumb it down'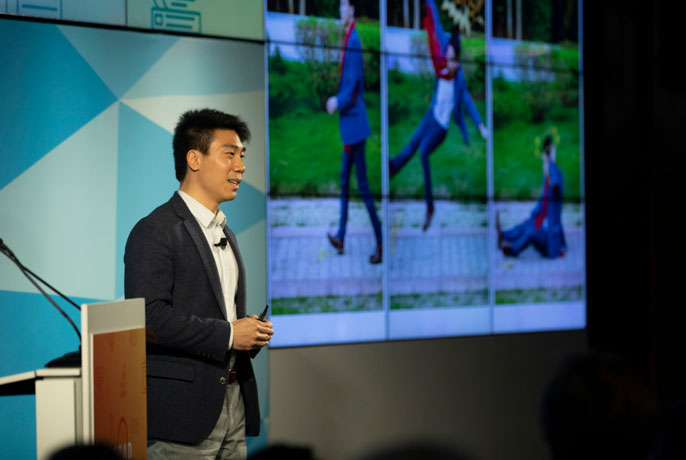 For graduate students who spend years studying highly complex and often esoteric subjects, condensing their work into bite-sized chunks is no easy feat.
"At first I wanted to talk about every aspect of my research, because it's all so exciting," said David Wu, a UCSF biomedical sciences grad student who won second prize for his presentation on a simple blood test that could help doctors quickly and more accurately identify concussions.
Using a unique molecular profiling system, Wu discovered that previously unknown molecules are part of a thin layer of tissue covering the brain. Those molecules leak into the blood during concussion, giving doctors a simple marker they can use to determine if injury has occurred.
Wu credited his advisor, Daniel Lim, with helping him find the right tone for his Grad Slam talk.
"His advice was: 'Simplify your research; don't dumb it down.' That really influenced me. I moved away from the way I usually talk about my work and just starting telling it like I would tell a friend."
Rachel Harbeitner, a marine biologist at UC Santa Cruz, took third place for her research into carbon-eating bacteria on the ocean floor and the role they could play in regulating the climate.
UC Merced grad student Ahn Diep was voted the audience favorite, from the roughly 1,000 votes cast online and in person at LinkedIn's San Francisco headquarters, which hosted the contest. Diep's work focuses on solving the mystery of Valley Fever, a condition that many people recover from easily but, for some, becomes debilitating and lifelong.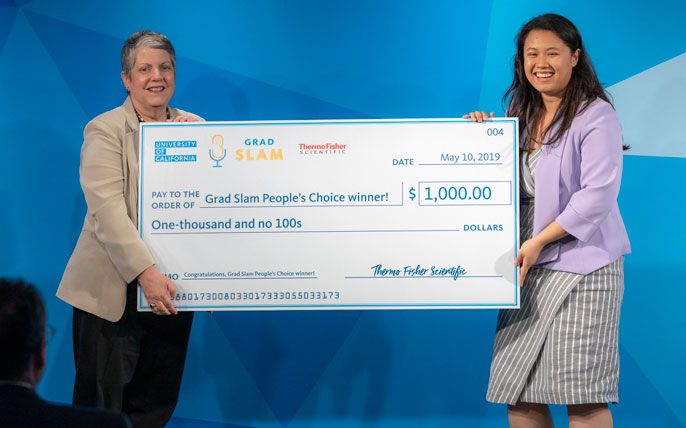 Participants also wowed the audience with insights into subjects as diverse as superbug-fighting bacteria and intellectual battles of ideas.
"I tried to focus on things that were intuitive to people," said UC Santa Barbara graduate student George Degen, who described his research to develop a suture-free adhesive that works by mimicking the bonding properties of marine mussels.
"A lot of people have tried to put on band-aids when they're wet, and know how hard it is to hold on to something when the waves are pulling it away. The research I'm doing is about things that are intuitive and accessible to people, and it's also important."
A network — and mentoring — opportunity
After each student's talk, contest emcee and UC President Janet Napolitano quizzed participants about what they did to blow off steam when they weren't pursuing groundbreaking research (answers included baking, yoga and playing Overwatch) and what first got them interested in their research.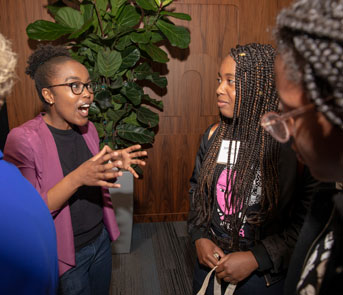 Their stories resonated with Adora Whitfield, an 8th grader at All Saints Catholic School in Hayward, who attended Grad Slam with fellow members of Black Girls Code, a science and engineering program for young women from underrepresented backgrounds.
"I've always been stuck on one career. This shows me that broader things might be out there," said Whitfield, who was impressed by the variety of research and the different paths students took to find the subjects that fascinated them.
"I was tired when I got here, but hearing these ideas just woke me up," said fellow student Nile McElhany, a seventh grader at Alameda Community Learning Center.
Serenity Bassett, a senior in high school who represented Black Girls Code as a member of the panel of judges, was struck by the students' ability to identify a problem they cared about and then set to work solving it.
"If I think I want something to change, I have the ability to change it. I can change the world by something I create," said the Sacramento senior, who is headed to UC Merced in the fall to study computer science.
That is just the kind of inspiration that drew Grad Slam champion Murphy to enter the contest and spend countless hours refining her pitch.
"I love being able to share my excitement about what I do with other people. For young people — young women especially — they get the chance to see someone like me and the life I've been able to live as a scientist."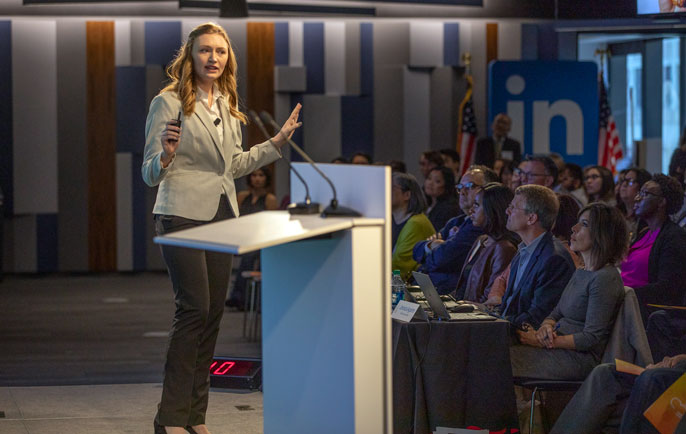 To hone her winning talk, Murphy practiced at least two times a day for several weeks, memorizing and refining her talk as she rode her bike to and from campus each day.
Her mom and dad were the best audience, she said. "I think about research all day and all night, and I often talk to them about it," Murphy said. Before Grad Slam, though, she'd never focused on explaining it in a way they could fully grasp.
Now, she said, she is in a better position not only to explain what she does to friends and family members, but to share her findings with farmers and others who can directly benefit from her research.
"I think it's something every graduate student should do, to be able to communicate their research succinctly, with the goal of exciting people and sharing the most important facts about what they do," she said.